THERE SHOULD BE A NATIONAL REBIRTH IN ORDER TO BUILD THIS NATION- Olufemi Omosuwa Mayor (Esq.) Olufemi Omusuwa Mayor is a lawyer and a Publi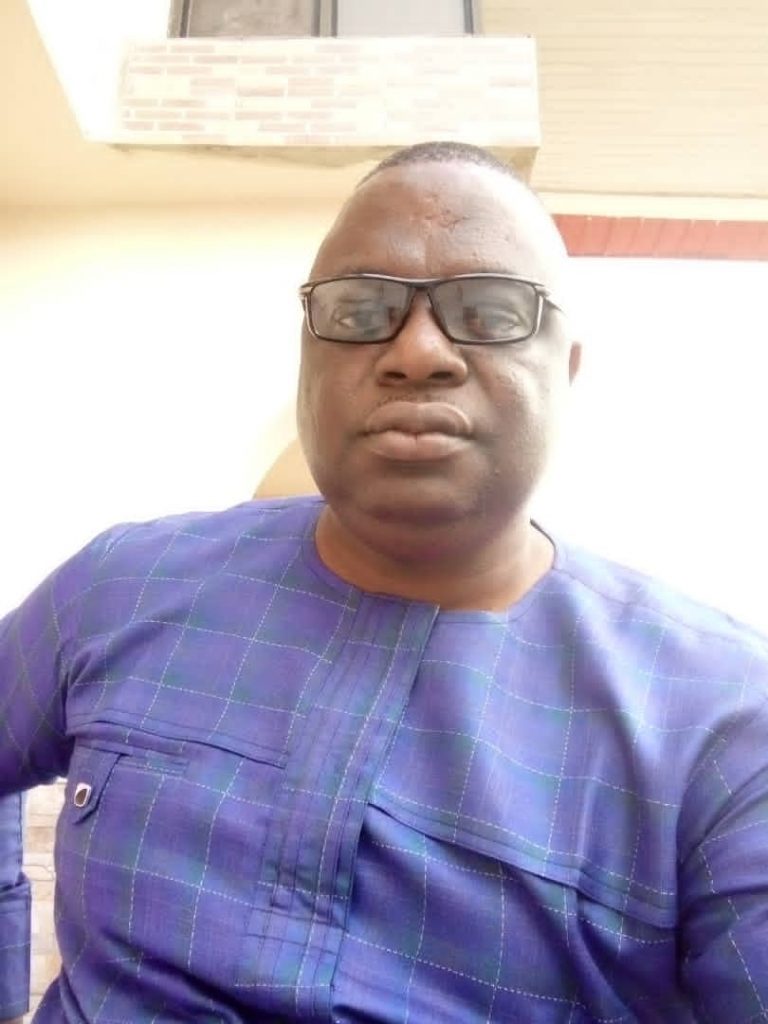 THERE SHOULD BE A NATIONAL REBIRTH IN ORDER TO BUILD THIS NATION- Olufemi Omosuwa Mayor (Esq.)
Olufemi Omusuwa Mayor is a lawyer and a Public/ Political Analyst. He is also the President of African Masses' Parliament and the Coordinator for Yoruba Fundamental Rights' Defenders all over the world. The APC Chieftain recently disclosed his views on the governance of the Governor of Ondo State, Arakunrin Oluwarotimi Akeredolu, the Oduduwa Nation creation and Nigeria at large. In an interview with the Editor-in-Chief of this Magazine, Olaseeni Oyesusi, Olufemi Omosuwa Mayor (Esq.) explained that Arakunrin Akeredolu has performed beyond the expectation of the people and he has been the only Governor so far that cared more about the security of people by setting up the Amotekun.
The Governor of Ondo State, Arakunrin Akeredolu recently separated himself and Ondo State from the agitation in question; how would you react to the Governor's position?
Let me use this opportunity to congratulate Arakunrin Oluwarotimi Odunayo Akeredolu (SAN) on his victory in the tribunal. To answer the question that you asked, let me make it clear that Arakunrin Akeredolu, by the special grace of God today is the Executive Governor of Ondo State having sworn an oath of secrecy and an oath of allegiance to building the Nation and the State. I don't think the Governor, even if it's within his mind, would be morally or officially justified to support separation in Nigeria, irrespective of the side he may belongs to, because the Sovereignty being held in trust on behalf the whole Nigerians by President Muhammadu Buhari, both of them uphold and savour the sanctity, hence, while the President is at the top, he is in the middle and the Local Government Chairman is at the bottom and they have to work symbiotically.
So, I don't see any reason why the Governor should be blamed or somebody should cast aspersion at him by saying that he has taken a 360 degree political u-turn by not supporting the creation of Oduduwa or Yoruba Nation. How else do they want him to support Oduduwa Nation creation? This is a man who has pointedly said that he would no longer tolerate the killings of his people, this is a man that said that the perpetrators of the heinous crime on innocent people should leave the forest else be flushed out, this is a man who has said it for the umpteenth times that he is a Yoruba man and he will never deny it despite the fact that he married outside Yoruba but the Yoruba in him has not left him.
So, I wouldn't say that he has done anything contrary, mind you, you can't be inside the system and be criticizing the system, rather you have to leave there then you criticize; because by the time you are inside and you criticize that would be counterproductive.
As a Chieftain of the ruling APC in Ondo State, are you satisfied with the governance of Arakunrin Akeredolu since the inception of his Second Term?
As a Chieftain of APC in Ondo State, I will say I can give the Governor Akeredolu an excellent mark because when he came, many people looked at him as someone who may not be able to do even up to what Governor Mimiko did but he humbly said that he will build on what Governor Mimiko has done and there is a latin maxim in Law, which says, "Res ipsa loquitor" meaning ( let the situation speak for itself) and there is another one that says "vox dei vox populli" which means (the voice of the people is the voice of God). So, to a reasonable extent, when you look at the infrastructure, road construction especially areas that one cannot imagine that development can ever get to as far as road and drainage construction, culvert building is concerned, renovation of schools, sports, pensions, security, agriculture, promotion of tollerance amongst political parties and other areas which time will not permit us to mention here. If not for Fulani herdsmen that are disturbing us today, I think agriculture has been taken from where it used to be to another level. When you look at the issue of education, the Governor said it is not practicable and not realistic to continue the way it has always been, therefore, it can't be business as usual, the tuition has to be raised to an extent but people will still have to adapt and government will do some subsidy as far as that is concerned.
When you look at the Yoruba aspect of Arakunrin Akeredolu, he is the first Governor to move the motion of creating 'Amotekun' among other Governors when our security system has been erroded; as a result of the Fulani herdsmen maiming, raping, killing and beheading our people. And when you look at the way Ondo State has always been, Ondo has never enjoyed the unity of developing the Yorubas together by previous government that came before him. We can easily remember with nostalgia that when Baba Adebayo Adefarati was there as a Governor, during the AD time, whereever you see some potholes then, there will be an inscription tag to it, "this road belongs to the Federal Government" and during Agagu time there was no general development among the Yorubas, where we can say we were going to have general networking among the Yoruba states like local railways within the Yoruba States, especially when you look at the exclusive list of our Constitution, Railway and some other infrastructures are in the Exclusive list of the Federal Government, but that does not mean that States and Regions cannot build it and network themselves where ordinarily when someone is to go to Osun, you mustn't go by plane to Osun of course? In a situation where you need to go there in a hurry, then, there could be a Railway network that can be jointly sponsored by the Yoruba States. A collective Educational curriculum amongst the Yoruba States.
We can have Oodua Technology, Oodua Telephone, water e.t.c. We have quite a lot that can be done together and when you look at what Akeredolu did as far as security is concerned and for the fact that he is the Chairman, South West Governors Forum, he took the bull by the horn by setting up Amotekun which the whole Yoruba race and even Nigerians applauded him for and he was the first person to even say that the criminally minded people that called themselves herdsmen should leave the forest, lest they are flushed out. As it ever happened in this Country that a Governor who belongs to the ruling Party and has a second term ambition at stake, will ever go to that extent? On the day of his second inauguration as the Governor of Ondo State, the rendition of the Yoruba anthem was made contemporaneous that one the National Anthem, which shows that he is 100% a Yoruba Man. That's why I don't usually agree with the people who says Governor Akeredolu took a 360° political u-turn by saying that he will not support anybody that is praying that Nigeria should break. How much do you expect him to have defended his people more than that? After all, he has taken a lead by defending his people, so other people should support which ever way they could the way the people supported Moses when Moses was fighting the War and whenever his hands were up, they will be defeating their enemies unabatedly but whenever the hands goes down and he is tired, the Israelites will be defeated and the people just provided a means of supporting the both hands. So people should come out with their own ideas.
More so, the oneness that binds Nigeria together, the sovereignty that President Buhari is holding today, is being shared in common with all the Governors, so by the time you make your oath of secrecy and oath of allegiance to the State, it will not be found worthy of you as a Governor to begin to do otherwise; mind as a Governor of a State, he is automatically an e
Elder Stateman.
What is your take and how will you react to the Oduduwa nation as being agitated for by some people?
My reaction concerning Oduduwa nation or Yoruba nation, you know "Divorce is not the first thing to happen in a troubled Marriage"! There must be some level of settlement and reconciliation if the relationship has not broken down irretrievably and if that wouldn't work, then both parties will resort to sepration. Therefore, i want to believe that "the sagging breasts situation of the old Woman (Nigeria)is not totally bad since one can still use a Brazier to braise it up". I want to believe if the agitation for Restructuring is jettisoned by the present Government, there may be need to take recurse in Oduduwa or Yoruba Nation. Yes, some school of thoughts argues between naming it Oduduwa Nation or Yoruba Nation. What I believe is that there is no Nation and nor Enclave that does not have its own story-line but much as we are agitating for self styled governance by ourselves due to the affinity, common language, tradition, culture, heritage and patrimony that we share together, I think it is not out of place to demand for Yoruba or Oduduwa Nation due to what we have experienced in the recent time, therefore, it will be foolhardy and insensitive of anyone to kick against the move due to the fact that in Nigeria today, we have almost all the service Chiefs from a particular side of the Nation where the head of government is from, which every Nigerian believed was deliberately made so at the expense of others. A situation like this can best be imagined as weakening the patriotic astuteness of the Citizens.
The security situation of this Nation today calls for serious concern. As it is now, it is becoming like a reality that the Nation cannot be governed together by one President and if that's the case, let us begin to do it ourselves. I still remember when we were younger, when somebody steals another's fowl in the village, you will see people that plays the gong will be moving about by announcing "if you are the one that stole my fowl, you should drop it because under seven days I will send the god of thunder (Sango) to kill you", but while he moves and spends one minute at every junction, there are some people that he believes are pathological thieves and likely suspects, instead of using one minute in front of thier houses, he will stay there for five minutes or ten minutes, because they are star suspects. By the time we start to use our own local security methods and we begin to bring down power from the top to the bottom especially community policing, where you are primarily responsible for your own security because you can't have snake, scorpion, rabbit or rat in your home and you call the police? No! Even if thieves enter your house, the first thing you will do if you are caught unaware is to defend yourself.
On Resource Control issue, there hasn't been any Professor who has been able to prove it that it is rational to think that the people in an area where you have mineral resources as the right the right to suffer untold hardship while the resources is used for the benefit of the generality of the Nation. It is unreasonable to begin to imagine that you have something in a particular place, that that thing is not used for that place even up to 50 percent, and this style have made some areas in Nigeria to be very lazy, while they always believe that whenever the money comes, they can always share it; even those who are not producing anything and are not contributing a dime to the Nation. There are a times they even have the larger chunk of the resources at the expense of other people who primarily own it.
We have seen in other Nations of the World where even the Niger Delta area you can build an Airports on top of waters; you can even build almost 20 miles bridge across from villages to villages. We have not seen them in Nigeria but the excuse government will give is that they don't have the financial muscle to embark on such projects, but they always have the muscle to use our hard earned crude oil money to be looking for oil in the dessert, which has always been vague efforts in futility ever since. So, I want to believe we need our own self styled Nation if all efforts of making Restructuring a reality and where it will be formally certified and nailed that "oneness of Nigeria has unavoidably become a progress in error."
Every reasonable person will agree with me that, as it is today, the tablet called the Nigeria map has broken into shreds; it can give way anytime, since there hasn't been any bond that cannot be separated; even in marriages. There is no bond that cannot give way. If our togetherness is becoming enslaving, repressing, oppressive and suffocating where one can only foresee nothing but Trauma. The Bible equally questioned, "can two walk together except they agree"? Since we were not stringently bond together in any "irrevocable agreement," why do we have to bother ourselves? If the Igbo says they want to go, they should be allowed to go, if the Yorubas, Ijaws say they want to go, they should go. Who knows if that is when we shall be better of? It is not as if we are too big as a Nation to govern ourselves but if we begin to see that our togetherness is suffocating us, I think there is need for us to excuse ourselves.
How would you describe some positive developments cum the security situation of this country in the last 4 years especially in Ondo State?
Yes the situation of things in Nigeria in the last four to five years, or let's say since 2016 when the opposition party took over from PDP, I can say there are some tremendous changes that we have experienced but not up to the expectation of the people, particularly in the area of infrastructure where we are begining to have functional and modern railways now that is linking the length and breadth of Nigeria and where we are beginning to explore other means of survival as a Nation other than via Crude Oil in addition to some economic revamping within the locality of Nigeria and international but by and large in the total aggregate, I want to say we have not done enough.
We have not done enough particularly in the area of security. Security, as enshrined in the Constitution of the Federal Republic of Nigeria, 1999 as amended, where it is stated that "the President shall provide security for lives and properties for all citizens". It was exclusively stated but what we are seeing today, reverse is the case. It's not as if the government is not trying, but it's just that the square pegs are not put in the square holes. In a situation where there is favouritism, you won't bring out the best hands to represent so as to perform optimally and it is not far from the biblical says, "righteousness exaults a Nation but Sin is its reproach".
Any reason that will not make you do what is right is sinful and such does not make a Nation to stand. Therefore, I will not score the present government high. We have failed in many ways and corruption is increasing unabatedly in Nigeria, the younger ones are questing for money and we are not thinking about how we are going to bell the cat. We have our girls that are supposed to be celebrated in marriages but have turned prostitutes. How many man will a woman sleep with that will make her build a house, buy a car or that will make her life meaningful; especially these days where we have sicknesses, diseases and ritualism? So it is quite unfortunate that our leaders are not thinking about the younger ones and a situation like this where the youths are not taken care of, I can assure you that the future of such nation is like building a castle on the air while the collapse is imminent.
Arakunrin Akeredolu is yet to actually form his government for the Second Term. However, the little appointment he has made so far is for the running of the government, because there mustn't be lacuna in governance since governance is a continom. Apparently, in every setting, there is always a "golden space" for performance at the Poll.
Take the issue of SSG that he took from Akure to Okitipupa as a case study. As far as you are concerned, are you of the same opinion with him?
When you look at the taking off of this second term administration, you will discover that it is a total departure from the way he took off in 2017. In the Aviation parlance, the taking off of an Aircraft and the landing of the Aircraft determines the journey, particularly the taking off and this time around you will discover that the Governor has done it differently from the old ways. He has proven to the whole World that he has over time become a political Veteran because when you look at the four pillars of appointments he needed in making his Administration take off promptly, you and I will agree that he deserves some applauds by quickly appointing the
Attorney General and Commissioner of Justice, Commissioner for Finance for inflow and outflow of funds so that there would not be stoppage in the running of government.
Yes, the Commissioner for the Ministry of Lands and infrastructure was appointed, so that there shall be continuity in the project already started cum ones to commence and that of Information which is equally germain.
So you give in to the Governor this time around that he knows his onions, he has done that perfectly. So, Concerning the SSG appointment other than being an Akure person or from the Central Senatorial District, in my own opinion, I want to believe that "it is the Hunter, who enters the bush or the forest to kill an Animal, that knows the part of the body he is supposed to give to either his in-law, friend, enemy, his wife and his children". He is the Governor and in every political setting performance is always the first thing to be considered either in kind, in cash or in voting.
Yes, the Governor has the right to decide how and what to do as soon as he emerges victorious in any election. He compensates people who performed excellently, averagely and below average buy I don't believe that by the appointment of SSG from the Southern Senatorial District particularly an Ikale person differently from the way it was in the last Administration where somebody from the Central, Akure was appointed as the SSG while the same person resigned and another was appointed again from Akure to replace him does not mean that the Akure's would not have their own big share this time around; after all an Akure person is the Minister of the Federal Republic of Nigeria, representing Ondo State presently and there are other appointments that may still come that might favour the people from the Central and the Akures. Therefore, all hope is lost as far as appointment is concerned because after winning an election, you consider people who have done optimally, people who have performed excellently, you look at people who performed averagely then you look at other people who tried all their best best but for one reason or the other they could not deliver either for reasons beyond them. I want to believe that Arakunrin Akeredolu in his own magnanimity, with the wonderful and beautiful heart he has, he will still give them appointment. And mind you, in politics, it's not all about appointment because having an appointment, you have been saddled with a task and responsibility to perform and one of the reasons we are still missing it in Nigeria or Africa as a whole today is that we want appointment but are we really ready to sacrifice for the position because even when you go to China, when you are given an appointment it's like a tag has been put on your neck like a death tag which must make you succeed at all cost. If you don't succeed then you are punished severely. So, I want to believe that the issue of appointment should go beyond seeking for it, it should be on merit and by the time you are given, it should be a task and responsibility because "to whom a little is given much is expected."
On the last note, 2023 election is gathering momentum; what advice do you have for the politicians and the electorates?
Yes, the 2023 momentum is gathering seriously and there are quite a number of milestones that lies ahead. In fact, it will be better to use landmines because 2023 will be full of intrigues, suspense, deceit and disappointment but I want to believe that whoever that is contesting for any elective position in 2023 should go beyond the issue of contesting. Today, we are talking about how terrible our country has been and we are not thinking about how we can revive it, we are not thinking about how to get it right, what people are agitating for is how they want to become the President come 2023, how to become the Senator, so many people have been there for up two to three, four terms and they still want to continue even when they have not done enough. I want believe what we need to be thinking about is, "what are the things we need to do to make Nigeria better" because it is a foolish person who will be doing a thing same way, same style and expect different results. You have to do it differently so as to achieve different results. Today in Nigeria, every structure has collapsed. Corruption has pervaded all facets of human endeavour, there is no truth anywhere even in religious circles. No truth because what everybody is looking for is Money, then how do we get it right?
I want to believe that there is need for "National Reawakening", there should be "National Rebirth", there should be some element of "Penitence and Repentance". We have to begin to think about how to build this Nation and think about how to bequeath a Nation that is devoid of Fraud, Favourtism and Tribalism to the generation yet unborn? It should go beyond 2023.
Having said that, I want to believe the first step of pulling the string of Justice and Equity politically in Nigeria is for the North to ced the position of the President of Nigeria come 2023 to the South having been in power for the 8 years. For the fact that the Northerners have spent 8 years undisturbed, where the Igbos, the Ishekiris, Yorubas, the Ijaws and other tribes will slog it out among themselves by lobbying the North for their support?
Although, the Igbos are saying with their contributions even to the national growth and what-have-you, with their expertise, experience even for the fact that they had been vilified in the past as a result of the civil war, they deserve to be considered for the headship of the Nation. Yes, I believe that is good but power is not gotten only through sentiment, because it is not served allacaté. You struggle for power and not by you folding your arms. Another thing that may unmake the Igbos is if they are agitating for a Nation on one side and at the same time agitating for Presidency, that I believe will amount to approbation and reprobation. Same is applicable to the Yorubas.
But where it is about agitating for a Nation, I strongly believe there should be a Referendum to that effect where the National Assembly should be made to act Constitutionally in accordance to the World standard, by asking ourselves if we can stay together; because marriage is not by force, it is by convenience. If the answer of our togetherness is in the affirmative, then let there be restructuring, where there will be devolution of power from the top to the central and to the bottom, where the top will be weak but the people at the bottom will be stronger. A case study is a situation where the President will accent to a bill and it will become a Law but not practicable. The judicial arm was given autonomous, the Local Government was given autonomous and nothing happened there after. We are still looking everywhere for the interpretation and enforcement somewhere else.
We are still asking for judicial interpretation of a law that has been sponsored as a bill and it has been accented to and become a law.Why? It is as a result of the fact that we have not done restructuring. So we must start to think of how to make the best out of Nigeria. We are so blessed with both human and natural resources so why are we poor? We must start to think of how to make beauty out of the ugliness of Nigeria.