Ecomiums as Dr. Kayode Omishogbon Celebrates Golden Jubilee in Grand Style -Bags Humanitarian Merit Award By Olaseeni Oyesusi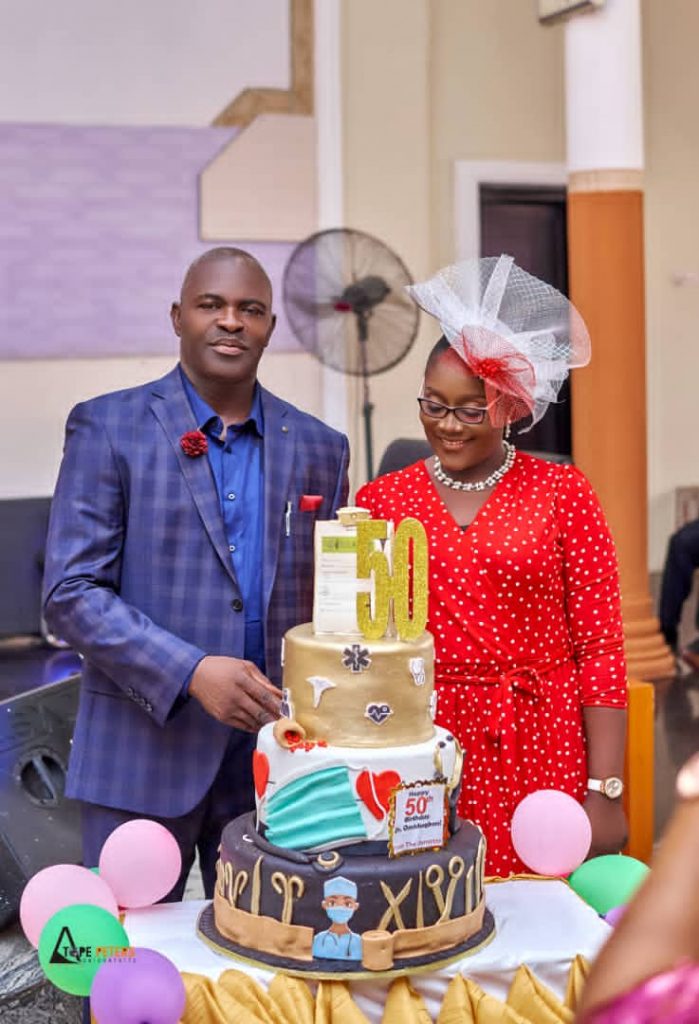 Ecomiums as Dr. Kayode Omishogbon Celebrates Golden Jubilee in Grand Style
-Bags Humanitarian Merit Award
By Olaseeni Oyesusi
It was a gathering of creme-la-creme in the society on the 20th of March, 2020 whenIt Dr. Kayode Azeez Adekunbi Omishogbon celebrated his 50 years Birthday.
The event was attended by his immediate family and well wishers whose lives he has positively touched in one way or the other.
Dr. Kayode Omishogbon, who is the Chief Medical Director of General Hospital, Idanre, Ondo State and indigene of Ile Ife, Osun State drew numerous people from various walks of life to celebrate his Birthday at Redeemed Christian Church of God, (RCCG) Grace Temple, Bolajoko, Akure, Ondo State where Choirs from various Parishes of RCCG ministerd with songs befitting such auspicious event.
While testifying to the glory of God the pleasant behaviours and attitude of Pastor and (Dr) Omishogbon, High Chief MacDonald Oladipo Akinsowon, the Lisa and Regent of Alade Idanre, who spoke on behalf of Idanre Community described the Doctor as a God sent "Angel" who has turned round for good the pitiable state of the General Hospital, Idanre to its present enviable one within three years of his Midas touch. He said Idanre Community appreciated all he had done and hence had made him the "Atunluse" of Idanreland.
Also, one of the Pastors of the Church called him the "Game changer" of Grace Temple Parish as he has turned the Church around in terms of development of the Church he joined in 2012.
More also, the representative of the General Hospital, Idanre staff spoke of his generosity as exemplified in his purchasing of a twenty- five seater bus for the staff of the hospital, building and equipping an ultra modern operating theater and other notable projects in the hospital. She added that he was a workaholic and "builder of structures and people" whose transparency is unique.
In the same vein, Dr. Akinroye Manuwa, the Chief Medical Director and founder of MOMAK Specialist Hospital, Akure and mentor of the celebrant, said Dr. Omishogbon is an unusual person, extraordinarily divine talents, gifted and skilled surgeon, who he can recommend to any person or place. Dr. Manuwa, who is the Chairman of the reception programme held at Events Centre, along Ondo road, Akure, believed some of the virtues of Dr. Omishogbon are fear of God, honesty and hardworking.
Assorted gifts were presented to the celebrant and his family who also cut the Birthday cake and danced to thunderous ovations during the reception when his wife virtually stole the show as she chanted the ancestral panegyrics of her husband to the admiration of all.
Among the people that came to represent the Owa of Idanre kingdom and paramount ruler of Idanreland, His Imperial Majesty, Oba (Dr) Frederick Adegunle Aroloye, Arubiefin IV(JP) OFR were Olori Syrian Renike Aroloye, High Chief Lisagha Olatunji Rufus, Chief Adaja Bello Ilemobola, Mr. Agbelusi Ganiyu (Owa's Personal Secretary & Media Officer) and Akinroyeje Blessing, who brought Owa's staff. HRH Oba Gilbert Olakunle Ogunlowo, Awosunye of Atosin Idanre, High Chief Felix Boluwaji Akinya, the Sasere of Atosin Idanre, Hon. Felix Oludele, Secretary, Idanre Health Committee and many prominent Alade Idanre chiefs graced the Church service.
Speaking briefly with Journalists shortly after the Church service, Dr. Omishogbon expressed happiness with the large turnout of people at the service and traced whatever he had been able to achieve and do for others to the grace of God and His blessings.
However, to say that Dr. Kayode Omishogbon is a Humanitarian personified is an understatement following his track records at both personal and government establishment within and outside Ondo State.
It is worthy of note that during his Golden Jubilee Celebration recently, he promised to do fifty free surgeries for indigent people that are suffering from one ailment or the other that requires surgical operation to celebrate the Birthday. Meanwhile, in the course of the gesture, Dr. Omishogbon ended up performing more than sixty free surgeries as against the fifty earmarked.
Not only this, he has almost turned his private hospital to a charity center going by the numbers of Free Medical Services that he renders on daily basis.
In the same vein, he has turned the General Hospital, Idanre to a cynosure of all eyes with different unprecedented development that he has put in place. Structures, Staff Bus, Staff Welfare to mention but few are parts of his Achievements.
This and many more are the reasons why the Chronicle Magazine decided to honour him with Humanitarian Merit Award on the 28th March, 2021 at NMA Event Hall, Igbatoro Road, Akure.
Dr Omishogbon Kayode AdekunbiAzeez was born into a Muslim Family of Late Mr. Omishogbon Adewuyi Rauf and Mrs Omishogbon Anike Muibat on 18th March 1971.
He started his Primary School Education at Government Primary School Calabar between 1975 and 1977 while he later furthered and eventually completed his Primary Education between the year 1977 and 1982 at St Mathias Boys' School Lafiaji,Lagos. He then proceeded to St Gregory's College Obalende Lagos,for his Secondary School Education between the year 1982 and 1987.He then went to the Government College, Ibadan Oyo State between 1987 and 1989 for his advance level studies. He gained admission into the prestigious Obafemi Awolowo University, Ile-Ife in 1989 where he studied Medicine and graduated as a Medical Doctor in 1999.
Kayode Omisogbon had his internship at Federal Medical Centre,Owo,Ondo State between the year 1999 and 2000.
He worked briefly in Momaak Specialist Hospital,Akure between 2000 and 2001 before proceeding for National Youth Service (NYSC) in Taraba State where he served at the State Specialist Hospital Jalingo between 2001 and 2002. He was employed as a Medical Officer in the surgery department of Federal Medical Centre Jalingo in Taraba State where he worked till 2007 as a Senior Medical Officer before he pulled out to join Pro-Health International, an NGO with its Headquarters in Abuja. He worked graciously with this Christian based NGO as an in-house surgeon for five good years(2007 to 2012) without collecting salary or any allowances while travelling all over Nigeria and even outside in order to minister and preach the gospel and also offering free Medical and Surgical cares to people without minding the cost.
As a lover of humanity, especially the poor and needy in our society, Doctor Kayode Omishogbon,despite his always tight and crowded official schedule still volunteer for the NGO activities when the time and need arises.
He joined the Ondo State Health Management Board and has been working in various capacities till date.For example, he was in O&G department of State Specialist Hospital Akure, now UNIMED Teaching Hospital Akure,from October2012 to 2018 before he was transferred to General Hospital Idanre as the Chief Medical Director, a position where he has been working creditably till date. Dr Kayode Omishogbon is also the Medical Director of Kaymas Medical Center Akure since 2015 till date .Dr Kayode Omishogbon is a skillful Medical Doctor per excellence both in Public and Private Institutions,a Chef of note worthy class,a developer/builder of good things, an enterprising farmer and proprietor of Monik farm which is running large poultry and fishery farms with which numerous employment opportunities are offered to many.
Dr Kayode Omishogbon gave his life to Christ on the 2nd of August in the year 1990 at the Deeper Life Campus Fellowship OAU and since then,he has been a devout and fervent Christian. He became a member of the Redeemed Christian Church of God during NYSC in Taraba State in year 2001,became a Minister in 2008,he became the Parish Pastor of Precious Parish in Taraba Province in 2009,an Area Pastor in that same Precious Area Taraba Province in 2010. Dr Kayode Omishogbon relocated to Akure in 2012 and joined RCCG Grace Temple Parish in 2012 as a Minister. He became Grace Temple Parish Pastor in the year 2016, graduated from SOD in 2018, Ordained as a Deacon in 2018 and became the Area Pastor of that same parish in the year 2020 where he is serving till date.
Dr Kayode's greatest passion and Ministry is to help the poor and support church growth and development. Right from the inception of his encounter with the Lord,he seizes every opportunity to build men and contribute to the building of Church of God. He is a lover of God and sincere man of God. Dr Omishogbon detests laziness and dishonesty when it comes to God's work.
Dr. Kayode Omishogbon hobbies include cooking;he is a great Chef and lover of Christian Music. He is also a fan of football.
Dr Kayode Omishogbon is happily married to his God chosen beautiful,friendly, gracious heartthrob, Mrs. Omishogbon Monisola Folasade,a native of Ile-Oluji in Ondo State, a supportive, prayerful, tenacious, cheerful but no nonsense business partner. The union is blessed with two lovely and God fearing children.