IROJU BURIES FATHER-IN-LAW IN GRAND STYLE By Awodeyi Elizabeth When beggars die there are no comet sign, but heaven itself announces the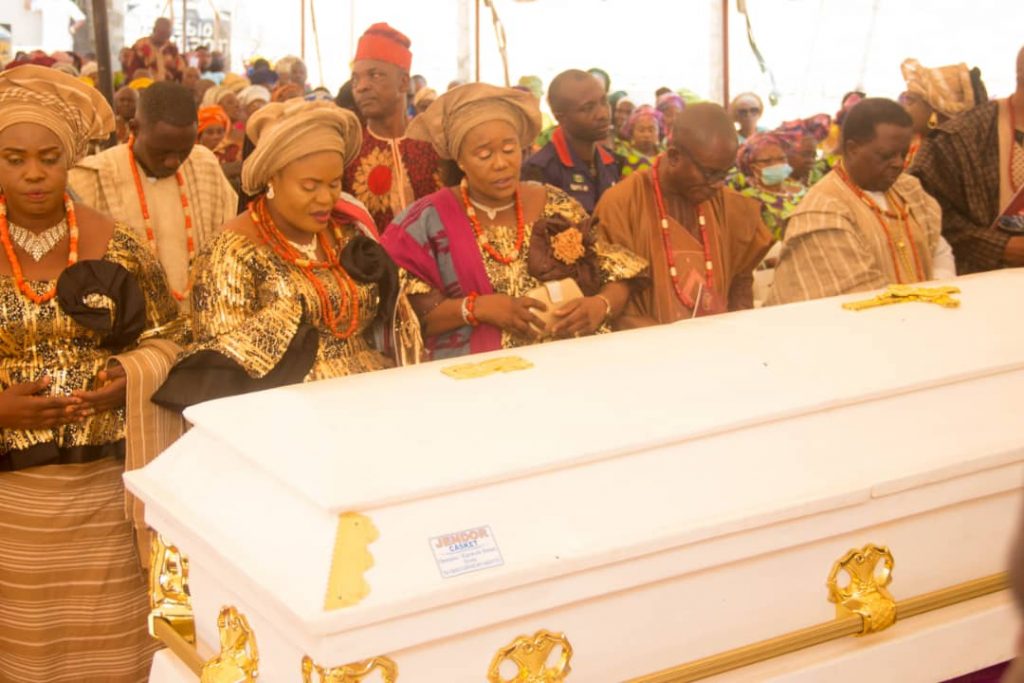 IROJU BURIES FATHER-IN-LAW IN GRAND STYLE
By Awodeyi Elizabeth
When beggars die there are no comet sign, but heaven itself announces the passing of great icons. So it was with the final burial rites of Pa Joseph Ireola Awosika the father-in-law to the RT Hon Iroju Ogundeji, Member representing Odigbo Constituency I in Ondo State House of Assembly, whose burial programme and reception party would remain a talk of the town for a very long time. The funeral programme which began with a wake keep on Friday, 9th of April, 2021 at his residence, No 38 Adekugbe Streeet, Sabo Ondo City, Ondo state, attracted dignitaries and people of means and substance to Ondo City.
The service of songs which was coordinated by the Pastors of The Redeemed Christian Church of God (RCCG )Faseun Street, Orimolade Road, Sabo Ondo City. Ondo Province 14
Prayers were offered for the repose of the soul of the deceased and his family.
The funeral and outing service in honour of late PA JOSEPH IREOLA AWOSIKA commenced at 10:00 hrs on Saturday 10th of April, 2021, in his residence. As expected, his compand was filled to capacity with dignitaries from all walks of life. The processional hymn "On the Resurrection Morning" was interspersed with bible verses. Bible verses for the funeral programme were taken from 1st Cor.15:50-58 and Psalm 128.
In his sermon at the funeral service, Pastor Akinnawo Kehinde said the deceased having accepted Jesus Christ as his Lord and Saviour can also say with confidence that he had fought a good fight. He also reminded the Church that the book of Ecclesiastes stressed that "the day of death is better than the day of birth". He said when a child is born, there will be challenges, inequality, strife and serious human encumbrances, but when a human being dies, it is an end to all human strife, maintaining that for a Christian, death opens the door to a glorious hereafter. He challenged the Christians of this contemporary time to be conscious of the Lord's second coming. He said, 'Pa Jospeh Awosika has gone to be with the Lord, but for us whom he left behind, how prepared are we if the end comes?"
While paying a glowing tribute to his father-in-law,Rt Hon Iroju Ogundeji mourned the sudden loss of PA AWOSIKA. He said he was the best father – in –law he could ever had and he never had a dull moment with him. He stressed that his association with Baba was very good and a most cordial one.
Pa Joseph Ireola Awosika was born on 13th October 1935 to the family of Papa Awosika Kikunola of Oke Sare and Mama Awosika Oluwakayikunmi Deborah ( Nee Akinkoye) of Oke Sare. He worked with both Private and Government Establishment during his life. Baba served his God as a devout Christian at Deeper Life Bible Church for some years until the Church was relocated to another place within the town far away from Baba's house. The relocation of the church made Baba a new Member of The Redeemed Christian Church of God which was closer to his house where he fellowshipped until his death.
St Monica's Grammar School Adjacent Ife Garage, Ondo City,venue of the ceremony was packed to the brim by politicians who came to pay their last respects to Iroju's Father-in-law. Irrespective of their political leanings,they all came to identify with the Iroju's.
Other eminent Nigerians who graced the event were, the former Deputy Governor of Ondo State Hon Alfred Agboola Ajayi, Senator Yele Omogunwa
,Former Chief of Staff, Chief Ademujimi, Former Majority Leader, Ondo State House of Assembly, Hon Olugbenga Araoyinbo, Former Chairman, Irele Local Government, Hon Akinbiloa Nicholas. Members of the Ondo State House of Assembly present were Rt Hon Samuel Aderoboye, Hon Oladiji, Hon Festus Akingbaso, Hon Adefiranye, Hon Wale Adewinle Williams, Hon Favour Tomomewo, Hon Success among others.