Platinum Jubilee of Madam Dame Beatrice Akinwumi By Olaseeni Oyesusi Becoming a Septegenerian happens once in one's lifetime. It is even a devi
Platinum Jubilee of Madam Dame Beatrice Akinwumi
By Olaseeni Oyesusi
Becoming a Septegenerian happens once in one's lifetime. It is even a devine grace to be as old as seventy. A lot of things must have happened in this journey, a lot of rain must have fallen and a lot of water must have passed and sunk into the ground.
Meanwhile, it was more than a joyous celebration for Mrs Dame Beatrice Akinwumi as children, grandchildren, family and well wishers joined in celebration as she marked her 70th Birthday thanksgiving at Christ the King Catholic Church, Alagbaka GRA, Akure Ondo State and grand reception where guests were treated to sumptuous meals.
Melodious music was supplied by Dr Yinka Ayefele at International Culture and Eent Center also known as the Dome, the venue of the reception.
The event which took place on Saturday, July 22th, 2023 paraded the crème-la-creme in the society. From the Catholic family, political family especially the People's Democratic Party, from both within and outside the State and both the immediate and extended families of the celebrant rallied round her to thank God for a worthy life at 70.
Meanwhile, political office holders and other category of leaders in Nigeria have been urged to take the lead in making sacrifices for the overall good of the country.
Catholic Bishop of Oyo Diocese, most Rev. Emmanuel Badejo made the call at the thanksgiving Mass to celebrate the 70th Birthday celebration of Mrs Dame Beatrice Akinwumi in Akure,Ondo State, noting that it will be morally wrong for the already impoverished in the society to take the lead in making sacrifices for the nation.
However, to support the work of God, Mrs Dame Beatrice Akinwumi donated 2 million while the children equally supported her with the sum of 2 million naira. Other dignitaries at the service supported towards the development of the church
In her remarks, the overjoyous celebrant, appreciated God for witnessing the day just as she thanked all those who personally graced the occasion and prayed for things of joy to continue to be the order of the day.
While also returning all glory to God, she urged the people to believe in God, trust and serve him with one mind.
After the cutting of cake, presentation of gifts to the celebrant followed in earnest where a brand new Lexus SUV was presented to the celebrant on behalf of the children.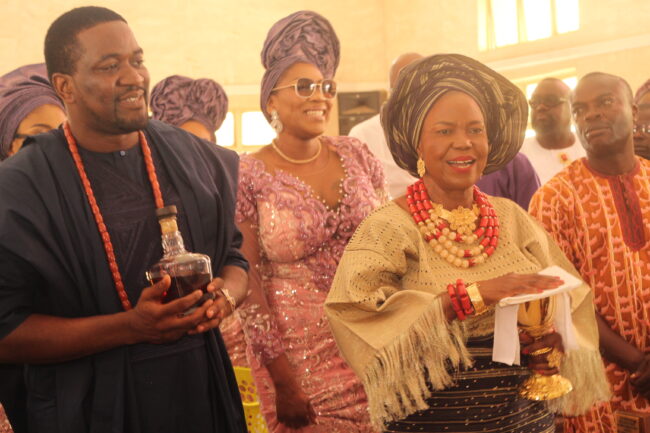 There were different goodwill messages from the families and well wishes for Mrs. Dame Akinwumi on her platinum Jubilee. For instance, a PDP stalwart and renowned legal practitioner, Hon Bala Akinwumi says;
" Mama Bala, it has been my fervent prayer that the Almighty God will bring about this day for us to celebrate your 70th Anniversary and many years beyond. I place my heart and all that I am in gratitude to God and to you for the blessings you have been to us. (My sisters and I). Your commitment to your faith is unwavering and inspiring to us all. You have been a rock of support and a source of inspiration to many and your unwavering faith has been a guiding light in our lives, I don't think you have missed celebrating the catholic mass for one day in the last 20 years that I know of; even when we are to go on family holidays, we dare not choose a destination where you won't find a Catholic Church. I can only love, cherish, celebrate, acknowledge and pray for you. Your life is one of many miracles of God. We love you precisely Mum.
One of her daughter, Bimbo said, "my Beautiful mother, you have been an incredible mother to me and my siblings and a wonderful grandmother to all your grandchildren.
Today is a day to celebrate you and all the love, care, and support you have given me throughout my life. Your constant intercession and prayer for us daily is a testament of your love and selflessness. Thank you for being the extraordinary woman that you are. Today, I celebrate you and all the love you have brought into my life. Happy birthday, Mom! With all my love".
Mrs. Ladi Bamgboye said, " Happy 70th birthday to you, my darling mother, Mrs Dame Beatrice Akinwumi, my prayer warrior, my role model. You are a big strength in life and my best friend. I hope to be half as amazing as you are and have been. I love you dearly mum. I promise to live a life that will do justice to all the sacrifices you have made and still making. I am proud to be your daughter. Here is to many more amazing, joyful, healthy and blessed years to come".
From the grandchildren now, Olumide said "Grandma @70, firstly, I give God the glory that you have achieved the milestone age today and over joyed to be joining you in celebrating your amazing life. I ask nothing but God's divine blessing and grace in your life , may you continue to be blessed beyond your wildest dreams and may he grant you more years in good health and happiness. Love you and best wishes"
Also speaking, Derinsola said " one of the most inspiring aspects of my grandma's life is her faith in God. Her relationship with him has not only strengthened her own spirit but has also influenced mine. Thinking back to whenever she cooks for me, I was always filled with joy. Her culinary skills are truly a gift , and I will forever cherish her exquisite meals. I pray that she continues to be blessed with good health, happiness and endless love".
George said, "congratulations on your 70th birthday my wonderful and loving grandma.You're an inspiration, a role model and my best friend. I hope you enjoy your birthday as much as I enjoy having you as my grandmother and wish you many more years to come. Having you as a grandmother is a true blessing from God and I am proud to be your grandson".
Fasina Folajimi says "this day is just as special as you are special to us. Today is the day you were brought into this world to be a blessing and inspiration to the people around you! I pray this birthday brings you more of good health and happiness in life. Happy birthday Mummy".
Her Brother in-law, Oladapo Fasina says, "My amiable sister-in-law, you are a wonderful sister in law whose zest for life and capacity to live life to fullest is inspiring. I can't forget the awesome role you played during my wife sickness and your motherly disposition after her demise. The kindness and caring nature you extended to my children Tejumola Fasina, Folajimi Fasina and myself during this dock and traumatized period as if the whole world was crumbling on us. You resolutely stood by us. Anti mi. Am very grateful to have you as my sister-in-law. Almighty father will always be your side and provide for your needs. Happy day Anti mi in good health and prosperity. Congrats".
Equally, Tejumola Fasina says "Dear mama, on this special day, I want to wish you a happy birthday. You are not just any mother, but a mother anyone will wish for.  Growing up, I always admired how brilliant, hardworking and resilient you are. I admire how you have always put your family first and all your sacrifices have not gone unnoticed. Thank you for your unwavering love and support. On your birthday, I want you to know how much we love and appreciate you. You are not just a mother to us but a pillar of strength. May this day bring you abundant joy and blessings. May God granny you good health, long life and prosperity".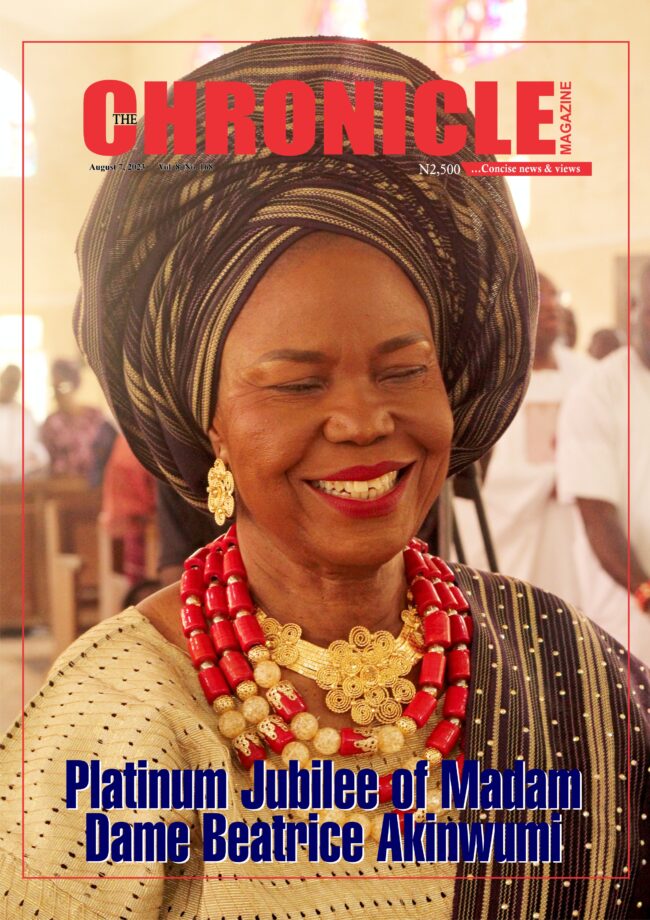 Most Rev. Jude Ayodeji Arogundade, Bishop of Ondo says, "I congratulate you on this special celebration of your 70th birthday. As we thank God for your life, we also celebrate your strength, courage, love of family, dedication to work and generosity to the church. Seventy years signify strength, courage, grace and peace. We pray for you at this celebration that the lord will renew your strength, protect and bless your children as well. Thank you".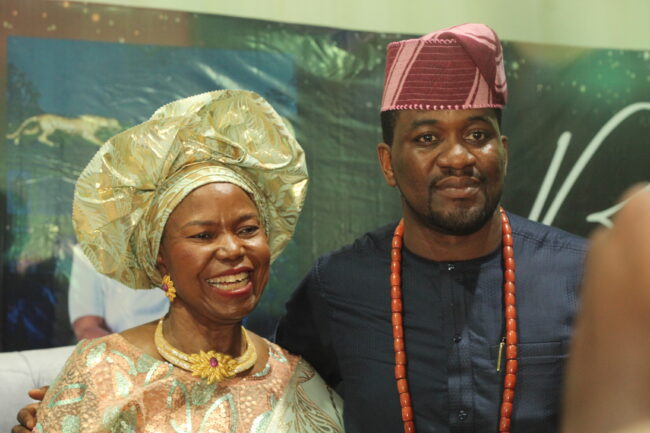 Other dignitaries at the occasion were HRM Oba Aladetoyinbo Aladelusi, the Deji of Akure Kingdom, the immediate past Governor of Ondo State, Dr. Olusegun Mimiko, Akure South Local Government Chairman, Hon Gbenga Olaniyi, former MHA, Hon (Princess ) Kemisola Adesanya, Barrister Fasoranti Femi, Olu Adekunle Ajanaku and others.