ODHA PLEDGES MORE SUPPORT FOR MINISTRY OF FINANCE, CHARGES STATE BUREAU OF STATISTICS ON COLLATION OF ACCURATE DATA The Ondo State House of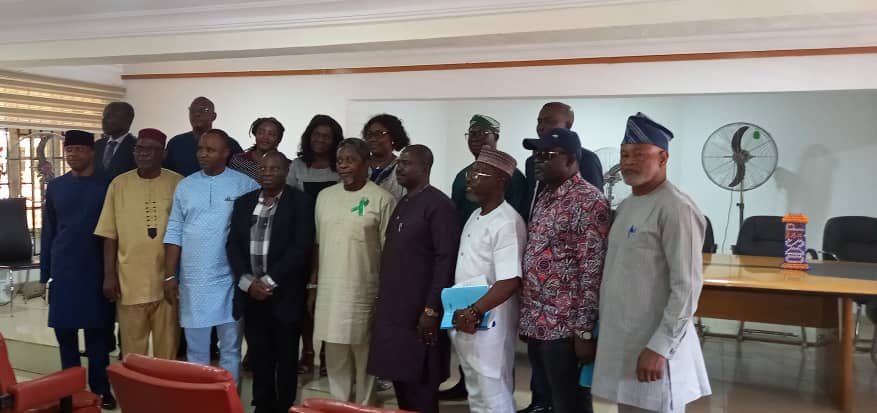 ODHA PLEDGES MORE SUPPORT FOR MINISTRY OF FINANCE, CHARGES STATE BUREAU OF STATISTICS ON COLLATION OF ACCURATE DATA
The Ondo State House of Assembly has declared more support for the State Ministry of Finance as regards transparency of governance in financing.
The House Committee on Finance and Appropriation made the declaration during its familiarization visit to the State Ministry of Finance in Akure.
The Chairman of the Committee, Hon Sunday Olajide who led other Members to the Ministry appreciated the Commission and his team for their commitment so far despite the economic challenges in the country which has also affected all the states.
According to him, the Ministry must be vibrant based on its importance in carrying out transparency administration in the state. He pledged that the House will always support every move in achieving their set goals.
Other Lawmakers who discribed the Ministry as the engine room of any administration, encouraged them to put in more effort so that the Governor can achieve more feat.
Earlier, the Commissioner for Finance, Wale Akinterinwa who appreciated the committee members for their visit and for their mutual understanding affirmed that the Committee has been so supportive to the Ministry.
The Commissioner who discribed the visit as apt, pledged that the Ministry will continue to collaborate with the committee to live up to expectations.
The Committee also paid its familiarization visit to the State Bureau of Statistics, where they charged the agency for collation of accurate data for the overall development of the State.
The Chairman of the Committee, Hon Sunday Olajide who gave the charge during the visit, emphasized on the importance of accurate data collation for proper planning and equally called for synergy with the Bureau at ensuring ease of operation.
Other members of the committee took turn to speak on the importance of statistics in States.
Earlier, while welcoming the Committee, the Statistician General, Mr Wole Agunbiade appreciated the committee for their visit and sought for the intervention in budgetary allocation to the Bureau for smooth running of their operations.
Also the committee paid its familiarization visit to an insurance company owned by Ondo and Ekiti State Governments, named Prime Investment Insurance Brokers Ltd.
The Committee Chairman, Hon Sunday Olajide, affirmed that the visit is compousry since the Insurance company is owned by the State Government.
The Chairman who noted that the visit is just to familiarise with the company and have an understanding with the company to know their strength and weakness, promised that the committee will come for thorough oversight very soon so as to know where they will need legislative support.
The MD/CEO of the company, Mr. Francis Alonge, who appreciated the committee for their visit commended Governor Oluwarotimi Akeredolu for his efforts at reviving the company as the company has been moribund without licence before he appointed Mrs. Olubunmi Ademosun as the Chairperson.