I RECEIVE GUIDANCE FROM GOD BEFORE VENTURING INTO ANYTHING — Rev. Kayode Adeyemi Rev. Doctor Adeyemi Kayode Peter is the Founder of Christ B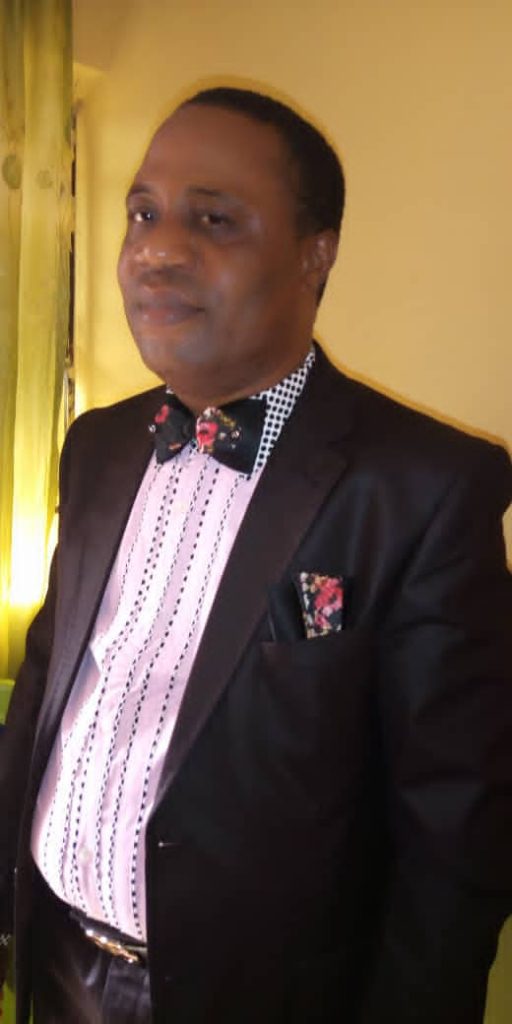 I RECEIVE GUIDANCE FROM GOD BEFORE VENTURING INTO ANYTHING — Rev. Kayode Adeyemi
Rev. Doctor Adeyemi Kayode Peter is the Founder of Christ Believers Evangelical Church, located at Oke-Iya Quarters, Ijoka, Akure. He is also the President of Iselogo Oluwa and the Proprietor of the Champion Group of Schools at Oluwatuyi, Ijoka, Akure. While hosting the Chronicle Magazine Crew, he explained the genesis of the cooperative society, the Ministry and the school. He also stressed that one shouldn't go into any business without consulting God first for directions because He alone is all knowing. He further advised that Christian leaders should have a tent ministry so they won't depend on the Ministry for their survival. He also urged both Christians and Muslims to pray for the nation and the leaders so that the nation can be in good order.
How easy has it been combining these three institutions together?
It is not that easy but we thank God for His grace. It is just by the grace of God because it has been so hectic but we thank God for His grace upon the church, school, ministry and the cooperative. God is our strength, He is the one giving us the grace and strength to meet up.
Let's take it one by one by starting with the cooperative, how did you start?
We started around June 2015 and we started with 17 people but by the grace of God now there are over 700 members of which there are 19 societies for now. We just thank God for His grace upon the cooperative.
What actually informed your decision to start the cooperative?
I was once a Chairman under a cooperative in Akure Ifeoluwa CMU. So, after some time, a woman came here to our school and told me that I had the grace and capacity to start a cooperarive and I said I couldn't say I had the grace and power because all power belongs to God and I don't do anything that God does not ask me to do. I will never venture into a thing except it is directed by God. Again, another person came to me, he happened to be one of our staff here, he said: 'Sir, I think you can venture into this cooperative' and I said: 'God has not asked me to do it and I have not been directed.' Then the third person came to me where I was living before at Ijoka, he was one of the landlords there. He said: 'Sir, you have everything it takes to begin a cooperative' and I told him that he was the third person that said it. So, I said let me go and speak to God and ask from Him if He wanted me to venture into it. I fasted and prayed but I saw nothing then after about three months my wife received the revelation of the cooperative and that day I jumped up and said: 'Wow! We are going to start!' I called my printer, that is Mr. Adesina, that I wanted to print flyers, cards and samples that I would pay him later. I didn't want to pay at that moment because I wanted to be convinced myself. I became weak and couldn't do anything. My printer called me later and said sir, you said you wanted to print some things, but I said I would see him. So, after six months, God gave me a first revelation and in that revelation I saw that I was addressing quite a number of people in an auditorium, the auditorium was filled both inside and outside and I was telling them (in the revelation) that God said I should go and start a cooperative; so I asked a question that 'shall we start'? And they answered 'let us start o', in fact, the whole thing was alarming then I said if you knew that you were interested come and register, that was the revelation God gave me and I got it two times before I said yes, I was going to start.
So, when we started in June 17, 2015, although I had been telling people that we wanted to start this kind of thing, so about 11 people came and registered then in the next month many of them did not turn up except for about 6 or 7 people, third month around 10, fourth month around 6, fifth month around 5, I was not discouraged because I know what I saw and we kept on doing it then along the line God took over and here we are today.
Can you briefly describe the success stories in the lives of the members of the cooperative?
You see, I thank God that being a Pastor, I've been praying for a very long time that God should make me a source of blessing to others and I now discover that God answered the prayer around June 2015 when the cooperative started because since then up till now a lot of people recorded serious successes in the sense that many people bought lands on their own, some bought cars, some people collected money to boost their businesses, even some people collected money to travel abroad. We have various kinds of testimonies because this cooperative has changed a lot of people's lives. We thank God because God has used the cooperative to change the lives of so many people. Those that were hopeless are now hopeful because things are now getting better for them, their lives are getting better, their businesses are getting better.
Sir, wherever there are testimonies, there must have been challenges, can you share some of the challenges?
We have some challenges like scarcity of fund, when someone wants to collect loans but no enough fund on ground, although it looked somehow but God helped us through. Also, when we started, after some time there were little problems but God saw us through because when you bring people together for something like this, there are some people that will raise their heads in a rebellious way just to truncate the whole system but we thank God because we overcame the whole situation.
What are the necessary things that are to be done if anyone wants to be a member of the cooperative?
If anyone wants to be a member of the group, registration is just 5,000 naira, although the day we were having our AGM, it was 4,500 naira but now it's 5,000 naira. After the registration, you can begin to safe your money, then after four months you have access to loan unlike other cooperative societies that is six months provided you can meet up with the requirements. In this cooperative, we also help, that is if a member wants to collect a loan of N100,000, he/she must have up to N50,000 but if he/she have 38-40 thousand, we can give out the loan. If you want to obtain a loan as a member, you must get the loan form, fill it for approval then the following month you get your money.
What of situation whereby somebody collects some money and absconds with the money, has it ever happened?
It has never happened, although at times they may collect money and not pay on time due to the situation of the country but at the end of the day they'll turn up but it has never happened before that some people will collect our money and abscond.
Let's talk about your Ministry, how did you start?
About the ministry Christ Believers Evangelical Church, we started in the year 1999 as a fellowship but the main church stated in the year 2000 and we started with 10 members but today, we have branches at Oba-Ile, although the present headquarters is at Ijoka, where we held our program of recent.
Let's talk about the Champion Group of Schools.
The Champion Group of Schools started in the year 2002, precisely 19 years ago. We started at Idi-agba where we used as a temporary site, with about 6 chidren, with kindergartens (KG) and creche but at time went on, we had another branch at Ijoka and another branch at Oda town and gradually the Lord helped us to buy this place and the other place together which is now our permanent site and here we are today.
Some people establish churches because of what they want to eat and at the end of the day so many ugly things will happen. Sir, what kind of experience have you ganered as regards this?
Like you have rightly said, some people started their churches as a result of what they want to eat and that is why we have a lot of havoc in the system today, that is why they behave as if some are not being called by God. The truth is that some people are not called by God, they called themselves and what I do tell people about that is that instead of depending on the Ministry to feed you, to take care of your needs, why don't you have a tent ministry? When you have a tent Ministry, it will assist your ministry and you; so that you will not be depending on the church and that is the reason when we started God gave us the grace (not that we rushed and started the Champion Group of Schools because before I venture into anything, I receive guidance from God. God gave us a revelation that we should go and start, in fact, He is the one that is causing us to experience what we are experiencing now and I do tell people and some of our ministers, that you must support your ministry with a tent making ministry (a means of supporting yourself) so that you will be able to deliver the ABC of the gospel because when you do not support your ministry with one business or the other, before you know it, you will start preaching outside the Bible, you will add another thing to it but when you have a tent making ministry, you will push the ABC's of God without adding anything and the undiluted word of God will be preached without fear (whether they pay tithe or not). If you have a venture that you do, it will help your ministry in moving forward and faster.
This same question I was discussing with one of our pastors today, before I started I told God that God I didn't want full-time pastors. I wanted a pastor that will have a business and also run the ministry because nowadays, if you are only depending on the ministry before you know it, you will run into another thing. Then he said that there was a time that Baba Abiara gathered everybody together during a pastors' conference and he said that in the Garden of Eden, there are four ways through which water enters the garden. So, if one dries, the other cannot dry but if you are having only one channel through which you are taking care of yourself, if that channel dries, that means that the person would dry up and before you know it, the person would deep his/her hand into another thing.
So in a nutshell, you do not suscribe to pastors going into a full-time capacity?
I will say yes, because the only time that you can be on a full-time really is when God has helped you, you've achieved a lot, build up the ministry and everything is in order then you can say let me just face this squarely although God do call people to go into a full-time ministry, to suspend every other thing and face His work. The reason God does that is that with all these things one might not be having enough time for Him, so He may ask that person to stop everything and face the ministry. Let me bring my own case as an example, I was once in Ibadan where I got converted in Christ Witness Mission, God told me to hand over everything and move into the Ministry. I handed over everything and I went into a full-time ministry. But later when God called me to move out again and start this ministry, I moved out and started. Later there was a revelation of this school business, we have now started it. Initially, we were planning it so that my wife will have something doing but I will be there to support her, be around her so that she would be encouraged. But, some children were brought and we did not have money to employ more teachers because she was the only teacher then, that was why I changed my schedule and shifted everything that I did in the day to the night (doing vigil and the rest till now), then I took chalks and started teaching. My wife and myself were teaching for four years, we only employed one teacher but after the forth year we were forced to stop teaching because we couldn't have time for ourselves and our children anymore. That was why we said let us withdraw our hands and started monitoring the school. So, when I wanted to venture into it, I went to God and I told God that He should give me the grace to support this mission so I went ahead and started teaching.
Sir, to say that the current insecurity in this country is alarming is an understatement, as a leader and a pastor at a time like this, what do you expect christians to do?
In a time like this, as christians, we are expected to go on our kneels and pray to God to put the whole country in good order.
Christians are expected to do the needful, that is, everything that we are supposed to do to support the government and make sure that the whole system is in good order, we are to get it done.
But today in some churches, what we discover is unrighteousness, unfaithfulness which is not right, even some of the pastors are doing what the unbelievers cannot do. So, who should we now believe and depend on? That is where christian leaders are disappointing the bredrens. I will just say that the christian leaders should check themselves and amend their ways, support the country, pray and support the whole system.
Some people are agitating for breakup, in a situation whereby the Yorubas would not tolerate the Fulanis because they kill, kidnap and even destroy their properties and the Fulanis are hostile to the Igbos so the best thing is for everybody to part ways. Sir, what is your position on this?
When people are shouting, clamouring on division is because there is no love, where there is love, there is unity and everybody will believe that we are one.
In a situation where the leaders are not performing their duties as expected, that makes people to clamour and ask for division.
If I may say this, division is not the answer to the problem of this country. The solution is for us to be together, then when we are together our leaders should check themselves and amend their ways, that is why I said that christians have a lot to do in terms of prayer that God should help us put this country in good order. Let both the Christians and Muslims pray that God should put our system in good order and God should give us good leaders and the leaders that are there now, God should touch their minds to do the right thing for the country.
The problem we are having today is that many of our people (both young and old) if they get into leadership, the first thing they do is to take care of theirselves and their families. Even the citizens are the ones encouraging them into doing all these rubbish. For example, assuming I become the Chairman of Akure South Local Government, some of my families will come and say 'brother if you don't make it now, that's the end for you', many Christians will start coming to me with envelopes that they want to do anniversaries and before you know it I must have collected 40-50 envelopes. People will invite me for so many events, so do they expect me to be using my own salary for all these things? I can only look for a means to rub them by using Peter to pay Paul and these are the things going on in the country but I pray that God should help us and intervene in the situation.
Also, the level of our poverty is too high, there are no jobs. Assuming there are jobs, nobody will be waiting for a Chairman to sponsor him/her. I just pray that God will touch our leaders because if our leaders have the mercy of the masses at heart, I believe they will deliver.