Giving Life to the Lifeless is My Priority- Dennis Fadairo( FADA) By Olaseeni Oyesusi Describes a Society without Education as Zero Soci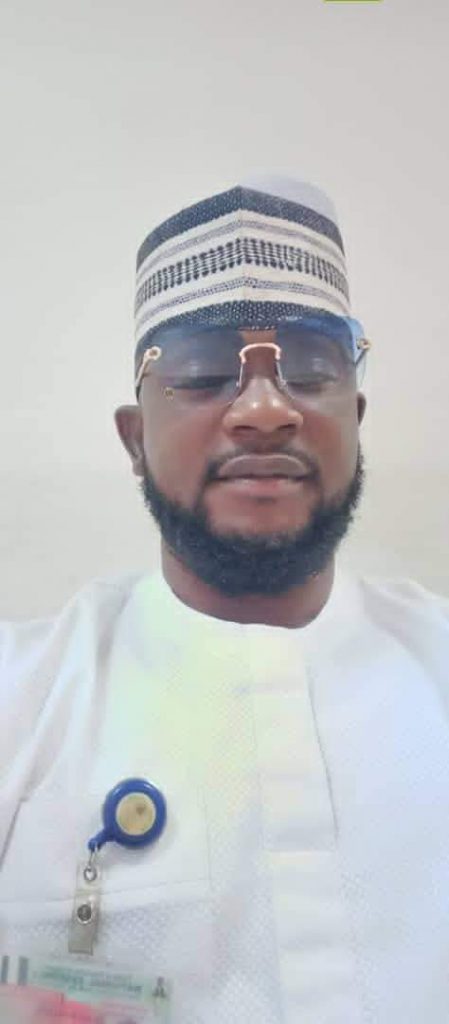 Giving Life to the Lifeless is My Priority- Dennis Fadairo( FADA)
By Olaseeni Oyesusi
Describes a Society without Education as Zero Society
Distributes Hundreds of JAMB Forms and Exercise Books
If one truly has the heart of impacting the lives of others especially the destitute, this must have been playing out early enough even before or without venturing into Politics.
Hon Dennis Oluwafemi Ifadairo popularly known as FADA is one man that has put the burden of the less privileged especially from Akure North and South Federal Consistency on his shoulder even though he is not occupying any Political Office.
The Director of Administration to the Senate President has his interest in Education empoerenment of the down trodden. He has so far singlehandedly sponsored the purchase of JAMB Forms to not fewer than 400 indigent students apart from his incessant donation of Exercise Books to the Pupils and Students.
More also, FADA derives joy in Grading of rural and Community Roads even before the intervention of the Government. He has also assisted the windows in not small measure as well as granting of loans to the market women with little or no interest.
Oluwafemi Dennis Ifadairo has unbeatable leadership qualities that differentiate him from all these Politicians around. He is experienced and rooted at home with the capacity to turn things around in Akure North/Akure South Federal Constituency if given the opportunity.
The leadership philosophy of Dennis Fadairo a.k.a FADA is not only rooted in politics, he is always at the beck and call of those that seek him.
He is a Blessing to Akure North/Akure South Federal Constituency, Ondo Central Senatorial District,Ondo State,Nigeria and Humanity…
Meanwhile, his recent Education Empoerenment event can be described as unique gathering for the who is who in Ondo State especially Akure South and North Federal Constituency.
Meanwhile, Hon Dennis Oluwafemi Ifadairo has described a Society without Education as a Zero Society.
The Director of Administration to the Senate President of the Federal Republic of Nigeria, made this known during his Education Empoerenment event in Akure recently.
The event which took place on the 17th of May 2021 at CAC Mega School Hall, Irowo, Akure, Ondo State paraded almost all the chieftains of the All Progressives Congress in Akure South and North Federal Consistency.
Hon. Dennis Oluwafemi Ifadairo who is an indigene of Akure, Ondo State, started an empowerment programme since 2018, helping students who couldn't further their education because of his love and passion for education. In an interview with the Chronicle Magazine, he said "I love and have passion for education, a society without Education is a zero society. If one must have a very good society, one must put Education as ones priority and because ed6ucation is my priority, that's why I'm doing this today". He said.
Hon FADA said further that "although, we couldn't do much last year (2020) because of Covid 19, but we thank God that Covid 19 has reduced. We started with about 47 students but this year is about 225 students. I thank God that I am able to give back to the society".
Fadairo who was likened with late Obafemi Awolowo about the care he has for Education, said that Obafemi Awolowo laid that foundation of free Education for students and he is glad to follow suit. He said that although his family is not that rich but it pains him to see students with good O' level results and cannot continue their studies because they don't have 4,500 to pay for JAMB, this is why he came up with Fadairo Foundation to help them by giving out JAMB forms to students.
Fadairo said he also wishes to give out scholarships to some of the students because he knows what education means in one's life.
Meanwhile, the Director of Administration to the Senate President has also admonished other people to come out and help the society, he said "other people should come on board and help the society, it is not only when you contest that you should do empowerment, it is not only when you are applying for any position but to think of how to give back to the society. All of us should come together and do this kind of thing so that the youths that are involved in all manner of atrocities will be checkmatted and we will have a better society".
Among those who gave Goodwill Messages were the Deji of Akure, Oba Ogunlade Aladetoyinbo who applauded Fadairo for a job well done and that he has taken the footsteps of Awolowo. He said Fadairo is interested in making the future better because the students/pupils are the future and he his doing well by investing in Education. He advised that he should keep up the good work and promises to support him anywhere and anytime. The Paramount Ruler of Akure instructed the students to read their books if they must be great in life.
Also, the Chief Imam of Akure Kingdom, Alhaji Abdul Akeem Akorede greeted Fadairo that it is the good that has been in him since childhood that is coming out now as he told the people to hold on to what they have (Fadairo). He advised Akure citizens to emulate what is good and do it and to support Fadairo in prayers so that he can do more. He concluded by praying for him for greater places and higher heights.
Furthermore, her Excellency Mrs Betty Akeredolu who was represented by her Special Assistant on Special duty Mr. Alex said Fadairo was giving back to the society in a good way by empowering the youths. He announced that Arabirin Betty Akeredolu has declared her interest in supporting the FADA foundation in any capacity.
Lastly, Senator Nimbe Farunkanmi praised Femi Fadairo for a job well done, he also explained that Fadairo has made provisions of important opportunities for the children to benefit from. He called out for people to come out enmass and support him in his Programme so that the future of the students will be better and there will be a better society. He further appealed to the students that the opportunities they have is very rear and he urged them to study and work very hard for their future to be better.
Students from different schools in the two Local Governments that were present were given textbooks and cash as support from Fadairo's foundation. Some of the Schools includes Anglican Grammar School iju Itaogbolu, Iluro Community Primary School, Apomu Community High School Apomu, Igoba Comprehensive Primary School Igoba, Methodist Primary School Akure, CAC Grammar School Akure, Ijomimo Oluwa Akure, and many others.
Also, Pupils that were supported with JAMB forms includes Opeoluwa Olatoeru, Ajayi Temiloluwa Helen, Adesola Favour, Oludele Imoleayo Sarah, Oludara Moyinoluwa, Austin Kayode, Olafisoye Ayokunle Emmanuel, Ojo Taiwo Michelle, Taiwo Iyanuoluwa Ruth, Tolu Oluwamayowa, Solomon Mary, Fakasi Korede Esther, Abdulrasheed Hassan, Yunusa Mary and many others.
The programme was filled with high dignitaries which includes Deji of Akure Kingdom, the Chieftain of APC Ifarunkanmi Nimba, the Chairman Prince Olu Adegboro, Former Akure South Local Government Chairman, Doctor S.B Akerele, APC Chairman in Ondo State represented, Oluijigba of Ijigba land Rotimi Luyi, Hon. Femi Bello, youth leader of APC in Ondo State, Olutayo Babalayo, Alhaji Aliu Bayo, Otunba Razak Isijola, Doctor Akindele Ige, Surv. Ogbesetore Chairman of Akure North Local Government, Hon Olaniyi Gbenga the Chairman of Akure South, the Cheif Iman of Akure kingdom Alhaji Akeem Akorede, Hon. Idowu Otetubi, Dep. State Chairman of APC Ikoti Adaba, Hon. Chief Ayeyemi, former SSG Hon. Tayo Oluwatuyi amongst others.
However, in order to bring succour to the people of Alamo community, and other areas within Akure North local Government, the Director of Administration and a frontline aspirant for the House of Representatives, Honourable Dennis Oluwafemi Fadairo has graded roads in Alamo,Oke Afa, Afarimafarugbon which had hitherto suffered total neglect by past Governments.
'FADA' as fondly called by political associates and friends told newsmen that his intervention was to make life comfortable for the people of the area.
'The area has been cut off from other communities. We have now open the area for farming and commercial activities to thrive'
Though it cost us money but nothing is too much to make life more comfortable for my people, Fadairo said.
Community leaders in the town, Chief Abraham Agbedele and Chief Joshua Ayodele Elepo appreciate the kind gesture of Hon. Fadairo, he described his gesture as unprecedented.
'We can't thank him enough, because the road has been neglected for a long time
'Our farm produce can now be moved with ease'
The Community vouch to support Fadairo in his quest to contest for the House of Representatives seat in 2023.
On this note, all the Councillors in itaogbolu have appreciated the good works of Director Of Administration To The Senate President Of The Federal Republic Of Nigeria,Hon Oluwafemi Dennis Fadairo a.k.a Fada who is also the Atunluse Of Akure Kingdom in all their wards.
The Landlord Associations of Oke Afa Community in Itaogbolu,Akure North were very happy with what FADA has done for them because the Road has been unmotorable for a very long time.
They prayed for FADA that God Almighty will continue to bless him and they are ready to work for his victory come to the Green Chambers come 2023.
They urge Politicians to emulate him because he is a blessing to the People of Akure North/Akure South Federal Constituency and Humanity.
They however promised to support him for House Of Representative Akure North/Akure South Federal Constituency in 2023.
The Grading of the Community Road was graced by Akure North Local Government Chairman, Hon Ogbesetore and other Government functionaries.
Hon Ogbesetore thanked FADA for taking it upon himself to grade their Roads in the Local Government.
Meanwhile, FADA has promised to do more for his people in Akure North and Akure South Federal Constituency.
However, Hon Fadairo Dennis Oluwafemi was born to the family of Pa Emmanuel Ojo Fadairo and Chief Mrs Julianah Faidaro of Akure South Local Government Area Council. He attended St Martins Primary school Odopetu, Akure between 1987 and 1992, proceeded to St Thomas Aquinas College, Akure and later to Kogi State University, Anyigba where he obtained Diploma in Banking and Finance between 2000 and 2003.
More also, he obtained his first degree from the same ivory tower, and thereafter served his father's land as a Youth Corps in both Kebbi and Ekiti State respectively.
Meanwhile, for the love of his people, he joined active politics where he can serve in a bigger platforms; FADA is a grass roots politician love by all based on his antecedent of performance in different places he has served the community. He is a member of the ruling All Progressive Congress (APC) and former pioneer Secretary of the party at Ward 8, Oke Aro in Akure South.
He was a Special Assistant on Special Duties to the ranking Senator Ajayi Boroffice, representing Ondo North Senatorial District from 2016-2018. He was privileged to worked for the return of the senator to the Red Chamber in 2019, an election won and today Senator Boroffice is the Deputy Senate Leader.
Due to his loyalty, doggedness and proactiveness, Senator Boroffice recommended him to the Senate President, Ahmed Lawan where FADA was appointed as the Director of Administration in the office of the Senate President of the Federal Republic of Nigeria.
However, FADA has received Awards from different reputable organisations within and outside Ondo State. He is the Aare Atuluse of Akureland and Aare Asoju Odo Odua Agbaye.
Having said all these, it is now left for the Party Leaders in Akure South and North Federal Consistency and by extension, Ondo State including the electorates to appreciate the kind gesture of FADA by ensuring that he clinches the Party ticket and subsequently use their votes to make him a Member representing Akure South/ North Federal Consistency at the Green Chamber of the National Assembly come 2023.
FADA is tested and trusted. He is accessible and available. He has been doing the needful before now and so, it won't be difficult for him to be consistent.