Divine Manifesto of Prosperity – Goke Williams The legislative function in not just robust representation of the people, but as well as dire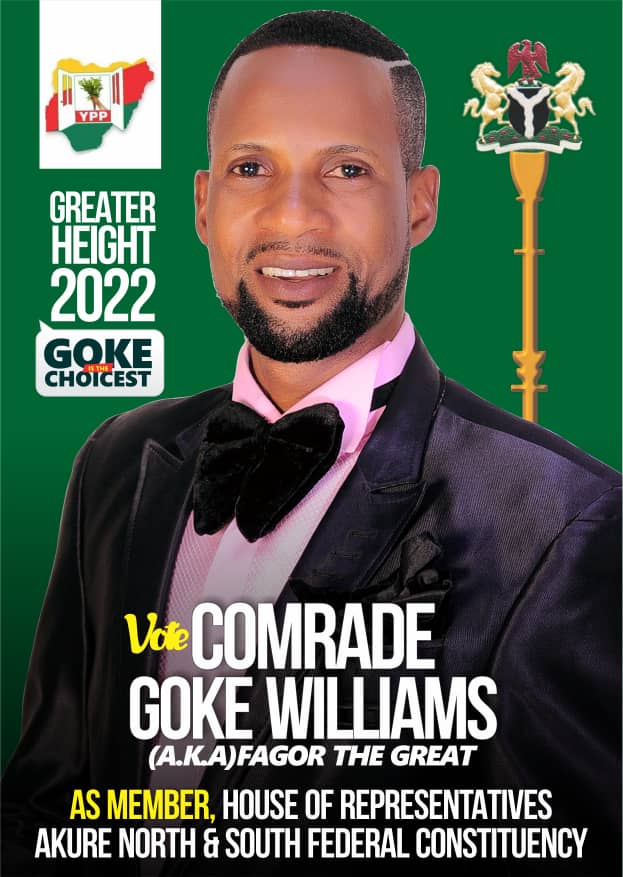 Divine Manifesto of Prosperity – Goke Williams
The legislative function in not just robust representation of the people, but as well as direct and massive investment on, first, the people, followed by: institutions and infrastructures. Therefore, I hereby, with due sense of humility, present my projected programmes if elected by God's grace for the good people of Akure – a people helped and blessed by God.
Industrialisation
— Establish small and medium sized enterprises in the production of bread, table water, cosmetics, cassava granules (garri), local drinks etc, and opening of computer villages.
— Introduce a private public partnership and woo foreign/diaspora investors.
— Organise periodic investment and entrepreneuship summits.
— Soft loans for SMEs/producers/potential investors.
— Review of business registration and procedure.
— Set best standard for local products as well as radical advocacy for consumption of locally produced goods.
— Create local and foreign markets for locally produced goods.
— Motivate, reward and award entrepreneurial drives.
— Train entrepreneurs on product quality, packaging, marketing and sales.
— Encourage innovation.
Job Creation/Human Establishment
— Compulsory and massive investment in the people directly as well as unflinching commitment to the growth and welfare of the diaspora.
— Identify, develop and promote local talents to a global standard in sports, music, arts etc.
— Free skills acquisition and settlement/establishment of participants.
— Facilitate easy and quick access to credit.
— Organise constant seminars on job creation/youth development with motivational and seasoned speakers.
— Partner federal government and relevant international organisations on massive job creation.
— Focus on entrepreneuship, industrialisation and agriculture to create wealth for the youth.
— Free monthly stipend for the aged.
— Creation of conducive environment for the physically challenged to thrive with ease and succeed in life.
— Promotion of gender equality and financial support for all women.
Infrastructures
— Construction of roads and bridges.
— Provision of transformers and potable water.
— Completion of Akure Civic Centre.
— Influence massive and outstanding infastructural development through powers of persuasion and relations with the affluent, federal government and international agencies.
— Install solar powered traffic control lights on busy roads.
— Channelisation of waterways.
— Consensual community projects – to be given top piorities.
— Airport upgrading to an international standard.
— Constituency office in Akure North and Akure South – to be widely opened to all and sundry devoid of party affiliations.
Education
— Create student loans.
— Free scholarships for brilliant and indigent students.
— Free bursaries for all native students in higher institutions.
— Free English and Mathematics textbooks for secondary school students every academic year.
— Free supply of toiletries to schools.
— Free ICT training.
— Free UTME forms/financial assistance for A level students.
— Inculcate reading and speaking skills amongst students.
— Renovation of existing buildings, building of modern classrooms and recreational facilities.
— Improve the physical infrastructures in the tertiary institutions.
— Provision of adequate modern equipment for e–libraries, laboratories etc.
— Provision of school buses.
— Incentives and merit awards for outstanding teachers/lecturers and school leaders.
— Organise regular seminars/workshops to upgrade students/teachers/administrators' knowledge, skills and competences.
— Free adult education.
Agriculture
— Provision of soft loans for farmers and potential farmers.
— Expansion of private livestock production (poultry, cattle etc).
— Plantation revolution and magnification through mechanisation (cocoa, kola nuts, palm trees, tubers, teak, plantains, banana, vegetables etc).
— Provision of irrigation, storage and processing facilities.
— Reinforcement of agricultural institutions.
— Boosting of aquaculture generation.
— Facilitate access to virgin land through partnership with private individuals and community leaders.
— Access to subsidised tools.
— Free chemicals, fertilisers, and training for farmers by agricultural experts.
— Partner appropriate agencies to increase food production and also security outfits to secure farmers, farm land and produce.
Health
— Upgrading of health centres with modern equipment.
— Free eye surgery and glasses.
— Free medical check up for the elderly and the physically challenged.
— Creation of public awareness on infectious diseases.
— Promote hygiene, nutrition and healthy environment – pollution control, weaste removal and management.
— Reduce infant mortality rate.
— Improve maternal health.
— Facilitate quick completion of Akure Teaching Hospital.
— Free capacity building and incentives for health workers.
— Promote research into traditional medicine and integrate such into the modern medical system.
Sociocultural and Tourism Advancement
— Embark on rapid cultural and tourism revival.
— Provide platforms to showcase our diverse cultures/tourist attractions to the world.
— Upgrade social activities together with strong support for religious events.
— Building of an Altra Modern Amusement Park.
— Organise a beauty pageant (Miss Akure) annually with mouthwatering prizes.
— Invest in local/traditional entertainers.
— Facilitate foreign investment and influence private participation in tourism development.
— Promote a peaceful coexisting amongst different tribes and neighbouring cities.
My political participation is premised on prophecy – God's revelations – coupled with unconditional love for the masses and a burning desire for a better society. Honestly, my vision is to make Akure North and Akure South the best administered Federal Constituency in Nigeria: not only where poverty is alleviated, but also kicked out. Yes, where everyone is happy and possesses a sense of fulfilment. My core values are discipline, humility, respect, excellence, transparence and accessibility – all shall be evident in my selfless service if elected. I heartily request your unalloyed support in all ramifications to make this divine dream a reality.
The vision of the Young Progressives Party, YPP, is to build an egalitarian society anchored on Nigerian citizens as the prime resource driven by mentally progressive and young innovative leaders without greed. This laudable vision of great party of ours aligns perfectly with my humble personality. Indeed, this is a round peg well fixed in a round hole.
My heartfelt appreciation for your time. Thank you and God bless. Akure agbe a o!
Comrade Goke Williams (Fagorola's Son)
Akure North/South Federal Constituency House of
Representatives Aspirant, Young Progressives Party (YPP)
Facebook: Comrade Goke Williams (08066768407)