HON TAOFIK OLADELE EMPOWERS CONSTITUENTS TO CELEBRATE 2 YEARS IN OFFICE It's a beautiful sight to behold for the people of Akoko Northwest C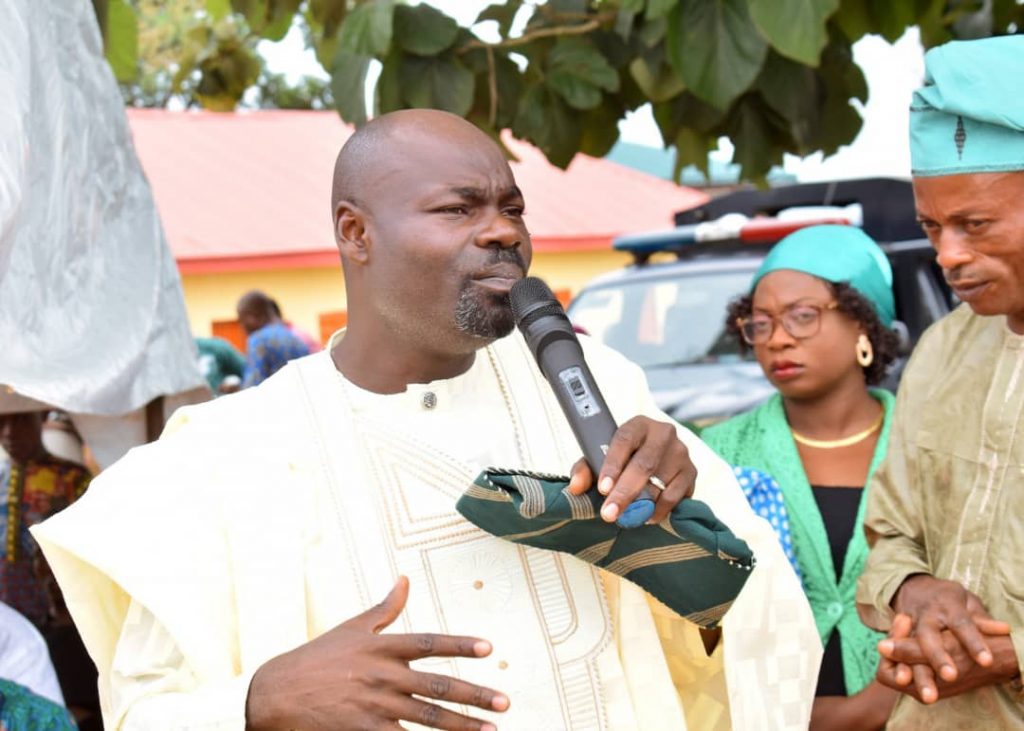 HON TAOFIK OLADELE EMPOWERS CONSTITUENTS TO CELEBRATE 2 YEARS IN OFFICE
It's a beautiful sight to behold for the people of Akoko Northwest Constituency II as they witnessed yet again the dividends of a good, transparent and progressive representative as one of its son whom they have elected to represent and advance their interest at the State House of Assembly continued his efforts in advancing the course of his people.
In a reality where some breed of individuals within the nation's political class have made it a general conduct of making promises and vows which they never fulfill once they acquire the political power, Hon Taofik Mohammed Oladele has once again proven himself as a unique breed of politician, one who understands the real essence of proper and adequate representative and will never take the interest of his people with levity.
Staying true to one of his electoral promises and duties as an elected Members of the Ondo State House of Assembly, reeled out items worth millions of naira to members of his Constituency aimed towards the empowerment of his people, even at this critical time where there are various socio-economic challenges.
Items distributed to the people of Akoko Northwest Constituency II include; Cash, Bumping Machines, grinding Machines, Sewing Machines, Generators, stationary for students and cutlasses for the farmers.
According to the Lawmaker, his genuine intention is to see that his people enjoy the best of proper and adequate representation even if the State has never given them Constituency allowance since he resumed office 2years ago.
He added that the onus now rest on him to ensure that he uses the mandate given to him by the people to satisfy the interest of his people.
In his speech the Caretaker Chairman of the All Progressive Congress (APC) in Ondo State, Engr. Ade Adetimehin described the Lawmaker as a loyalist to the party and his constituency. He said, " Taofik is one who the party can send on an errand and will deliver" .
"When your people who are the electorate and sole examiner of your activities can fully attest to your good works and also when the political structure which you belong to can also attest to your capacity and capabilities as a diligent and progressive member, then you can go home to sleep and have worry about nothing as it's quite evident that you are a trusted and loyal public servant".
Also while appreciating the Lawmaker for his good gesture, The Owa of Ogbagi Akoko, His Royal Highness, Oba Adetona, commended the constant intervention of Hon Taofik to the development of his constituency. He said" we have not experienced this kind of empowerment programme in Akoko Northwest Constituency II, for the last 10 Years that we have been producing Members of the House of Assembly".
He equally stated that he is not surprised Hon. Taofik Mohammed Oladele is empowering his people because he has been doing a lot of projects across his Constituency.
He stated some of his projects Wich includes: installation of Solar Inverter at Ogbagi Palace, modern and Local Bore hole in various towns, payment of Jamb forms of some students to mention few.
According to him, "I can remember vividly his many commitment to ensure Arakunrin OluwarotimiAkeredolu, SAN is re-elected. His knack for appreciating loyalty is profound. Obviously, Akoko Northwest Constituency II got a better representation in Hon.Taofik"
The recipients of this items not only appreciated the goodwill of their son who has found it worthy and noble to honor his words but also stated that the development is highly unprecedented in the history of the Local Government.
Dignitaries present at the event are, Kabiyesi of Ogbagi, Oba Adetona, party chairman, Engr. Adetimehin, Deputy Speaker, Rt. Hon. Samuel Aderoboye, Hon Borokini, Hon Elegbeleye, Hon Abayomi Akinruntan, Hon Adefiranye and some part leaders across Akoko Northwest Constituency II are there in person. No doubt, this occasion bears testimony of acceptability, confidence, diligence & communal solidarity.
Meanwhile, it would be recalled that Hon Taofik Oladele has empowered his constituents at different occasions even before his two years in office. The Achievements included
-Installation of a solid Solar Inverter at Ogbagi Palace.
-Payment of hospital bill and cash gift for a woman who delivered Quadruplets.
-Payment of Jamb form of some selected students across the Constituency.
-Price given to some qualified students across the Constituency.
-Distribution of foodstuff and cash palliative during Covid-19.
-Construction of Local bolehole at Aba Dauda, Oke Irun Surulere.
-Construction of Local bolehole at Aba Ajidu, Odo Irun Oyimo.
-Donation of Block to Almaddiyya Grammar School, Ogbagi.
-Donation of Block to C.A.C Church, Ogbagi.
-Construction of modern bolehole at C.A.C Oke Dindinrin, Ayetoro Ogbagi.
-Empowerment programme that worth millions for the people of his Constituency.
-Distribution of stationaries for pupils accross the Constituency.