Ifedayo Adedipe gives back to Alma Mater, Donates an Edifice in honour of late Mother Olanrewaju Ayo It was a land mark event on Wednesda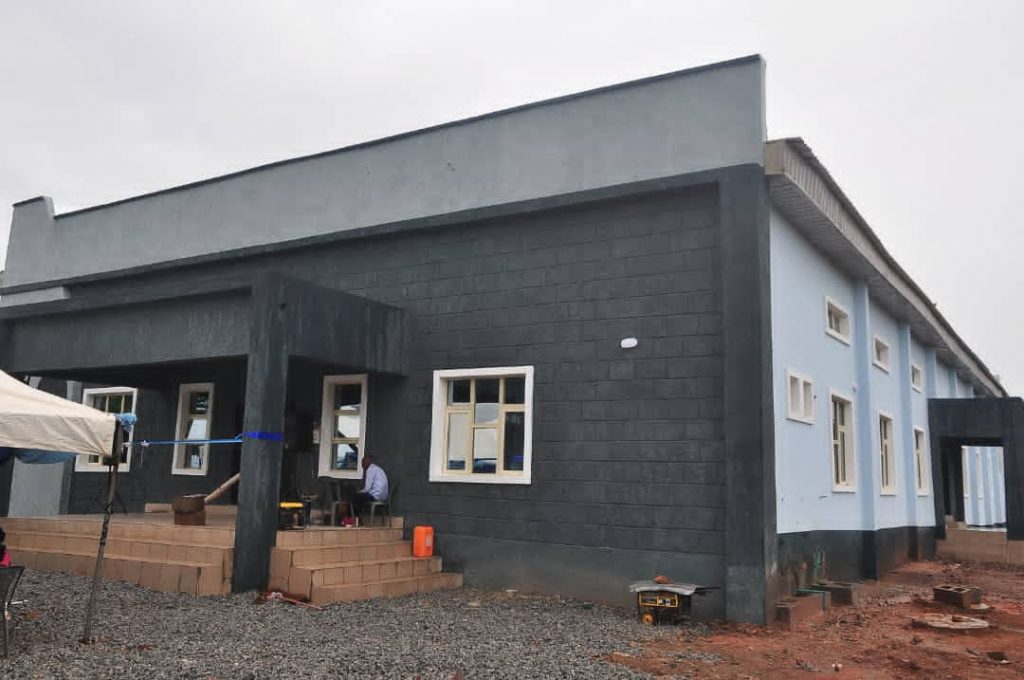 Ifedayo Adedipe gives back to Alma Mater, Donates an Edifice in honour of late Mother
Olanrewaju Ayo
It was a land mark event on Wednesday, June 10, 2021, as one of the renowned lawyer in Nigeria and an Akure born, Chief Ifedayo Adedipe SAN dedicated and donated a multipurpose hall to his Secondary School Alma Mater, Christ Apostolic Grammar School, Akure.
The multipurpose hall, was built and named after the legal luminary's later mother, Mrs. Morenike Adamu Adedipe, who passed on to glory in 2020.
The groundbreaking event, brought together old students of different sets from within and outside the State, as they could not hide their joy, seeing their Alma Mata taking a new phase.
Leading other members of Staff to the event, the school Principal, Mrs Mercy Adetimehin, who also could not hide her joy, gave thanks to God and noted how CAC Grammar School, Akure has grown to become not just one of the luckiest but greatly privileged among other few schools in Nigeria. She further stated that the success recorded is through a dint of hardwork, perseverance, constant contact with old students and prayer, which has drawn numerous selfless donors' benefits towards the holistic growth of the school.
Showering encomium on Chief Adedipe, the facilitator of the project, the Principal said " Chief Adedipe has proven to be a good Ambassador of the citadel of learning. "This is a massive project, the students, members of staff and all stakeholders of CAC Grammar school cannot thank him enough, I want to emphatically say that money generated from this hall will be used thoroughly for the development of the school and also, the maintenance of the hall, nobody will siphon the money." She added
Mrs Adetimehin, took turns to appreciate every individual and old students who have donated in one way or the other to the general wellbeing of the school, and also passionately appreciate the Governor of the State, Arakunrin Oluwarotimi Akeredolu for his immense contribution to the holistic academic development of all schools in Ondo State.
In the meantime, the facilitator, Ifedayo Adedipe SAN, in his remarks, thanked God, and his mother, Madam Morenike Adam Adedipe on whose honour the hall was dedicated. While speaking on the reason for building the hall in the name of his late mother, he said "I do say that man proposes but God disposes and in His infinite mercy He made way where there were no ways. The hall is dedicated to my late mother, this time last year, she passed away at age 86 though she wasn't too young and few months before she passed away, she would have been 87 but I wished she had lived another 86 years even though I know that it is impossible but this building was built to recognize and appreciate her effort although she never went to school but she was brilliant and a workaholic. She was a member of Omojayo group because she could dance and I pray that God will receive her in His eternal bossom."
"This building is a token because I'm a beneficiary of this school. When I was little, there was no money but I was brilliant and the teachers said that they cannot continue to loose their brilliant students to other schools so they granted me some indulgence, then when I had my first double promotion not long after the second one came which made me spent three years and half in this school, the school then encouraged me to teach. So, some of my classmates became my students." He further stated.
Ifedayo Adams Adedipe, Esq., Senior Advocate of Nigeria (SAN) graduated from the University of Ile-Ife (now Obafemi Awolowo University) (OAU) Ile-Ife in Osun State with a Second Class Honours (Upper Division) bachelor's degree in Law in 1979 after coming out top as the best graduating student of his class. He was eventually called to the Nigerian Bar on the 19th of July, 1980.
He did his National Youth Service with the Rivers State office of the Legal Aid Council of Nigeria in Port Harcourt in 1981 and delved into full-time legal practice which transcended legal works in various law firms. Femi Olowo & Co in 1982; A. S. Young Harry in 1984; and Jamabo & Jamabo in 1985 before setting up his own law firm in 1986 known as I. A. Adedipe & Co.
In 2005, he was elevated to the inner bar as a Senior Advocate of Nigeria and with this new status came in new challenges. And in 2006, he formed the new firm, Adedipe & Adedipe Legal Practitioners in order to meet the ever expanding nature of practice and to expand the frontiers of practice.
His areas of interest include: Corporate/Commercial law, Constitutional law, Litigation & Property law practice. He is a Member of the Nigerian Bar Association and the International Bar Association. He is the Principal Partner and Managing Solicitor.
Other personalities at the event were Ondo State former Deputy Governor, Chief Omolade Oluwateru, Permanent Secretary, some family members of the donor, the Adedipes, Ministry of Education, who was duly represented, Retired Principal, Mrs Arinola Ola, Members of CAC Grammar School Old Student Association, National President, Mr Fanibi, Bar Abayomi Ojo, former Chairman of Akure South Local Government, Hon Tayo Alarapon, some students and staff of the college amidst others.
Cultural dance displays by the Students, songs rendition by the CAC Gammar School Choir were also major highlights of the event.