By Olaseeni Oyesusi -Sets to become the Deputy Speaker in the 10th National Assembly The Member representing Ondo West and East Federal C
By Olaseeni Oyesusi
-Sets to become the Deputy Speaker in the 10th National Assembly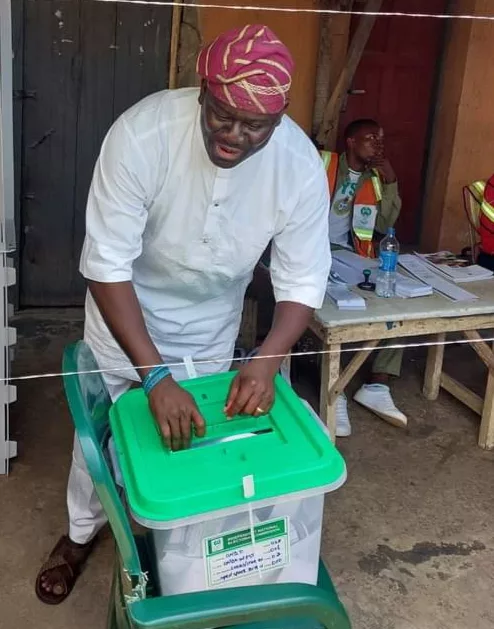 The Member representing Ondo West and East Federal Constituency in the Lower Chamber of the National Assembly, Hon Abiola Makinde has described the attitude of the Governor of the Central Bank of Nigeria, Godwin Emiefele has unlawful and wicked even after the Apex Court verdict that the 200, 500 and 1,000 naira notes must remain legal tender till the 23rd of December, this year. The MHR made this known while answering questions from journalists immediately after he casted his House of Assembly vote at his polling unit, Yaba, Ondo. He said after resumption, one of their duties would be to invite the Central Bank Governor, Godwin Emiefele for questioning.
In his words, "scarcity of of cash has caused our people untold hardships including me personally".
"People will not forget Emefiele in a hurry for this. cash crunch that he has wickedly introduced".
"As Legislators, we will definitely probe Emefiele, thank God the President has separated himself from his non challant attitude to the rule of law, so this has given us the opportunity to nail him".
"He said people should start spending the old notes and yet he didn't make the old notes available. So, he must face trials".
"I can assure you, Immediately we resume, the speaker will definitely commence the probe and by July or August, we must have opened his files and bring him to book".
Meanwhile, Hon Abiola Makinde, the MHR representing Ondo East and West has attributed his victory during the National Assembly election to the wish of his people. He said it was his constituents that won the election for him considering how he scored 19,000 during his first term and his people decided to double it by making it 38,000 plus in his reelection. The MHR said he was just doing the needful as a representative of the people and never knew that all his activities were being noticed. He however promised to continue to impact the lives of his people.
"During the 2019 election, my people gave me 19,000 votes but this time around, they decided to double it, and made it 38,000. So, I will continue to meet their demand because I'm representing them".
"I never knew people were seeing all that I have been doing, they actually reciprocated with votes".
" Just right here, I have approved the installation of 20 solar lights for this area just to thank them for the votes".
"I'm still moving around the polling units and I'm committed to serve them better, I want my people to be happy always".
When asked how he hopes the 10th Assembly will look like, the MHR said becoming the Deputy Speaker was his turn and priority based on the existing zoning program. Makinde said Ogun and Lagos have produced the Speakers respectively while Oyo has gotten the Majority Leader remaining Ondo and Ekiti because APC has no Member of the House of Representatives from Osun. So, getting the slot to Ondo State as a ranking Rep Member will not be a problem coupled with the fact that the Governor of Ondo State is the Chairman of Southern Governor's Forum.
"I'm working towards being the Deputy Speaker, it has been zoned to Southwest; Lagos and Ogun have produced Speakers on different occasions and we don't have any MHR from APC in Osun while Oyo has had Majority Leader. It is now between Ondo and Ekiti but I'm sure and hopes to get it being a ranking MHR".