Training and Retraining Crucial to Sports Development - Ondo Sport Commissioner The Ondo State Commissioner for Youth and Sports Development, Otunba
Training and Retraining Crucial to Sports Development – Ondo Sport Commissioner
The Ondo State Commissioner for Youth and Sports Development, Otunba Bamidele Ologunloluwa has said that training youths and sports lovers is crucial to sports development.
Ologun stated this at a One- day seminar organized for sports technocrats in Central Senatorial District of Ondo held at the Conference hall of the Ministry of Youths and Sports.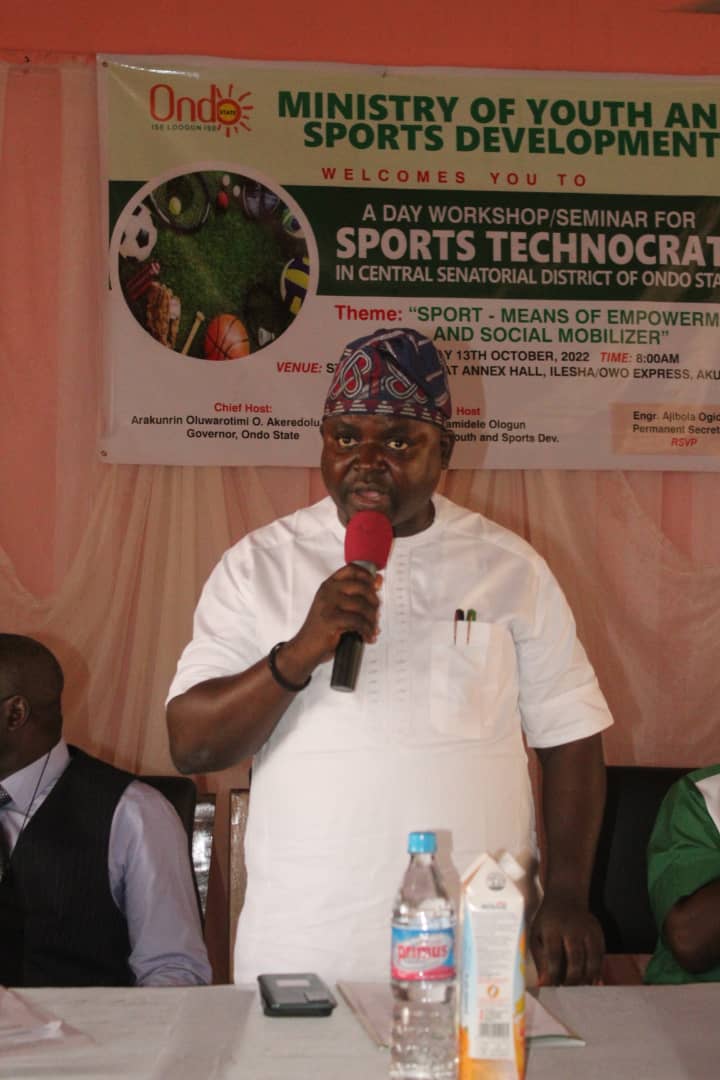 The Commissioner noted that the cardinal point of the seminar tagged Sports:' Means of Empowerment and Social Mobilizer' is to create an avenue to train technocrats inclusive of school sports teachers, sports welfare officers, game masters among others.
"As you are aware that Ondo State is blessed with credible and talented youths, it is expedient to engage these youths meaningfully through sports development".
"After several discussions and deliberations on the present challenges facing sports development in Ondo State, it is observed that there is need to have a discussion with sport stakeholders in Ondo State Senatorial District to reawaken and reengineer them to key into the agenda of the present administration".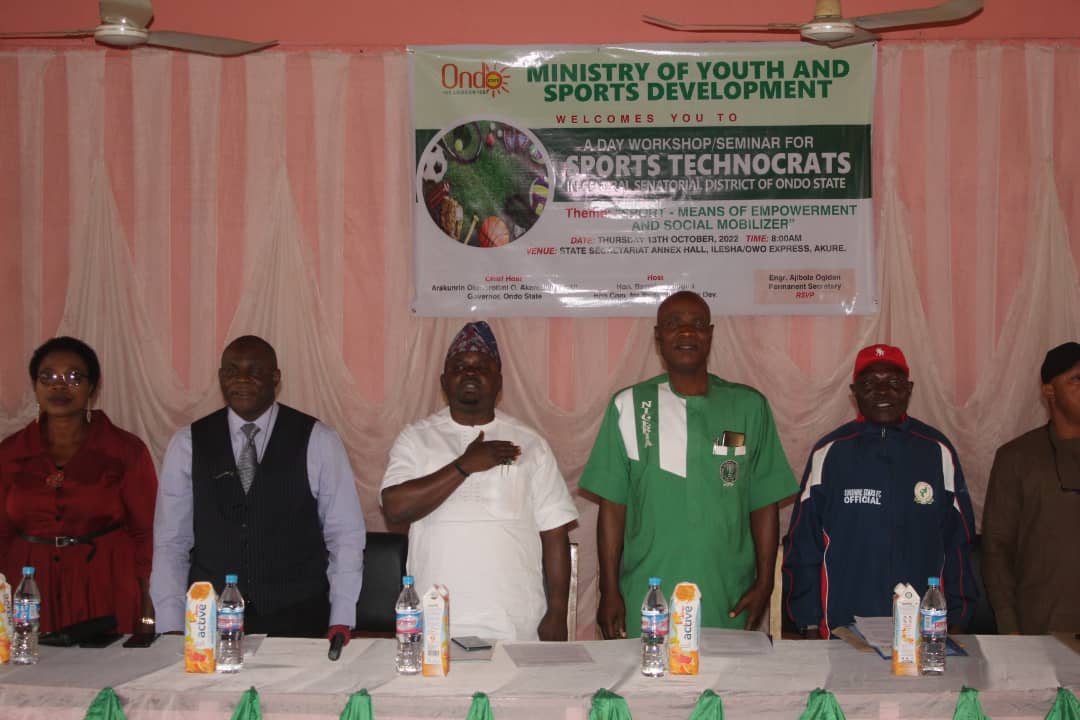 " I implore all participants to make use of this golden opportunity and utilize what is learnt here today to the advantage of youths and sports development in Ondo State."
Meanwhile, in his welcome address, the Permanent Secretary, Ministry of Youth and Sports Development, Ajibola Ogidan said the theme of the seminar was carefully chosen as it is deemed best in combating the mirage of problems bedeviling sports development in Ondo State and Nigeria as a whole.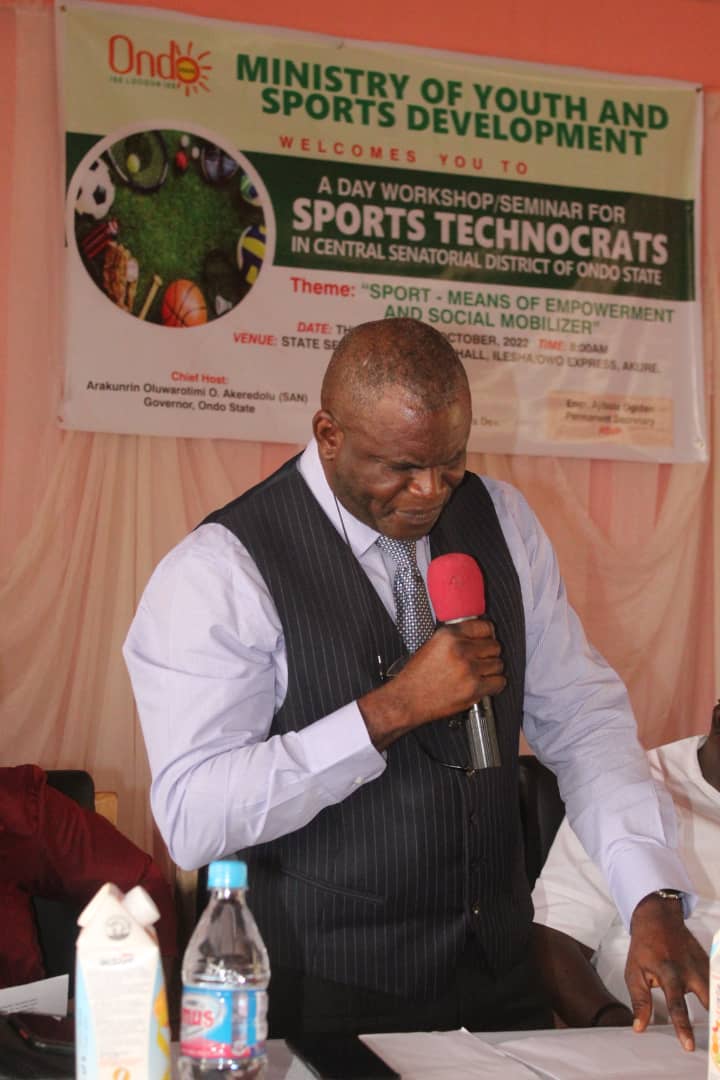 "The theme of this seminar was particularly chosen after careful thought about the present predicaments and challenges militating against sports development in Ondo State and Nigeria at large.
Hence, there is the urgent need to keep stakeholders abreast of roles expected of them in order to actualize optimum and and sustainable sports development in the State and Nigeria as a whole.
However, in his own lecture, Pastor Henry Akingboju said "sometimes when you see the disabled, you will think they are useless, but we have seen them making great impacts in recent time, hence, it is high time we go after them in achieving their potentials".
"Sports is highly instrumental in the attainment of national security and promotion of international peace among the committee of nations, it facilitates the rehabilitation of the neglected and rejected minority into the mainstream society."
Mr Patani Samuel while delivering his lecture said it is unfortunate that youth display of talent is gradually fizzling out in Nigeria.
He said, " It is your responsibility to play your own part by bringing any youth discovered with talents to the state's sport council and you can be assured that such an individual will be taken up from there."
In his reaction, the General Manager, Ondo State Sport Council; Mr Henry Babatunde commended all the resource persons for a well research paper, stressing that policy development is one of the problems plaguing the advancement of sports in secondary Schools.
He urged house masters and mistresses present to ensure the promotion of sports in their various schools giving the assurance that proposals have already been submitted to the governor to create a symbiotic relationship between the ministry of education and the ministry of youth and sports.