Engineer Nuel Ola Elehinle is a star born by Mr. Ezekiel Ashojo & Mrs. Florence Elehinle of Okeloten ruling house of Ujan quarters in Ipele, Owo L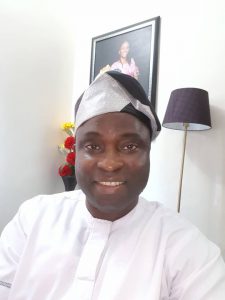 Engineer Nuel Ola Elehinle is a star born by Mr. Ezekiel Ashojo & Mrs. Florence Elehinle of Okeloten ruling house of Ujan quarters in Ipele, Owo Local Government Area of Ondo State more than 4 decades ago.
Bosun as fondly called by friends and admirers is a Philanthropist and a Politician of high repute.
 He aspired for the House Of Representative for Owo/Ose Federal Constituency under APC in 2013. He is one of the pillars behind the Victory of Arakunrin Rotimi Akeredolu in the Governorship Election.
Since then, he has been very relevant in the politics of Ondo State.
In this interview with the Editor-in-Chief of this Magazine, Olaseeni Oyesusi, he spoke extensively on the Electioneering process of  Arakunrin Rotimi Akeredolu and his performance so far with other sundry issues.
Can you please lead us a little bit into your background?
 My name is Engineer Nuel Ola Elehinle, a native of Ipele in Ondo state. The second child and first son of my parents. I had my primary education at Army Children school and Ijapo Estate Primary school both in Akure. My secondary education was at Aquinas College. I had my background in mining engineering and I am also a supply chain professional. I am a husband and a father.
 When and why did you decide to venture into politics?
 I have this spirit of helping people which is a trait I took from my parents. My belief is that I can help more people and to a large extent the society, if I acquire a polical influence. That is one reason I got involved in politics and the second is because my People need a voice.
 Considering your relationship and the support you gave for the Governor of Ondo State, Arakunrin Rotimi Akeredolu during his electioneering period; Why did you suddenly leave the stage?
 Many people have asked me this question considering my hardwork and the resources that I committed to the campaign and the election of the governor but I did not actually leave the stage. The fact is that immediately after the gubernatorial election, my job burdened on me more responsibilities and in the process, I was posted out of the country to Sweden. Inspite of that, I was still keeping in touch with happenings in our Party-APC and our National and State issues and of course, issues relating to my Federal and State Constituencies.
While I was away, I did a lot of projects for the development of the people among which is the making of school desks and chairs for public schools in Owo/Ose federal constituency.  Donation of exercise books, School shoes and sandals for pupils in Owo local Government Area and in Ose Local Government Area.
How would you rate the performance of this Government so far?
The government is doing pretty well in road construction and when we talk about the welfare of the state workers, I think the government is also doing well. At least, my father who is a pensioner in the state no longer complain about the non-payment of his monthly stipend. I would rather rate the government above average because there is always a better way and my hope is that  this government will have enough or more time to do more. You know as Cecil Rhode said; "More good things to do but so little time".
If you are to advice the Governor to improve in some areas, where would be your priority?
 The governor is doing a lot of good works to open up our rural areas through the various road constructions going on in the state. That in itself is a step to attracting investors to the state. If I am to advise the governor further, he should ensure that his plan for the formation of the LCDAs in the state is a success. If the LCDAs formation sails through, it will catalyze rapid development in the state. He should also do more in the areas of education and youth development.
His government needs to intensify efforts to attracting investors to the state. I had a direct conversation with the governor himself last December in which I made a suggestion in favour of the formation of a state mining company. He was concerned about the capital requirement. But in the actual sense of it, we can start small. One misconception about mining is that we mostly think about gold, diamond and other rear minerals but Ondo state is a state blessed with Rocks. Rock mining otherwise known as quarrying is a business with ready market on it own. If for example the government does not want to start afresh, Ondo state Asphalt Company can be restructured to diversify into to the formation of quarries in the state with compulsory patronage from government contractors. It will not only boost the economy of the state, it will also help with employment of the people and with some years to come and as growth is been recorded by the company, more interest can go into other areas including partnering with the government of the federation for the long awaited exploitation of the bitumen deposit at Agbabu.
How would you compare governance in Sweden to Nigeria?
Polical leaders in Sweden are more aware of their responsibilities than their Nigerian counterparts. Please don't take it out of context. That is my personal observation and opinion. Their Government policies in that country are more aligned to the political parties than in Nigeria.  Our government policies are mostly contrived and ochestrated by individuals that are appointed or won elective positions and they often don't go in line with the party manifestoes. That is why we have chaos in many areas of our governance with leaders pushing different objectives in different directions that are not aligned to those of the political parties that produced them. This is why our governments at all levels have been so incapacitated to support our institutions and to let  our processes thrive. I met with the governor of Orebro in Sweden, Maria Larsson during last year autumn and from our conversation and relation, I could say categorically that we have a lot of gaps to fill when it comes to consolidating our democracy and governance here in Nigeria.
Do you intend to run for a polical position in future?
The people will decide such personal intention and the future will tell.
You were seen with the Nigerian ambassador to Sweden last year and again this year with the Swedish ambassador to Nigeria. What adviamd that?
It was all about trade facilitation and better relations between the two countries.