Reverend (Dr) Nathaniel Oyinloye is an Author, Human Right Advocate and Community Development Consultant, whose contribution has made great impacts in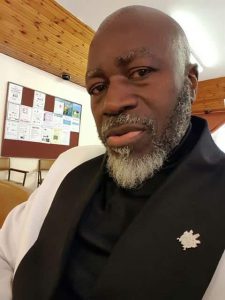 Reverend (Dr) Nathaniel Oyinloye is an Author, Human Right Advocate and Community Development Consultant, whose contribution has made great impacts in the private, public and voluntary sectors.
The Lagos born philanthropist  holds a Business Administration (BA), Masters of Business Administration (MBA), Post Graduate Diploma (PGD) in Health Services Management, Post Graduate Diploma (PGD) International Refugee Law, and also a PhD Philosophy in Counseling.
He is a Community and Church Development Consultant whose expertise is widely sought after by organizations and government.
He is a member of many credible organizations.
In this interview with the Editor-in-Chief of the Chronicle Magazine, Olaseeni Oyesusi, the human rights activist spoke extensively on his various non governmental organizations, their impact and efforts to discongest the Nigeria Prisons especially the unfortunate innocent inmates.
A brief into your background sir
I was born and bread in Oluwole, Lagos, Lagos State. My father from Kwara State, while I am a Lagosian.
I am from a devoted Christian home and no issues with other religions. My father was a Christian and my mother a Muslim but later converted to Christianity because of her husband religion. For your information I experienced Arabic School when I was young and I attended Christian establishment School also.
My father was one of those who started Patient Medicine Store in Nigeria. My father's shop was at 6 Balogun Street, Lagos. *H A Oyinloye & Sons*
My father through his business build 3 building in Lagos and one in Kwara State. He was a successful business man, I respect him for his genuine and hard work.
My mother was a trader and successful in her own way, caring, loving and beautiful mother that devoted her life for her family.
I love football and a very good footballer in my days that I was the football captain of Ashogbon Boys Club, Lagos and later joined the Anis Boys, Lagos which I was also the captain ( Anis Football Club was formed by my secondary school mate Alhaji Jelili Animashaun). The Ashogbon and Animashaun are Lagos Islanders also.
I really enjoyed my youth with lots of funs in Lagos Island, in this areas – Oju Olobun, Onala & Campus (Iteku) etc. Lagos was not as before, today everyone running after money and you cannot move free again.
How would you describe the Political situations in Nigeria especially now that we have 20 years of uninterrupted Democracy?
I am not a politician and I don't do politics. I'm a Human Rights Advocate, the voice for the voiceless and  Philanthropist.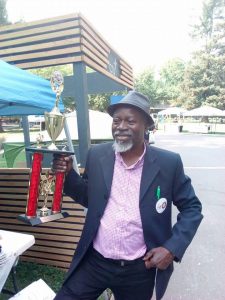 In that respect, I will prefer to talk about my organization and achievements.
The organization started in the UK in 2003 and fully registered in 2005 as non governmental organization under the charity commission of UK/Ireland.
The Nigeria organization under the same management was registered in 2015
In the UK we are known as HOSPITAL AND PRISON ACTION NETWORK (HPAN) & in Nigeria as HOSPITAL AND PRISON WELFARE INITIATIVE (HPWI)
I am going to briefly mentions few of the Nigeria organization achievements under my leadership.
(1). HPWI Opened the first charity shop in Nigeria – as after care project for people in and out of the Hospitals and Prisons to come for Free wears and also serve the public to come for reduced rate wears for those struggling financially. (Lagos & Abeokuta)
(2). HPWI established the First Crèche in the women wing of the Prison for the Welfare of Children born in the Prison (Ibara Prison, Abeokuta)
(3). HPWI established Barbing Academy in Borstal Training Institution for young children behind the bar. We also sponsored one of the best Children examinations fees.
HPWI is into Education and Recreation out of the Standard Rules of United Nations standard rules of Prisons and that is why we are supporting the Musical Band and Theatre Groups in the Prisons. Also initiating the Football Competition in the Prisons.
Part of the Education support is the Renovation and equipping of the first National Open University of Nigeria Study Centre in Ibara Prison, Abeokuta and the Skills and Acquisitions at Ilaro Prison where 49 inmates graduated.
We also occasionally supply the women inmates with sanitary eg Pads, toothpaste, brushes, bathing soap, Mosquitoes net etc
We do Hospital outreach to some hospitals and we pay hospital bills of some people who are not financially okay, also help some people in paying for their medication prescriptions.
 Having said all the commendable above sir, what is your organization doing to discongest the Nigeria Prisons on the issue of Awaiting Trials of which some are even innocents?
 HPWI Legal department represents those that have no lawyer to represent them and seek for their bail.
Secondly, we raise awareness to the community about going into criminal activities and the consequences.
The criminal justice of Nigeria is part of the congestion in the Nigeria Prisons. Justice delay, justice denied.
Thirdly, we are planning to have meeting with the Judges of each Nigeria State or the Government about introducing Community Sentence for minor offenses or first offenders .
Mostly all Nigeria Prisons are congested, possibly some people are rewarded financially through the congestion which I think they could have built more prisons for expansion.
 Sir, what do you think the Nigeria Government in collaboration with the foreign Governments can do to curb the perpetual criminal activities in the country?
 Personally to me, we don't need foreign government, all we need is fixing our country and doing the right things. Improve in infrastructure and provide opportunity for the young people.
We should find ways to reduce poverty in our country.
Nigeria is very rich in many minerals resources but we have bad governance.
Orientation for individual because charity begins at home. 
If things were adequately well in Nigeria, no one will want to run away through the Sahara Desert or young girls going into prostitution. What warrants young graduates becoming Yahoo Yahoo?
We need good leaders and good mentors
 How would you advise the Youths that have taken the option of ritual killings and cyber crimes as alternative means of livelihood due to the economic situation of the country?
 They are all the results of poverty and it can be reduced through good leadership and good governance
To take something away from someone, you need to replace it with something.
The results are bad governance and lack of opportunity for the youth, so when there's better structure in the country with opportunity, the youth ritual people will desists and find better means of living.
To reduce the youth bad elements, it's a collective effort, the parents, the community and inserting the words and fear of God in them.
 Obviously, you have been able to impact lives with your various humanitarian assistance and programs. There is this general belief that the best way anyone can impact lives effectively is when one is in Government; Do you still have plans to venture into politics either now or in the nearest future?
All human beings are politicians in one way or the other, because we are interested in one party or the other for one reason or the other.
I am the Organising Secretary, Diaspora – UK of Buhari and Osinbajo Continuity Group.
I totally disagree that you have to be in government before you can impact lives, that's not true. We all make the government and the people leading us are elected by us for selfless service to serve us but some people get there and do the opposite.
Without been in government you can be playing an active role in the development of your community because charity begins at home. I inherited my Humanitarian and generosity from my parents.
Personally to me and to my calling by Almighty God, I never have plans to venture into politics either now or in the nearest future but if called to serve the nation in any capacity, I will serve with no hidden agenda or for any financial gain.
 Sir, where do you hope to be or to have achieved in the next 5 years personally or through your various organizations?
In the next 5 years I want to see that I have impacted millions of people in Nigerians both male, female, young or old through the organization empowerment projects.
Transforming and reconstruction of many through my organization orientation projects and programs, no barrier to religion or tribes.
Reforming the Criminal Justice and the stereotype and stigmatizing of the community about anyone in and out of the prisons, reminding them that many people in Nigeria are suffering because of injustice! Some are not even guilty of the offence they are charged for! Some are unlucky and have no legal representation but forced by police bullying to admit to crimes they did not commit!
I want to see how the Nigeria Police can be reformed and perform their duty accordingly and how the government can have good welfare systems in place for the police.
I want to see that we have good medical cares in Nigeria that will discourage many people seeking medical care abroad.