Ondo Assembly Confirms Odusola as new CJ By Awodeyi Elizabeth Ondo State House of Assembly has confirmed Justice Odusola Ayedun Olusegun as the
Ondo Assembly Confirms Odusola as new CJ
By Awodeyi Elizabeth
Ondo State House of Assembly has confirmed Justice Odusola Ayedun Olusegun as the substantive Chief judge of the state.
The confirmation came after unanimous decision of the lawmakers at a plenary presided over by the Speaker, Rt Hon Bamidele Oleyelogun
Earlier while presenting the recommendations of the selection committee , the Deputy Speaker , Rt Hon Samuel Aderoboye noted that Odusola who was the Acting Chief judge, was found eligible and suitable for the office upon his screening .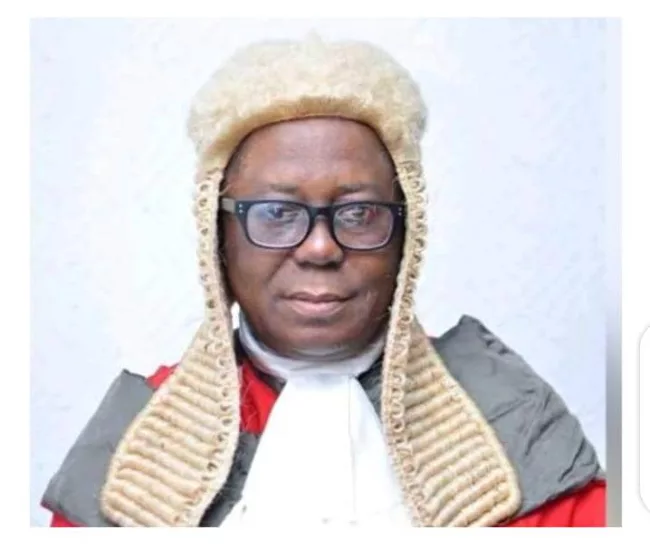 The Majority Leader of the House, Hon Oluwole Ogunmolasuyi who commended the committee for a job well done, moved the motion for the confirmation of the appointment of Odusola which was seconded by a lawmaker representing Akoko South West State Constituency 1, Hon Olugbenga Omole .
The Lawmaker who is from his constituency, Ilaje 1,Hon Abayomi Akinruntan while speaking glowingly about him, described the new CJ as an upright Judge. He affirmed that,he has served the state and Nigeria in various capacity, hence competent for the position.
The Speaker, Rt Hon Bamidele Oleyelogun urged the Chief Judge to use his wealth of experience to further reposition the state judiciary for optimum performance.
Oleyelogun while congratulating him, enjoined Odusola to use his position to establish a robust relationship between the arms of government in the state.
The New Chief Judge, Justice Odusola Ayedun who thanked Governor Oluwarotimi Akeredolu and the State House of Assembly for counting him worthy to serve the people, pledged to work with the other arms of government towards ensuring speedy dispensation of justice .
Consiquently the House also confirm the appointment of Mrs. Akinseloyin Florence Omolola, Jombo Omofunmilewa J, Esq; and Adeniyan Olatunji Stanley as members of the State Judicial Service Commission.
The motion for the confirmation was moved by the Majority Leader, Hon Ogunmolasuyi Emmanuel.
The unanimous confirmation of the nominees by the lawmakers through House Resolution at plenary presided over by the Speaker, Hon Bamidele Oleyeloogun followed the presentation of the report of the committee on selection by the Deputy Speaker, RT Hon Samuel Aderoboye.