How My Classmate Became My Soulmate - Olayato Aribo My Husband is the best thing that happened to me - Mojisola Aribo - celebrates Diamond Age with
How My Classmate Became My Soulmate – Olayato Aribo
My Husband is the best thing that happened to me – Mojisola Aribo
– celebrates Diamond Age with Appreciation and Thanksgiving
By Olaseeni Oyesusi & Olanrewaju Ayo
Call her a very scrupulous woman, you are on course, if you say she is very detailed, it is an understatement, for even calling her a meticulous person, you have not made a mistake because she is very diligent.
It was a day full of encomiums on Tuesday 20th of September, 2022 as Mrs. Florence Mojisola Adetutu was celebrated by friends, families, staff, and her husband's political associates.
Mojisola, the Managing Director of Mickmakin Nigeria limited, is the wife of the Ondo State Honourable Commissioner for Agriculture and Forestry, Hon Olayato Aribo, a successful industrialist and entrepreneur in Ondo State and beyond.
The birthday which was held at the Private residence of Aribo in Akure has the State Chairman of APC, Engr Ade Adetimehin in attendance. Also present to celebrate with Aribo's family were Commissioners of Women Affairs, Dr Osadahun and her counterpart in Commerce and Industry, Chief Lola Fagbemi, Senior Special Assistant to the Governor on Women Affairs, Mrs Kehinde Adeniran popularly known as KK, a Commissioner at the Local Government Service Commission, Hon Dennis Alonge, Permanent Secretary of the Ministry of Agriculture and the Administrative Secretary of the Forestry Ministry led other Staff of the Ministry to rejoice with their Political head. Other political juggernaut, and associates of the Micmakin Nigeria limited, Franchise owner of Chicken republic.
In the meantime, there were various testimonies about the personality of Mrs. Florence Aribo, who many described as the woman behind the success story of Oyato and the Micmakin business exploits.
The State Chairman of APC, Engr Ade Adetimehin described Adetutu as a supporting wife and mother that stay with her husband through thick and thin.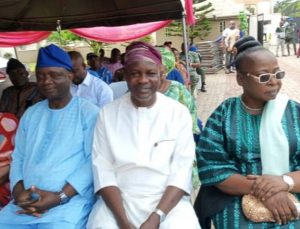 He charged women to emulate her, saying there is always a reward in patience, noting that Aribo's wife is reaping her patience and loyalty to her husband.
Dennis Alonge, a Commissioner at Local Government Service Commission congratulated the celebrant, noting that her patience translated to the progress the family is currently making both in business and politics.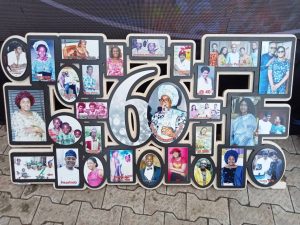 While praying for the family, Pastor Omoseebi who doubles as the chairman of Micmakin Nigeria Limited described Mojisola as a hardworking woman who stood by her husband to build a company that is making waves in Ondo State and Nigeria at large.
In his special birthday wishes, the celebrant husband, who also doubles as Honourable Commissioner for Forestry and Agriculture in Ondo State, Olayato Aribo said her wife was her friend and classmate of many years before they signed the dotted line. Aribo described his wife as a pillar and backbone behind his successes, thanking God for giving him a wife like a mother.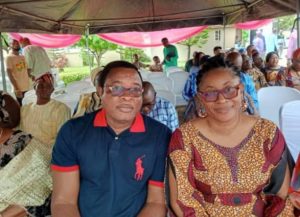 In his words, "My wife is Olayato Aribo; whatever I become in life is by God's Grace and support of my wife. Her managerial skill is second to none; at home front, she is a good wife and mother, she is so detailed and patient", he noted.
In the meantime, the celebrant has thanked God for grace of life, saying her initial plan was to use her birthday to thank God for the journey of 60 years but was hijacked by people that value her and think she deserves something befitting.
Going down memory lane, Moji as fondly called by her husband appreciates her late Mother who singlehandedly cater for her and her siblings after the demise of their father.
"My Mother was very supportive, a good motivator and role model that always encourages and support our education".
To some, Adetutu is the quiet type, gentle and brilliant woman that despise indolent but reward hard work and value integrity.
She thanked God for allowing her to receive her entitlement when she left the banking job to join her husband business in Ondo State. " I was so fortunate to collect my entitlement while leaving the bank without blemish. It was a rare privilege because many of my colleagues that we left at the same time were not paid".
On the growth and success of Micmakin Nigeria Limited, her experience in market circle has helped a lot in growing the family business, adding that stock piling has assisted Oyato bread and other businesses to rise above present economy challenges in the country.
" In life, any route you are passing is not by accident but pre destined by God. Negligence of medical report about my health status nearly scattered my home but for the kind of husband God gave me, a man of faith, we were able to wilder the storm of early marriage together".
Mrs Aribo described her husband as responsible, intelligent, caring, a positive thinker, risk taker and man of faith. " His ability to take risks has helped our business today; his thoughts are always positive which will definitely come to fulfilment".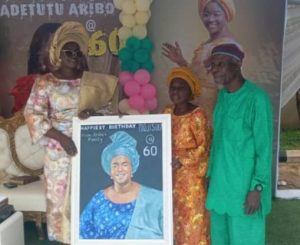 She thanked the Aribo's family for the love and peace she enjoyed from day one of her marriage into the family.
Mrs Florence Mojisola Adetutu Aribo was a banker with Afri Bank Management for 13 years before she joined her husband to start the business that has boomed across the length and breadth of Ondo and Ekiti States. Other well wishers at the event were the Members of Mountain of Fire and Miracle, political friends and business associates.