Governor Akeredolu is championing a good course for the Yoruba race – Hon. Otetubi …Describes him as a complete embodiment of grace and merc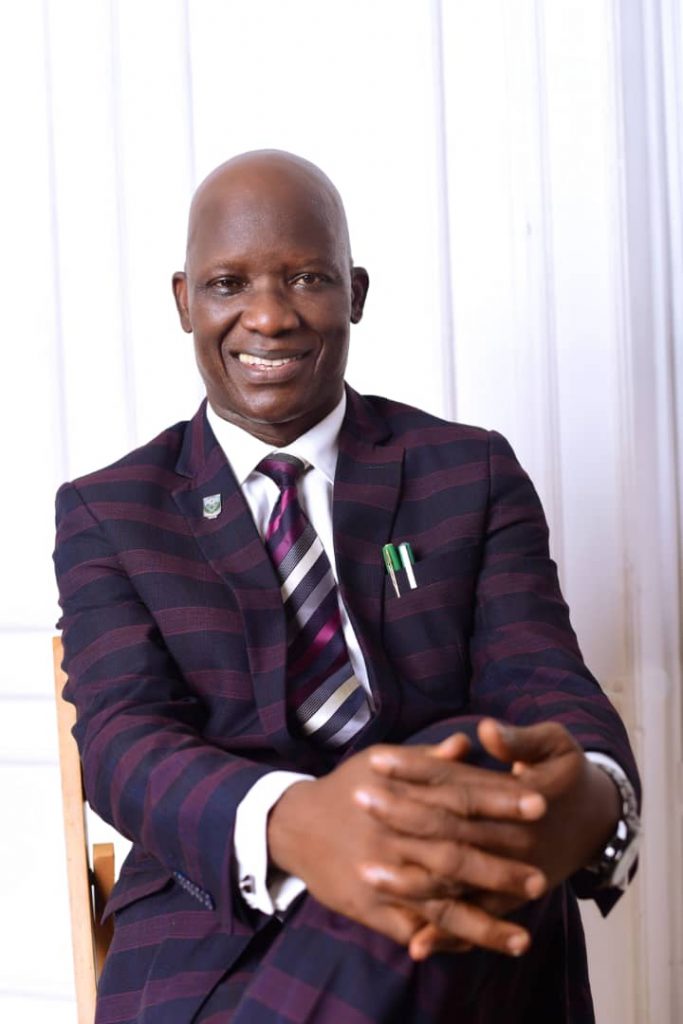 Governor Akeredolu is championing a good course for the Yoruba race – Hon. Otetubi
…Describes him as a complete embodiment of grace and mercy,
Honourable Idowu Otetubi, an Akure born politician and the immediate past Commissioner of Natural Resources in Ondo State, lauded Governor Arakunrin Oluwarotimi Akeredolu on taking the course to liberate the Yoruba race and his track records in developing Ondo State. The one time Chairman of the old Akure South Local Government in an interview with Olaseeni Oyesusi and Olanrewaju Ayo of the Chronicle Magazine showered encomium on the personality of the governor even as he went back memory lane to how he came into politics and his contribution so far to the society.
Can you share with us some of your political philosophies and when you came into Politics?
I believe in emancipating people, I believe in helping people, providing services and succor, I believe that there should be a paradigm shift in our politics, and that is the reason I joined politics as far back as 1987, that is 34 years ago when I was just over 20 years old, I was already a chattered Accountant then. What spurred me to join politics was desire for youth participation in politics. When I came into politics, the people that were making waves then were the likes of Chief Olu Falae. My first attempt of coming to politics was through the formation of the Liberal Convention in 1978, but I came into active and practical politics in 1993. I have been very active in the political terrain, its either I am contesting or I am supporting someone who is contesting, working in the background and putting structures together, but politics is about service to the people and I have been doing that effectively to the glory God.
Having occupied a political office twice, have you been able to fulfill your dream of serving humanity?
Like I said earlier, what prompted me into politics is service to people, even when you are in a political office or not, if you really want to serve the people, been in an office should not stop you and been out of office should not debar you. So I have always been providing good services, assistance, and help to the people (humanity). So going back to your question, when I was in office as Chairman of the old Akure South Local Government in 1996, when I was less than forty years old, the mark is there for people to see, I was in that office for less than a year and it was that time the jinx of youth not getting elective position in the Akure Local Government was broken. It was done through the help of my fellow youths and some notable elders at that time. I won first on November 15th 1993 as the Social Democratic Party (SDP) chairmanship candidate but by November 17th 1993, two days after, Abacha bashed us out, so we had to start all over again. So in 1996, during the zero party, I won unopposed the chairmanship of the old Akure Local Government, my tenure was less than a year, but I made my marks. After that, I have been in one position or the other, which I have always used to help people, not necessarily a political office, through the grace and mercy of God almighty and the benevolence of Arakunrin Oluwarotimi Akeredolu, who deemed it fit to bring me out again in 2020 to become the commissioner for natural resources in Ondo state and within that period of seven months when we even went into the election, and to the glory of God, he recorded success, it is on record that through our support and that of the people, Mr. Governor is the first Governor in the history of the State to win the minimum of twenty-five percent in all the eighteen Local Governments of the State and he won massively in fifteen Local Governments and he is also the first governor to win an election with a vote that is more than the total votes of all other candidates when added together.
So, a lot f records were recorded in the October 10 Governorship election in Ondo State, that alone has been a great experience for me and I am marveled because the people rewarded excellence, the people rewarded a great performance through their votes, this will spur politicians to perform in office because it was the performance of Arakunrin Oluwarotimi Akerdolu that manifested in the election result of October 10 2020.
When you became the Honourable Commissioner for Natural Resources, what are the things you met on ground in the Ministry?
The people that were there before me did their best, I give kudos to them. My immediate predecessor in office, Honourable Oluwatuyi, was promoted to become the Secretary to the State Government. He made his marks in the Ministry of Natural Resources, so I met a good workforce, I only re-energized them and I provided leadership for them, we were able to turn so many things around, we were able to generate more revenue, it was in my short tenure and the first time in the history of the state that we recorded the highest tonnage of cocoa graded. We recorded over 88,000 tons and it has never happened in the history of Ondo state through which we generated about 501 million naira to the st6ate purse. The highest Ondo State ever got was about 81,000 tons, far back in 1986/87 so this is actually an achievement. Another achievement is taking charge of our forest from cannabis planters, our taskforce in the Ministry went on guard by destroying any plantation, and we succeeded to a large extent in decimating the planters in our forests. We also tackled the problems of encroachers; we took proactive and pragmatic steps to get them out of our forests, we also did some planting towards the regeneration of the forest. I want to specially thank God for the wisdom, the courage and the leadership qualities of Mr. Governor, who gave a directive that any unregistered occupier (Fulani, herdsmen) of our forest reserves should vacate the place and I think it is yielding positive results already. Forests are meant to be forests, it is not to be used as house by anybody, and you are not to be found there if you don't have a legal thing to do there. But to the glory of God, we now have relative peace in the forest. For the timber aspect of the forest, when we came on board, we met a situation whereby people were just going into the forest to cut down trees without legal permission, but we took actions against them, we sanctioned them, we arrested them, some were jailed and some were fined and some of the illegally fell trees were evacuated and sold, and this also generated revenue for the state government. Another thing we did was to slash the trees fell by this encroachers so that it will serve as a discouragement to them–discouraging them from carrying out such activities.
Is there any clash between the Ministry of Natural Resources and Klick Connect Networks?
Klick Connect is a revenue consultant to the Ministry of Natural Resources, and the company is doing perfectly well by generating revenue for the State Government and there is no clash at all whatsoever.
Do you have the mandate to prosecute forest offenders?
There are forestry laws that provide for sanctions and penalties for offences, but it is not in the jurisdiction of the Ministry to jail, our duty is to arrest and prosecute any offender caught and it is at the mercy of the court to now take any decision on the offender, either to send the person to jail, or fine, or even both.
How will you describe the first tenure of Arakunrin Oluwarotimi Akeredolu, SAN, as the Governor of Ondo State?
We have witnessed massive infrastructural development in Ondo State, peaceful atmosphere, we have witnessed tremendous development in the health sector, we call him "MR TALK AND DO" because when he makes promises, he fulfills them, whatever he says he would do, he will do it.
While growing up as a young boy, I know just one road that leads Akure through Idanre, but now, we have two roads, which nobody could ever think can happen in Ondo State, there are two roads now that leads Akure through Idanre, courtesy of Arakunrin Oluwarotimi Odunayo Akeredolu, SAN. There are massive infrastructural developments in the Agricultural Sector too, before now, we used to have just one foreign donor in the Agricultural Sector, but now we have about three or four that are partnering with Ondo State, and in the Ministry I headed, the Ministry of Natural Resources, like I said earlier, this is the first time we are having over 88,000 tons of graded cocoa which has never happened in the history of Ondo State since her creation, but it happened in the administration of Arakunrin Oluwarotimi Akeredolu, SAN. In the educational sector too, we have seen the renovation of schools. In the industrial sector, we can see the Ondo Linyl in Ore, it is so massive and to crown it all, all these achievements are what the people celebrated in October 10, 2020, and that is the reason the people voted him in for the second term.
If you have the opportunity of coming back as a commissioner in the Ministry of Natural Resources, what will be your priority?
First thing is to work on how to get a GIS in our forests which will enable us to monitor all activities going on in all the 16 forests of Ondo State. We will use electronic method to monitor all the activities in our 16 forests. We will also think on how to digitalize the cocoa grading, we will try to create a cocoa grading laboratory for Ondo State, and we will look into how to degenerate the forest that has been deforested, and we will also look into how to regenerate the Ose river bank, which is one of the best in the south west, where we have a wildlife. I will think about how to get private partnership to invest in the Ose river bank, and to come and regenerate our forests. If I come back, I want to think outside the box, the allocation from the Federal Government is dwindling, I want to help think outside the box to be able help the State Government generate revenue internally which will help to meet the needs of the Government for her people and provide dividends of democracy to the people. All of these things were included in my handing over note and I also believe than within the next four years, there will be possibility of E-Governance in Ondo State.
As Governor Akerdolu kick starts his second term in office, what special appeal do you have for him?
Firstly, I sincerely want to appreciate governor Arakunrin Oluwarotimi Akeredolu for deeming it fit to appoint me as a commissioner in the last administration and I wish him the very best in the second term, I will also want to admonish him to keep serving the God he has been serving, Akeredolu is a complete embodiment of grace and mercy, which I also key myself into that type of grace he is enjoying so I can also benefit from the auction of that grace. He has fought so many tough battles and he came out victorious, this shows he is a man of grace and I believe he will keep triumphing because the Bible say: God will show mercy on whom He pleases, so Akeredolu is just a part of the people God has decided to show mercy at this time. Also, the leadership qualities and the course the governor is championing in Ondo State and the Yoruba land is worthy to applaud and I want to a part of the people that will always support him. This is the time to ensure that we get Yoruba land back on her feet, this is the time we make sure that not just anybody comes to our backyard and do whatever pleases him and go scot free with it, but Akeredolu is championing a good course for the Yoruba land, and I applaud him, I celebrate him and I pray that God will continually uphold him and show him grace and mercy.