END ASSU STRIKE, ONDO ASSEMBLY TASKS FG By Awodeyi Elizabeth The Ondo State House of Assembly has called on the Federal government to go back to the
END ASSU STRIKE, ONDO ASSEMBLY TASKS FG
By Awodeyi Elizabeth
The Ondo State House of Assembly has called on the Federal government to go back to the drawing board and find lasting solution to the lingering strike of the Academic Staff Union of Nigeria University (ASUU), in the interest of National development and the students.
The issue was raised as a matter of urgency at the floor of the house presided over by the Speaker, Rt Hon Bamidele Oleyelogun where the house called on both parties to ensure a win-win situation in the interest of the Students and save education sector from collapsing.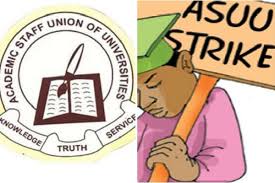 The lawmakers who took turns to lend their voices on the issue, noted that it is disheartening that in the last 2 decades, University lecturers have embarked on strike 16 times covering a cumulative period of 51 months.
The debate which was sponsored by the Speaker affirmed that quality education is the bedrock of development across the globe ,hence its importance cannot be overemphasized.
According to the House, the situation is uncallfor, worrisome and embarrassing and does not portray the country in good light, hence the need to declare a State of emergency in the education sector, especially University education.
The Lawmakers who frowned at the way it has made some youths to loose faith in the education which can compromise their future and the type of leaders grooming for the future appealed to them to come together with a view to fashioning out an amicable solution to the crisis.
The House posited that it is imperative for all parties involved to do everything needed to get the students back to the classrooms as this is affecting their mental alertness, increase moral decadence , social vices,basterdising the economy due to foreign drift, among others.
As part of the resolution, the House called on the Ondo State government to look at a way of getting the State universities back to work like some States in the Federation.
Consequently, a matter of urgent public importance was raised on the need for the State government to devise non-traditional approach of paying accumulated gratuities to pensioners.
In its resolution, the House advised the State government to partner with private financial institutions to fastract the payment.
The House added that the government should agree on the mode of payment in line with best practices, even though the backlog was not owed by the present administration who has been trying to pay the Senior citizens based on the financial availability.
The House has equally embarked on a four weeks recess, starting from today,17th of August,2022 to enable them actively concentrate on their constituencies projects, activities and equally enable them to go for medical checkup.