EID-EL-KABIR: OGUNDARE FELICITATES MUSLIMS As Muslims all over the world celebrate this year's Eid-El-Kabir, I take a moment to extend my warmest
EID-EL-KABIR: OGUNDARE FELICITATES MUSLIMS
As Muslims all over the world celebrate this year's Eid-El-Kabir, I take a moment to extend my warmest greetings and heartfelt wishes to all faithful in Owo/Ose and in Ondo state. May this blessed occasion bring you joy, peace, and abundant blessings.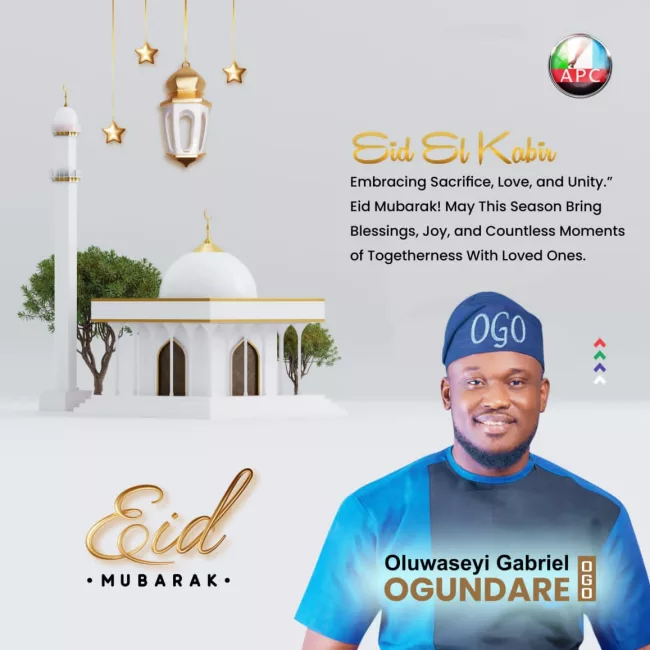 Eid-El-Kabir, also known as the Festival of Sacrifice, is a time for reflection, gratitude, and unity. It reminds us of the profound faith and obedience of Prophet Ibrahim (Abraham) and his willingness to sacrifice his son as an act of devotion to God. This event symbolizes the importance of surrendering our egos, material desires, and selfishness to attain spiritual fulfillment.
During this auspicious celebration, let us remember the true essence of Eid-El-Kabir: compassion, charity, and the spirit of giving. It is a time to share our blessings with those less fortunate, to lend a helping hand to those in need, and to strengthen the bonds of brotherhood and sisterhood that unite us as a community.
In love and togetherness, our Country will be great again. Happy celebration.
E-Signed:
Oluwaseyi Gabriel Ogundare