Eid-el-Fitr: OGUNDARE FELICITATES MUSLIMS, HARPS ON PEACEFUL CO-EXISTENCE Comr. Oluwaseyi Gabriel Ogundare felicitates with Muslim fateful on the
Eid-el-Fitr: OGUNDARE FELICITATES MUSLIMS, HARPS ON PEACEFUL CO-EXISTENCE
Comr. Oluwaseyi Gabriel Ogundare felicitates with Muslim fateful on the auspicious occasion of this year's Eid-el-Fitri celebrations and also prayed for peace and for personal sacrifices of the faithful to be rewarded as the fasting period ends.
Ogundare, in his special goodwill message to Muslims who have successfully undertaken the purifying Ramadan fast, implored them to imbibe the virtues of peace, love and sacrifice, as portrayed by the holy prophet.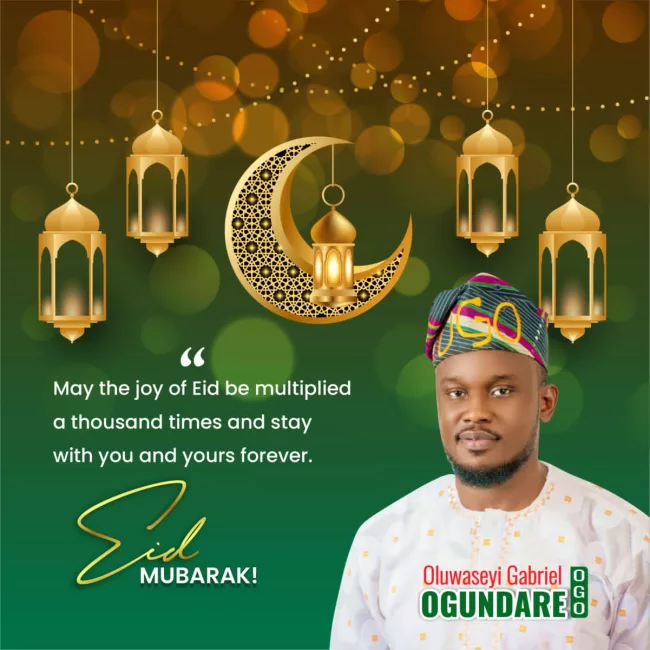 "It is my hope and prayer that Ramadan's spiritual lessons and the Holy Prophet's teachings of piety, love, justice, fairness, equity, peaceful co-existence with others, tolerance, honesty and dedication to duty will remain with us even as we all gear up to make our contribution to the development of our community." He said.
The former Owo/Ose House of Representatives candidate also prayed for the peace, prosperity and well-being of the country, Ondo state and Owo/Ose federal constituency.
"May Allah grant us our heart desires according to His eternal will. Happy Celebrations." He prayed.