Celebrating All Time Political Dynamo, Princess Oladunni Odu at 70 By Olaseeni Oyesusi Birthdays, by definition, are significant milestones in
Celebrating All Time Political Dynamo, Princess Oladunni Odu at 70
By Olaseeni Oyesusi
Birthdays, by definition, are significant milestones in individuals' lives and cause for celebration by family, friends and, of course, the celebrants themselves. Certain birthdays–such as the 16th, 21st and the turn of decades–carry special cultural and practical significance.
Seventieth birthdays also known as Platinum take a rightful place in this category of particularly noteworthy birthday celebrations.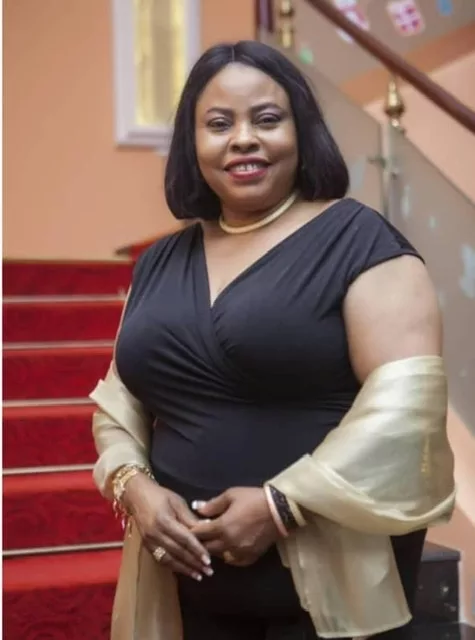 One of the oldest and best-known references to the special significance of reaching 70 years of age comes from the Bible. The King James translation of Psalm 90:10 reads: "The days of our years are threescore years and ten; and if by reason of strength they be fourscore years, yet is their strength, labor and sorrow; for it is soon cut off, and we fly away."
However, Birthday celebrations especially for an Achiever is always a dual celebration. One is direct while the other is indirect. The former is the actual celebration of years spent either few or many while the latter is the celebration of achievements over this years. The achievement may not necessarily means the number of mansions to one's credit or the fleet of cars in his or her compound or the number of children he or she has. However, while it is everyone that are qualified to celebrate the former, not all are genuinely qualified to celebrate the latter.
The latter is being celebrated by the number of lives one has impacted, it is being celebrated by the number of faces one has been able to put smiles to, it is also being celebrated by the number of empires one has been able to build.
Nevertheless, Princess Oladunni Odu, the first Secretary to the Government of Ondo State without being immodest has what it takes to belong to the latter as illustrated above. The soft spoken SSG has been in politics for decades and has used all her various offices to develop the people. As commissioner for education and women affairs respectively during the military era, she performed excellently well and as SUBEB Chairman on different occasions she was always at beck and call. So, to say that Princess Oladunni Odu is celebration personified is an understatement.
However, in one of her recent interviews with journalists after her appointment as the Secretary to the Government of Ondo State, she intimated the public about her journey so far as a politician and other sundry issues.
It would be funny that the SSG never wanted to continue as politician after the military rule in 1999. She was even offered the chance to go to the Senate on a platter of Gold but she declined. However, as God would have it, she has served in different capacities before becoming the SSG.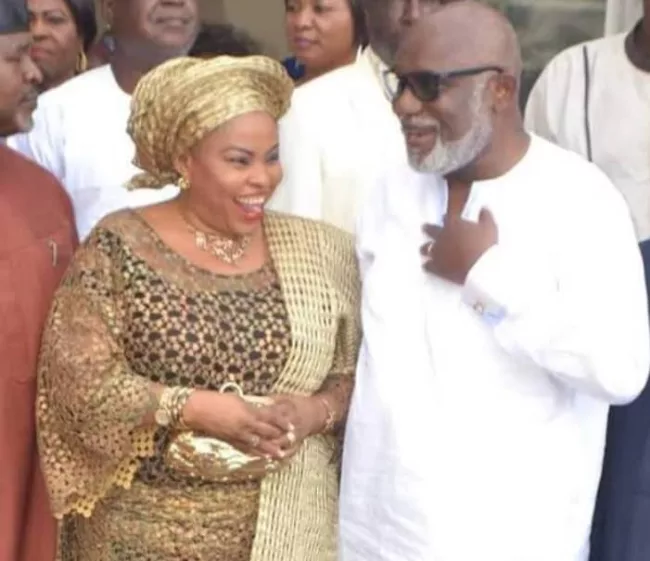 " When we were leaving office from the military administration in 1999, I was interviewed by journalists and I was asked what was the next move for me and if I had plans of going into politics? My answer was, No. To show I was not ready for politics. In 1998, when the military administration was winding up and preparing for the transition to civil rule, I was even offered the chance to go to the Senate and I equally said No, because politics was not my desire then. I kept saying I was not cut out for politics. That was what I thought then".
"But after we left in 1999, an Uncle of mine visited us in Lagos and persuaded my husband to allow me go into politics because they saw my input especially when I served during the military administration as Commissioner for Education and was able to build schools, renovate schools and bring some developments in the education sector to the State. Based on these contributions while I served under the military administration, my Uncle persuaded my husband that he should release me to come home and go into active party politics. My husband agreed to my Uncle's persuasion and gave me the permission".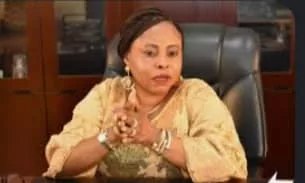 "After the permission was granted, I set machinery in motion. The then leader in my Local Government was the then Minister of Aviation, late Dr. Olusegun Agagu.. I approached him and he admitted me into the Peoples Democratic Party which marked my entry into party politics".
"Ever since, I have not looked back. I have been in politics and I have been enjoying politics and I must emphasize, I have no regrets whatsoever since my coming into politics 22years ago".
The elegant SSG also talked about three qualities that she possesses that has being her staying in power for decades. Hardworking, honesty and loyalty have been her selling point.
"Each time I have the opportunity, I always try to share and talk about those three qualities that I have and which I'm sure had been my staying power".
"First, I always tell women, young women and people of my age and most especially upcoming young women who wishes to be in politics that wherever they may find themselves, they should be hardworking. If they are hardworking, they may think people are not taking notice. People are taking notice. Whether you are working in the dark, some people are noting what you are doing. So, be hardworking. Being hardworking is one of my strong points".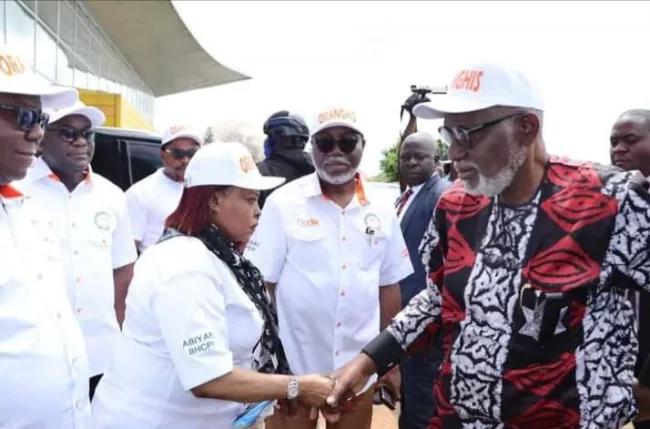 "Hard work, honesty and loyalty to the system. There is nothing like 99.9percent loyalty. Loyalty must be 100percent and you must strive to be honest to your Boss. When you let your Boss know everything you are doing, you will not run into trouble. For example, if you are to wake up at 2 am from your sleep, if you are able to maintain honesty as a virtue, what you will say at that time when you woke from your sleep will never be different from what you will say at 12noon. I have those three things in me that had worked for me over the years and those virtues had continued to work for me".
"You cannot take hard work from anybody who wants to succeed. There is no room for the indolent person because people are taking notes, here and there. Even people in the markets are noting what one is doing here in the Governor's office. You will marvel at what people say or know about us here. You will wonder, and be saying but these people are not here with us; they are in the market; how do they know what is happening? Somehow they have their people working around here and they tell them things".
"Be honest to your Boss. If you are honest to your Boss, wherever your Boss is, he will always remember you for good.
And, he will always protect you for good".
In 2017, my Boss, Arakunrin, actually pencilled my name for a Ministerial appointment. He has always done good things for me. He has always nominated me for good things because he had worked with me and knows the kind of person I am".
"Loyalty..100percent. I have no other Boss apart from the Governor of the State and my loyalty is strictly to him".
Meanwhile, the appointment of Princess Oladunni Odu to the position of Secretary to the State Government to many people came as a surprise. Especially from the fact that the position of SSG should have come from the central senatorial district of the State of which an Akure man was the SSG before she came on board. To her, the announcement did not come as a surprise. The Governor didn't just announced her name without her concept. The Governor actually invited her and told her that she would want her to be the SSG of which she was given some times to make some consultations on her request before she finally agreed to take up the appointment.
"I would not say it was through the announcement. I would say the Governor called me to intimate me. He didn't just instruct that my name be announced on air. He actually called me on March 16, 2021, around 9 am, that I should see him in the Government House".
"That day, I was just returning from Lagos and I went and met with him at the Government House as he instructed".
" Though at the Government House, he asked me if I would be willing and ready to serve as Secretary to the State Government. I thanked him for the wonderful thought of considering me worthy and fit for the position and for the privilege to serve as the Secretary to the State Government".
"After thanking him, I asked that he should give me till the following day to give him a reply in order for me to have an opportunity to first consult my family and then my Pastor. And, I did that. And, my children gave their blessings and my father in the Lord prayed about it and I got the go-ahead of the Lord".
"The following day, I called Mr. Governor and I went to see him and thereafter the announcement. That was why I may not say the announcement came as a surprise but rather the offer of that office came to me as a big pleasant surprise and something that I would forever be grateful to the first family of Ondo State because our Mama, the First Lady, Chief Mrs. Betty Anyanwu-Akeredolu, Ada Owerri 1, was very instrumental to having a female as Secretary to the State Government because this is the first time in the 46years of history of Ondo State".
"The First Lady was desirous of having a woman as SSG because she is an advocate of women to "be-more" in society. She is the initiator of "Be-More"; that is, "our girls can be more than whatever the society really wants them to be". In the same vein, whatever society wants a woman to be, women can be more than that. That is the spirit behind the"Be-More" initiative of our First Lady".
However, it is obvious that Princess Oladunni Odu has been an advocate of women in politics. She has been of the opinion that educated women should come into politics and women cannot be fighting for gender unless they are qualified and purely on merit.
"Every such opportunity, I always make it known that it is germaine that women should come on board and politick. Its germaine that educated women should come into politics and that we cannot be fighting for gender unless you are qualified and purely on merit. We have enough qualified women out there who should really not be afraid to come into politics. Women should be courageous".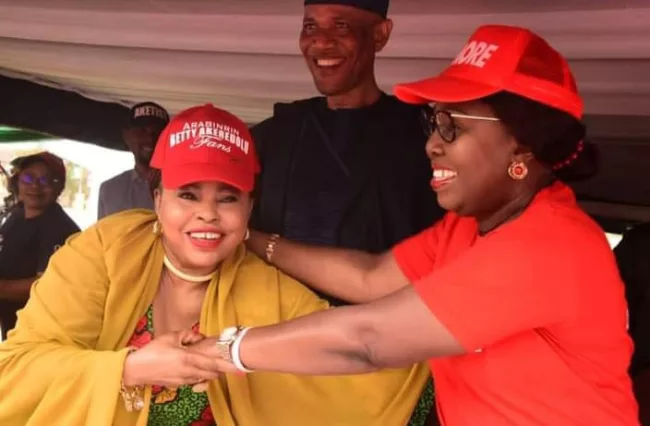 " Yes, politics is seen as a murky terrain but with tenacity, with courage, with focus and vision, women can be more successful in politics and be the desired choice of change in the field of politics".
I have been in politics for 23years and I don't have any regret whatsoever for joining politics. I enjoy being in politics and I still want to continue being a politician because it's the only way one can bring development to the people or fast-track development to your people because it is only when you are there that you can be able to influence things than being outside".
Princess Oladunni Odu is a household name in the public service of Ondo state. Right from the military era, her diligent and quality service has got her name on the heart of many people within and outside the state. She, as many have come to say repeatedly, is a pleasant person, blessed with beauty, brilliance and intelligence.
Already labeled as an achiever and a goal-getter who was ever eager and ready to serve the people of the State, Arakunrin Oluwarotimi Akeredolu (SAN), the governor of Ondo State, knew exactly what he needed to transform the public service of Ondo state when he made Oladunni Odu the Chairman of Ondo State Universal Basic Education Board (SUBEB). She has gone ahead to reposition SUBEB and bring value into the state's education system.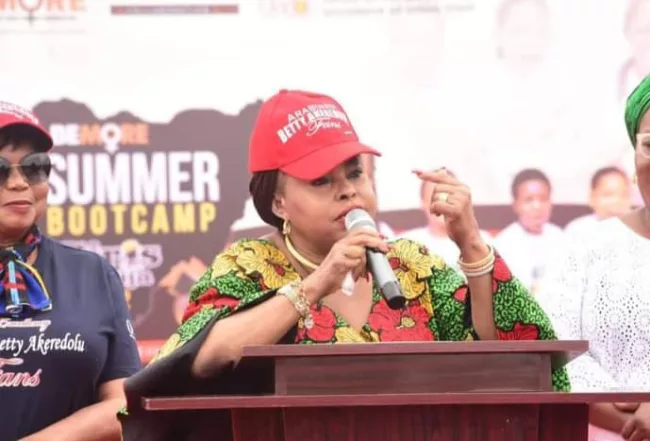 The Okitipupa born achiever attended St. Louis Grammar School in Ondo between 1964 and 1968 and later bagged a degree in Sociology from the University of Benin in 1979. Earlier, she had obtained a National Diploma in Secretariat Studies in 1973 from Ibadan Polytechnic. She was at the Federal Civil Service Commission, Anambra State Ministry of Information in 1980 for her National Youth Service Corp (NYSC). From there, she joined the services of the Federal Ministry of Employment, Labour and Productivity, where she served for 10 solid years.
Princess Oladunni Odu proceeded to the University of Calabar where she obtained Master of Science in Industrial Sociology. She also had a Bachelor's Degree of Law from the University of Lagos in 1989, Bachelor of Law from Nigeria Law School in 1990, and a distinction in Master of Law (LLM) from University of Lagos in 1992. Currently, she is running her PhD program at the University of Ado-Ekiti.
Princess Oladunni Odu, as an Astute Politician, was the Commissioner for Education, Ondo State between 1995 and 1999, and Commissioner for Women Affairs, Ondo State between January 1999 and May 1999, Chairman, Ondo State Universal Basic Education Board (SUBEB) from September 2003 to February, 2009.
Meanwhile, in 2013, she was appointed Director, Federal Medical Centre, Asaba, a position she held till 2015. Princess Oladunni Odu was appointed the Federal commissioner, Public Complaints Commission, Akure in 2015. She was again appointed the Chairman, Ondo State Universal Basic Education Board, by the Governor of Ondo State Arakunrin Oluwarotimi Akeredolu in October, 2017.
More also, the soft spoken trained lawyer has served in so many committees and as well received various awards to her credit. Some of these are Award of Honour for meritorious service by the Public Compliant Commission in 2018; Omoluabi Award of Excellence by the National Council of Women Societies in 2018; Patron, Nigerian Bar Association in 2017.
Others are Ondo State Female role model award by Heroes Magazine in 2017; Award of Excellence by International Inner Wheel in 2017; Distinguished Award by Association of Professional women Engineers in 2017; Award of Excellence by LXG in 2012; Vice Chancellor's Prize for the Best performance at the Degree level in University of Lagos for 1988/1989 academic session; Final Year Student in the University of Lagos in 1989; and Positive Leader Award by Positive Organization, FRCN, Ondo in 2003, just to mention a few. Princess Odu was conferred the honour of Dame by the Methodist Church of Nigeria in 2013.
Meanwhile, In her inauguration speech as the Chairman of SUBEB at the inception of the current administration, Princess Oladunni Odu described the Governor, Arakunrin Akeredolu as a man of great integrity and high repute, and someone he would always support because he has good intentions for the people of the state. She called on the people of the state to give the governor their full support all the time.
She confessed that her determination was to leave the place better than she met it.
In her words, It is always my joy to touch people's lives and I will continue to do just that without sentiment."
In view of this part, there is no way one will talk of SUBEB without mentioning Princess Oladunni Odu's name.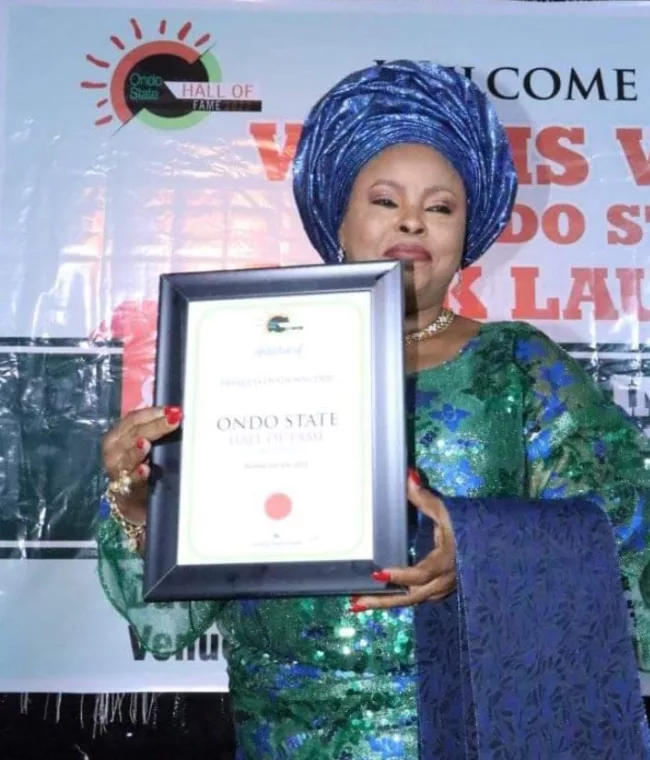 At the assumption of office, Arakunrin Akeredolu through the then SUBEB Boss, Oladunni Odu was able to perform this magic within three years by accessing the counterparts funding by Universal Basic Education Centre (UBEB) hitherto unaccessed by previous administration in the state for four years. The failure of the administration to do that put on hold the renovation and construction of building and the situation got to the extreme that the schools were left in the hands of Parent-Teachers Association (PTA) to manage until Governor Akeredolu administration's intervention.
The Government of Arakunrin Akeredolu approached the bank for a loan of 3.9 billion to access the counterpart fund of UBEB to enable it expend a whooping sum of 7.8 billion to change the face of public Primary Schools in the State.
Presently, more than 518 projects have been completed in all the eighteen Local Government Areas of the State in 228 Primary Schools. The projects range from construction of new building and furniture in some schools that needed it, renovation of old existing ones that could still be salvaged, provision of perimeter fencing for absolute security and safety.
Also, the projects accommodate provision of information technology and playground equipment to the targeted primary schools.
To meet the best global practice around the world, the State Government, also took time to design a modern toilets for primary school named containerised toilets to make more pupils have access to the school toilets at the same time.
These containerised toilets can abhor at least 15 pupils having their sanitation business. It is worthy of note that these toilets constructed in 78 schools as at then is a total depature from toilet buildings that were available before now in the primary schools in the state.
It is entirely safe, clean, and user friendly. It is movable in case of change of location. It is educative and can be used as safety method for the children in a case of kidnapping.
However, the transformation of the public primary schools by Arakunrin Akeredolu through Oladunni Odu led administration has undoubtedly saved the almost collapsing structures of the primary schools in Ondo state and history will always remember this great fear for a long time.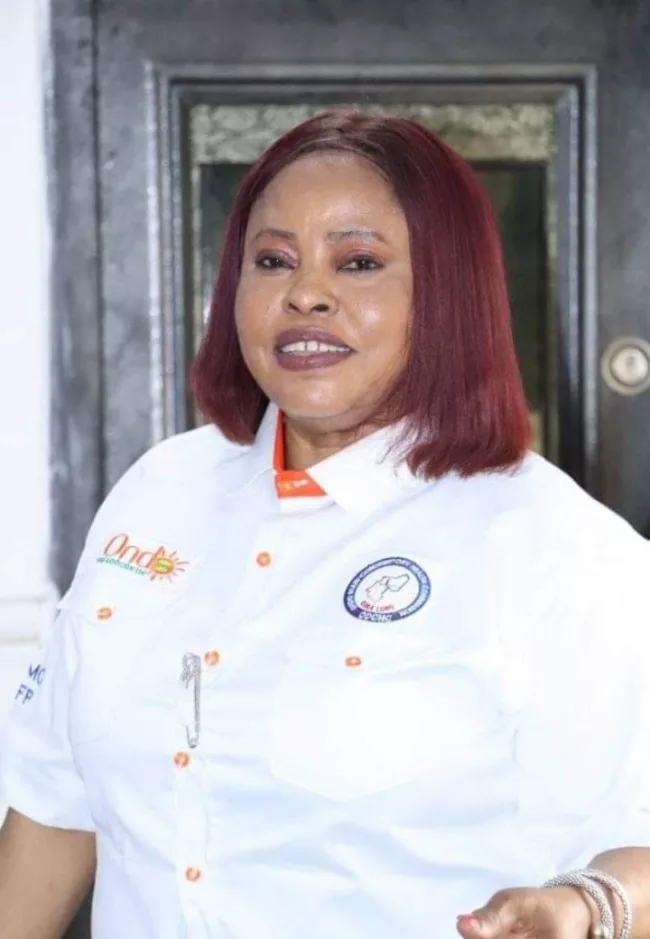 Notwithstanding, Princess Oladunni Odu is tested and trusted. With her evergreen political dexterity, to say that she is capable of occupying any higher political office in Ondo State and even Nigeria effectively is an understatement. Right from the military era, she has been occupying strategic political positions with quality performance up till this moment and the result has been commendable.
She is the first and current female Secretary to the Government of Ondo State, a position she got without lobby and scheming but just on merit. On this note and going by her antecedents, it is not impossible for another jinx to be broken through her. Perhaps, that of first female Governor in the Sunshine State.
Our prayers is that God will continue to strengthen her to develop the State and humanity. Now that she is ageing, God will continue to empower her to do the needful.