Celebrating a Political Highflyer: Bar. DI Kekemeke at 60 By Olaseeni Oyesusi Birthdays are very important to celebrate especially for some
Celebrating a Political Highflyer: Bar. DI Kekemeke at 60
By Olaseeni Oyesusi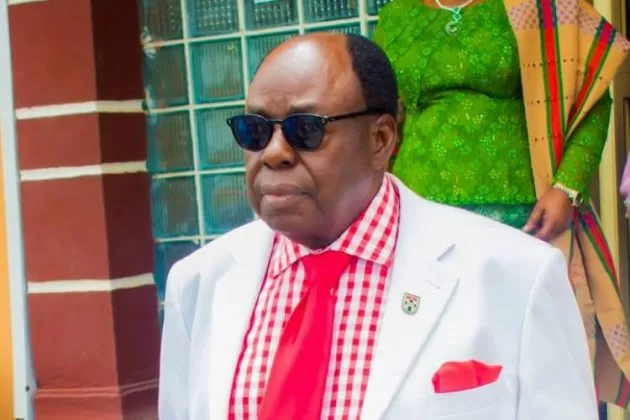 Birthdays are very important to celebrate especially for someone that has achieved a lot in life as it implies more than mere celebration.
Birthday is the beginning of ones life as God created one to serve a purpose in this world. Every time one has a Birthday, it is an indication that there are lots to do for the kingdom of God. Birthday is a sign that one has yet another chance to fulfill a unique purpose.
More also, Birthday is a momentous occasion to be commemorated just as a nation commemorates its birth, or as an organization celebrates its founding. A Birthday is much more than an occasion to receive gifts but a chance to remember the day that a major event occurred and a good reason to celebrate, give thanks, and reflect on one's existence
In addition, it's a chance for a refresher and a time to think about one's birth and rebirth. To recall ones birth is to call in a new beginning. No matter how things went yesterday or last year, one can always try again. Birthday is a refresher—a chance for regeneration—not just materially but spiritually as it opens doors for new mercies.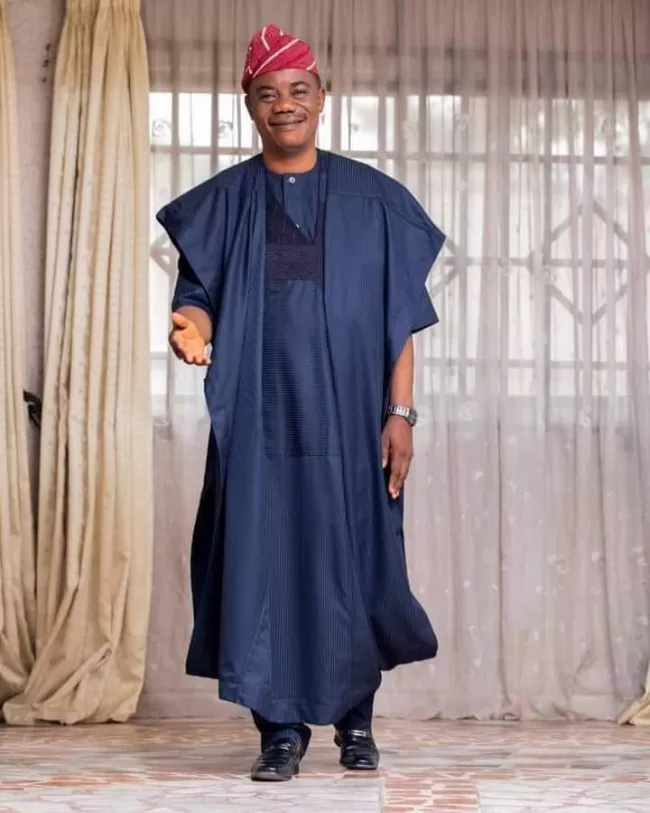 To have lived another year is an achievement as one is able to think of how much of God's air one has consumed during the year, how many nights God has allowed one to lie down and sleep and how many mornings one has awakened with brand new mercies according to Lamentations 3:22–23.
During a Birthday, one is able to acknowledge one's existence on this earth. No matter what kind of family one is born into or what one's past looks like, one is able to live one's life to its fullest.
More importantly, It's an opportunity to bond with people and create ways for one's family and friends to bond with one. Even though Birthday presents are good, but a wish that comes from the heart is worth all the presents in this world.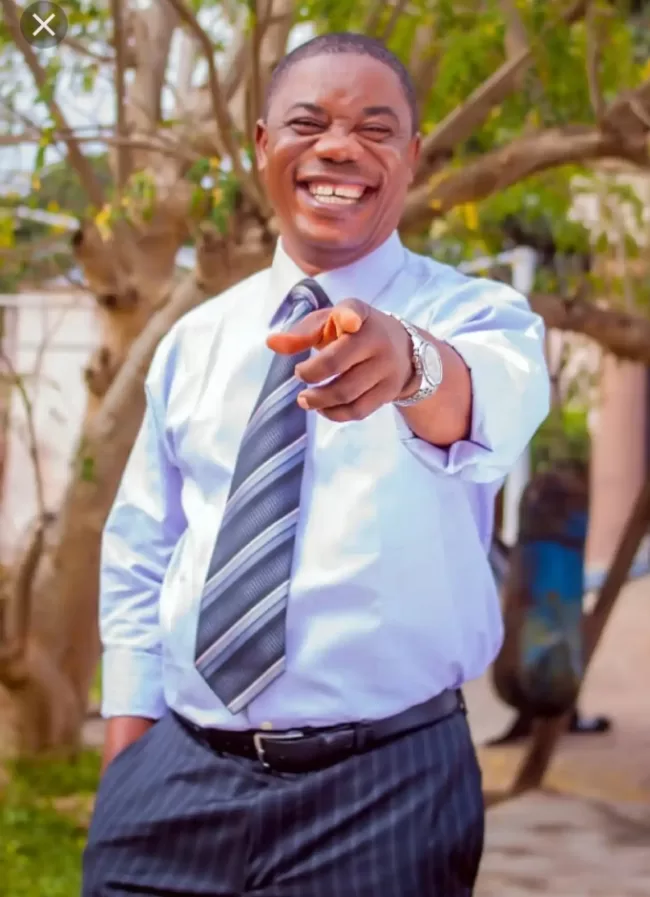 Hence, for Bar DI Kekemeke, the Southwest Vice Chairman of the APC, attaining Diamond Age is something that calls for celebration going by what God has made him to accomplish in life. It is a known fact that If names of successful and impactful personalities are mentioned in the State, there is no doubt the fact that Lekeleke will have a very good position considering his wonderful antecedents as a professional, as a politician and as a family man. Looking back will accord him the opportunity to thank God for what he was, what he is and what and where he is going to be. On different occasions, he has been commissioner in two viable and delicate ministries with lots of achievements to his credit. He was a young Legislator, Secretary to the State Government, Party pioneer Secretary and Chairman respectively. Without mincing words, Kekemeke has come,saw and conquered.
However, as one of the Governorship aspirants in the last Ondo State All Progressives Congress (APC) primary election, Isaac Kekemeke, a man of his words declared that he would not resort to litigation to challenge the result of the exercise even though it was apparent that the election was full of irregularities from the screening of the delegates to the voting proper.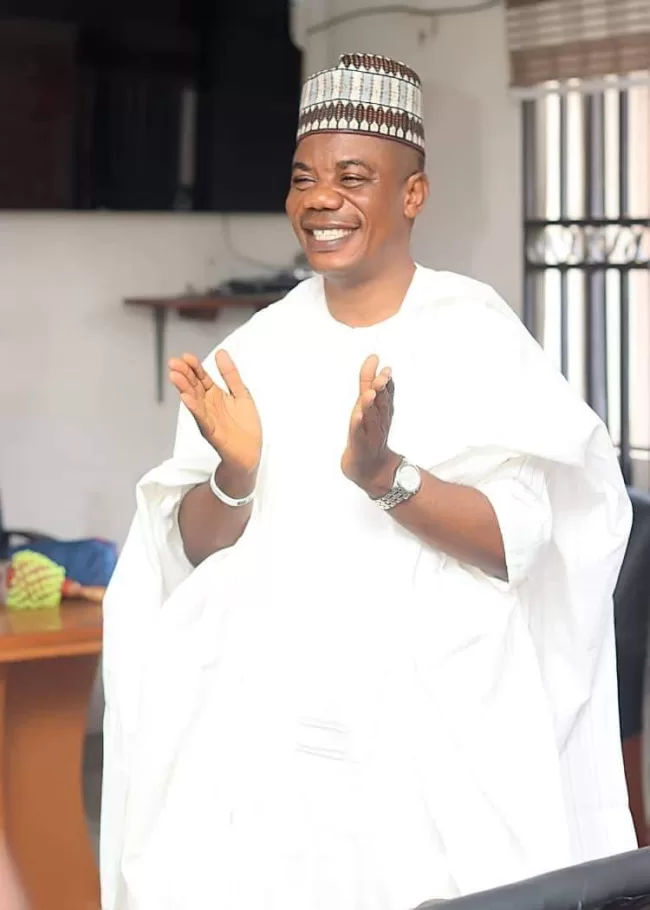 Kekemeke was one of the 11 Governorship aspirants who kicked against indirect primary mode for the election.
Meanwhile, in a statement made available to journalists in Akure, DI said he had accepted the result of the primary election in favour of the incumbent Governor, Oluwarotimi Akeredolu, in good fate.
He, however, said: "It is still my conviction that the process leading to the voting was slanted, skewed and compromised to produce a predetermined result.
"But then, the delegates have spoken clearly and so be it. I wish the winner and our party well."
Having said this, DI stood by his words and ensured that he puts in everything within his capacity and ability to make APC victorious in the election that brought in Aketi as Governor for the second term. Kekemeke was everywhere campaigning for the party as promised.
However, as we approach anothe
r electioneering period in Ondo State in earnest, Lekeleke has said categorically and emphatically how he intends to turn things around if he becomes the Governor of the State.
With the foundation of Lekeleke, with its core values, which are competence, commitment and character, getting it right wouldn't be a problem. Lekeleke is still the Aspirant to beat. Hear him, "Our vision clearly is the creation of a prosperous and peaceful Ondo State where citizens would be productively engaged to enable them live meaningful, comfortable and decent lives. The mission is to, with the aid of information, science and technology, maximally impact government resources on the human capital and abundant natural resources of the State to create wealth. We intend to make government seeable, touchable and feelable".
"Our objective in government is to fight five wars, using the entire governmental power to fight war against hunger, poverty, unemployment, insecurity and to rescue our decaying basic infrastructure. We have goals that we call the Lekeleke Development goals, economic and social goals; all of these geared towards creating a conducive environment for individuals to thrive and live well".
He said his experience of about 35 years in and out of government, and permanent residence in Ondo State cannot be taken for granted.
"I know where the shoe pinches. I know the pains of the people. I know where I have made mistakes. I know where the governments I have worked with have made mistakes. I know where I have made personal mistakes. All of these have worked together to produce our vision, mission and our goals".
"These have also helped us to produce the core values of the government to ensure that Ondo State becomes a different State".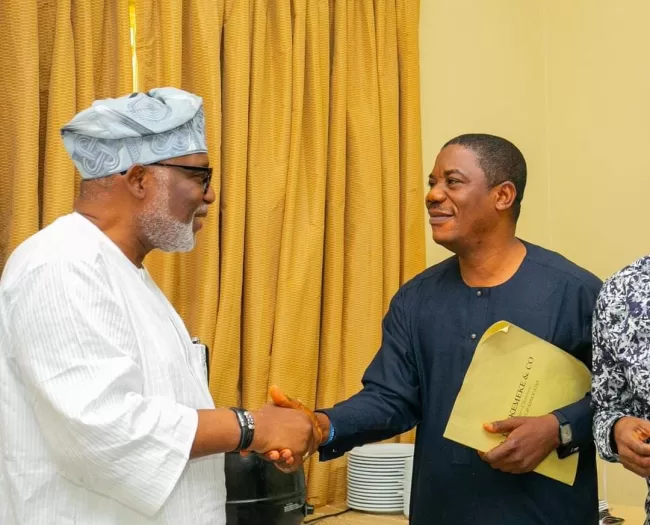 "Under our social goals, we would provide free and compulsory primary and secondary education. We would refocus our technical schools; and we will introduce highly subsidized tertiary education in government owned institutions. We would introduce scholarships in the federal and state schools based on merit. We would introduce a loan scheme for the bright, willing but indigent".
Lekeleke didn't leave any sector behind. For instance, In the health sector, he is committed to revamp the whole system.
"Our goal is to work to ensure what I call an accessible and quality healthcare system. This we would do through upgrading the headship or management of the basic health centres. This we would do through establishing a pharmaceutical company that would supply basic drugs".
"We will also develop what we call indigenous medicine as opposed to what they call it. They call it alternative. It's not alternative; it's indigenous Medicine. So, we would establish an Ibile Hospital; and we would have a research and development unit that would continue to develop, research into and regulate the development of Indigenous Medicine. Of course, we would work with the National Health Insurance Scheme to make sure that we bring health insurance to our people".
On the economic sector, he has promised to cardinalise Agriculture, Industry, Entrepreneurship Promotion and Skills Development and then Tourism to create wealth. He would also create what is called the concept of the civil farmer, which is a digitalization of Baba Awolowo's farm settlement.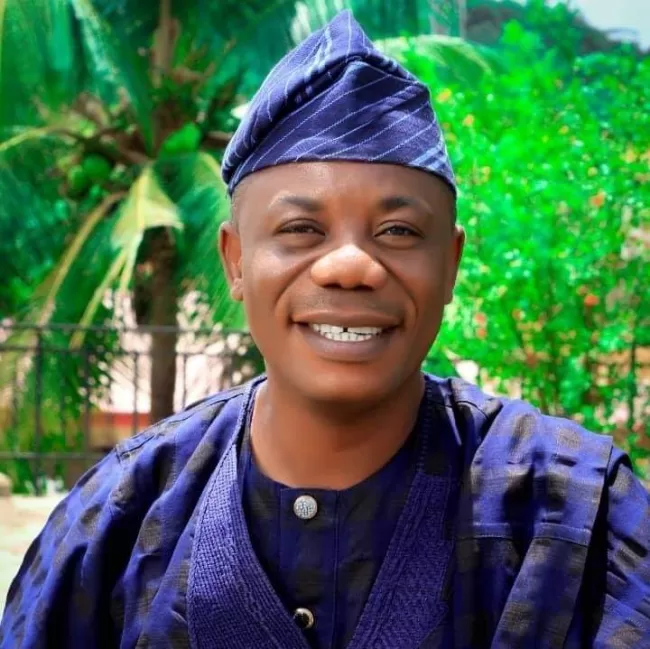 However, being a believer in the Ajasin's government of 1979 to 1983, as having done so much for the State. He is of the opinion that the free education and free health services are good programs.Talking about industries, Lekeleke said if he is to build industries today, the module and model would be different.
In his words, "the Agagu government that I worked with was fantastic, constructing over 1,000 kilometres of road; building our schools; taking water from about four percent to almost sixty percent; having about 29 intervention programmes on Education; introducing efficiency and functionality in government; all of that. I would tell you that we were part of it and I thank the Lord for the opportunity Dr Agagu gave to me".
He however said they would need to do more of human capital development if the opportunity to serve as the first citizen of the State arise.
"It's a recognition that indeed, there is nothing like the Government and the People. What we should have is Government of the People. It's a recognition of the fact that it's a misnomer and complete ignorance to talk about government money. Government does not have money; it doesn't work; it doesn't have money; it is the people's fund".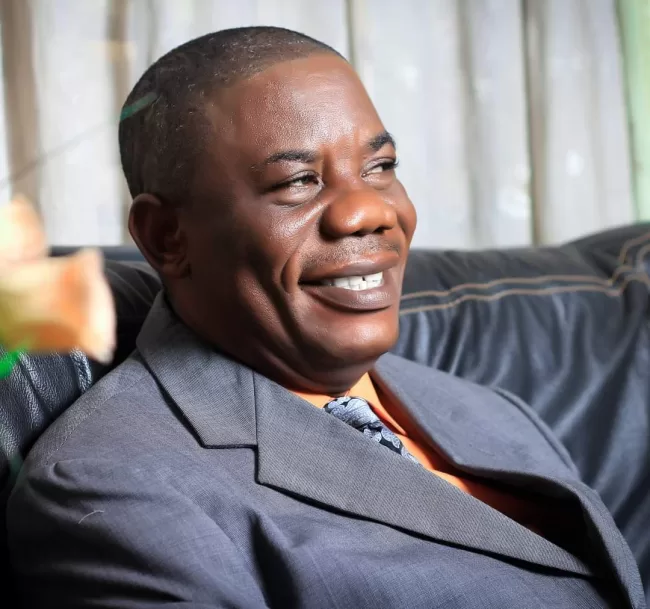 Lekeleke is ready and prepared to transit the State from what it is.
Born on the 2nd of July, 1963 at Agadagba-Obon in Ese-Odo Local Government area of Ondo State, Nigeria. He had his primary education between 1967 and 1975 in many schools in Ogun and Ondo States, moving whenever his teacher-father was moved. He was at the Stella Maris College, Okitipupa, Ondo State, between 1976 and 1981 for his secondary school education.
For his Bachelor of Laws degree, he attended Obafemi Awolowo University, Ile-Ife in 1988 and was called to the Nigerian Bar in 1989. He bagged a Master of Laws degree from the same University in 2006 and was due to bag a P.hD in Law from the Ekiti State University, Ado-Ekiti.
DI as he is fondly called by friends has spiced his legal career of over 30 years with public service duties. He served as Minority Leader of the old Ondo State House of Assembly between January 1992 and November 1993. As young as he was then, he was always in the news making sure that things never went wrong as far as legislative duties were concerned. He was scrupulous that he never allowed the Assembly to be rubber stamp to all government programs and policies as at that time. He made sure there was scrutiny and he also ensured that due process was followed.
However, as dutiful as he was, he stabilized the National Examinations Council (NECO) as its pioneer Chairman of Council between 2001 and 2004. Kekemeke was also a member of President Yar' adua's Niger-Delta Technical Committee.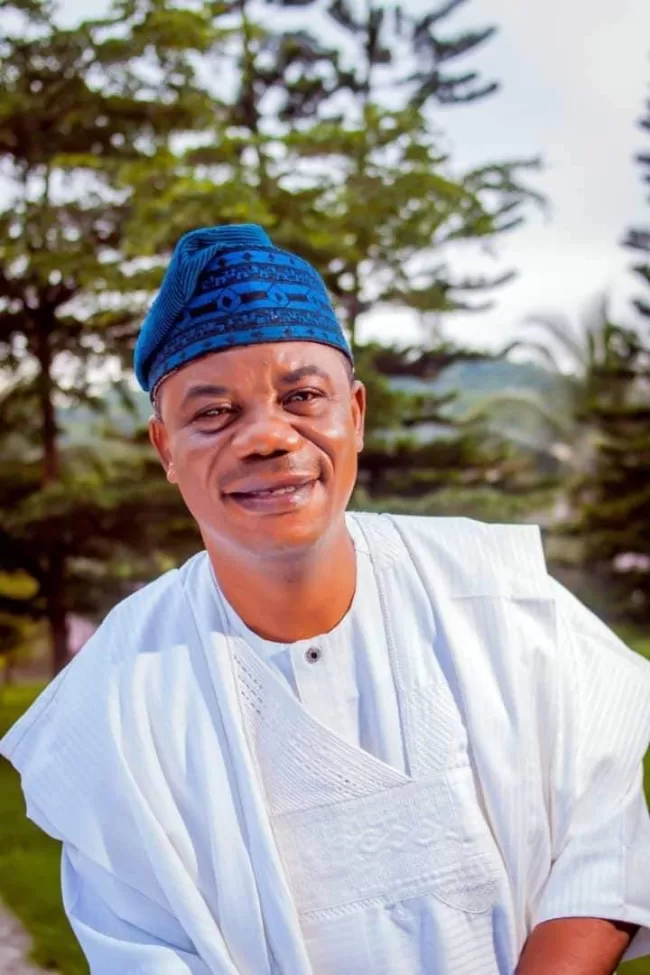 It would be recalled that LEKELEKE of Ondo State has held many offices in Ondo State; namely Attorney-General and Commissioner for Justice, 2003 to 2005, Commissioner for Works, Lands, Housing and Transport between 2005 and 2007 and Secretary to State Government between 2007 and 2009. As a veteran party administrator, D I Kekemeke was the pioneer Secretary of the People's Democratic Party in Ondo State as well as the Pioneer Chairman of the All Progressives Congress in the State.
He is a member of the Nigerian Bar Association and the Institute of Local Government and Public Administration and also fellow of Institute of Local Government and Public Administration; Certified Institute of Management; Institute of Public Administration and International Strategic Management Institute.
Lekeleke has received accolades and recognition from within and outside Ondo State borders, some of which are: Nigeria Bar Association, Akure branch's-Quality leadership Award, 2004; RCCG Ondo Province 4, Ondo State's Award of Excellence 2005; African Youth Congress, Nigeria Chapter Award as most outstanding Commissioner in Ondo State 2006; National Leadership Award 2006 as best State Commissioner in Nigeria, 2006; Rotary International District 9130 Nigeria, Meritorious Service Award 2007/2008; Southwest Progressive Youths Congress Award as Commander of Southwest Youths; National Association of Niger-Delta Students Award and Life Patron, Nigerian Union of Journalists, Ondo State Council to mention the few.
Notwithstanding, Lekeleke has been tested and trusted going by the aforementioned facts and profile and so emerging the Ministerial nominee from Ondo State even before the Governorship race shouldn't be a surprise. He has paid his dues as far as party politics is concerned. He is a grassroot politician, a lover of the masses and a man of equity. He played a very significant role during the recently concluded Presidential election that brought in Bola Tinubu as President.
On this note, becoming either a member of the National Executive Council representing Ondo State or the number one citizen of the State is more than sure. Lekeleke is healthy, energetic, wise, capable and knowledgeable to change the narrative.