As Olajide Olutuyi bags Chronicle's phenomenal leadership award... Olajide Olutuyi was born to Late High Chief Samuel Olagoke and Deacon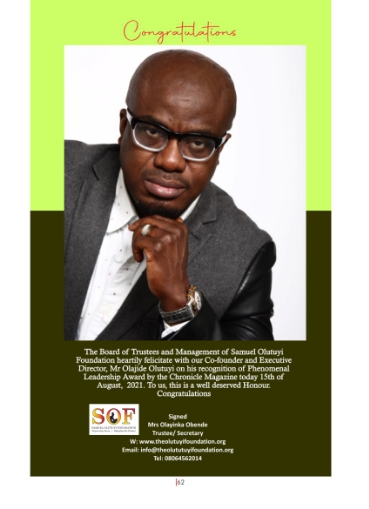 As Olajide Olutuyi bags Chronicle's phenomenal leadership award…

Olajide Olutuyi was born to Late High Chief Samuel Olagoke and Deaconess Celina Olubunmi Olutuyi, both of Irun- Akoko Ondo state. He hails from the Ologo ruling house of Ogo Quarters in Irun Akoko. His forefather was the progenitor of Oke –Irun. He was born in Kaduna, Northern Nigeria. His dad's profession saw the family moving from one city to the other due to company transfers. From Kaduna to Kano and then Warri. It is in this light that Olajide sometimes considers himself a well rounded Nigerian.

He started his primary school with Aliu Makama Primary School Kaduna, from where he moved to Army Children School, Kakuri. On moving to Kano in 1981 he continued his primary school education with Ijeoma Memorial Nursery and Primary School, Hadeija, Kano. In 1983, another move took the family to Warri which saw him completing his primary school education with Alieru Primary school Warri.
After his elementary school he proceeded to Hussey College Warri where he spent the next four years before moving to DSC Technical High School Ovwian Aladja, he finally completed his secondary school education with Urhobo College Effurun.
He sometimes jokes on how he deals with so many student association WhatsApp groups because of the different secondary schools he attended.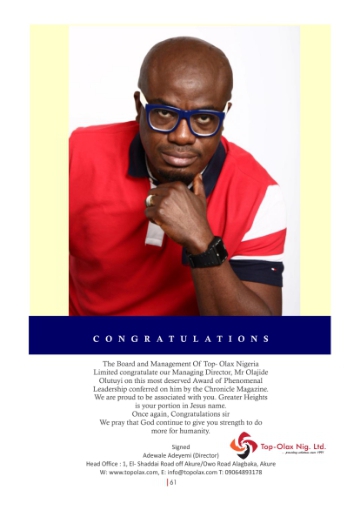 He sat for his Senior Secondary School Exam and passed at that sitting. He proceeded to write his JAMB which culminated in his admission to the Federal University of Technology Akure(FUTA), Ondo State to study Computer Science.
It is worthy to mention that while Olajide was still a student he was also cutting his teeth as an administrator and entrepreneur working in his dad's companies, Top-Olax Nigeria Limited and Kay-Precious Nigeria Limited where he started working at the age of sixteen and where he had the opportunity of receiving his first ever salary. His first job title with the company was office administrator / Driver.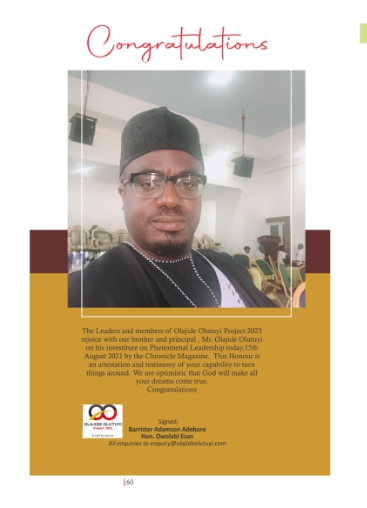 His time in FUTA took longer than expected due to incessant lecturer's strike. He was in FUTA from 1993 to 2000. While in FUTA he was at some point the President of Irun Student Association of the school.
On graduation, he had his youth service with Central Bank of Nigeria, Warri. On completion of the service he returned to Warri and started working with Top-Olax Nigeria Limited and Kay-Precious Nigeria Limited as Business Development Executive where he played major role in ground breaking moments for the company. He led the company's team that participated in the pilot online biding with oil multinationals in 2001. He also played a major role in the securing a multimillion naira contract for the maintenance of all Shell (SPDC) properties in Lagos. He was also pivotal to the securing a project technical supplies contract from the Shell EA Offshore project in 2003.

Between 2002 and 2003 he ventured into politics by aspiring for the Ondo State House of Assembly position to represent Akoko Northwest Constituency 2. His venturing into politics surprised his parents as they didn't see that coming and as they were not politicians themselves.
His knack for knowledge and exposure took him out of the shores of the country. He left for Canada in 2003. Since arriving Canada, Olajide has continued to be a shinning light and an Akoko indigene worthy of emulation.
In addition to his B. Tech degree from FUTA, Olajide holds a Bachelors in Management degree with a major in Accounting from the University of Lethbridge, Canada as well as an MBA in Entrepreneurial Management from the Australian Institute of Business. He also possesses a certificate in Social Impact Leadership from University of California, Berkeley, Haas School of Business.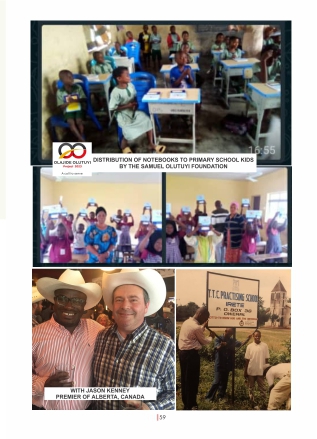 Olajide is a multi-skilled professional. A Finance Professional, an entrepreneur, social entrepreneur and a development analyst. His over 20 years' career spanned the oil and gas, manufacturing, environmental and social sector industries. He has worked for several multinationals in Canada in different capacities and most recently as a Senior Financial Analyst for Scouts Canada where he manages the Financial reporting function of Scouts Canada- Western Canada Region.

A Co-Founder and CEO for Top-Olax Energy Services Limited, a Nigerian oil and gas firm that engages in providing top notch oil field services to the oil and gas industry. He is also the Managing Director of Top-Olax Nigeria Limited, a conglomerate company with divisions in construction, agribusiness and technology.

As an avid entrepreneur and social entrepreneur, Olajide is a strong advocate for volunteering and community service . Between 2012-2014, he served as board director and treasurer for Independent Living Resources Centre, Calgary, Alberta as well as treasurer Calgary Quest School from 2012-2016 managing over $1million in operating budget and over $10million in Capital budget. He had previously served as the Secretary of Yoruba Foundation Calgary from 2008-2012.

He is the Co-Founder and Executive Director of Samuel Olutuyi Foundation, a non for profit foundation that engages in measurable and impactful programs that advance human dignity and he is currently the director of International Services Committee, Rotary Club of Calgary Heritage Park, Canada.
Despite being in diaspora, Olajide continues to be in touch with not just his extended family in the community but with the general cultural and political network. According to him, he has his late Dad to thank for this, for using any slight opportunity to ensure that he and his siblings get to know their heritage.

Olajide believes that for any community to develop, the people need to make sure they elect credible people in both the political and cultural sphere of the community.
His spare time is spent power walking, reading, writing and spending time with family.