AKETI @67: Oluwaseyi Gabriel Ogundare Extends Heartfelt Birthday Wishes, Prayers for a Swift Recovery to Governor Akeredolu Oluwaseyi Gabriel Ogun
AKETI @67: Oluwaseyi Gabriel Ogundare Extends Heartfelt Birthday Wishes, Prayers for a Swift Recovery to Governor Akeredolu
Oluwaseyi Gabriel Ogundare, esteemed community leader and advocate, join the citizens of Ondo State and the entire nation in extending warm and heartfelt birthday wishes to the Governor of Ondo State, Arakunrin Oluwarotimi Akeredolu SAN CON, on the occasion of his 67th birthday. As a prominent figure in the state and beyond, Governor Akeredolu's leadership and dedication have undoubtedly left a lasting impact on the lives of countless individuals.
Governor Akeredolu's 67th birthday serves as an opportunity to celebrate his life, achievements, and unwavering commitment to the betterment of Ondo State. His visionary approach to governance, coupled with his passion for the welfare of the people, has fostered significant progress and development within the state during his tenure.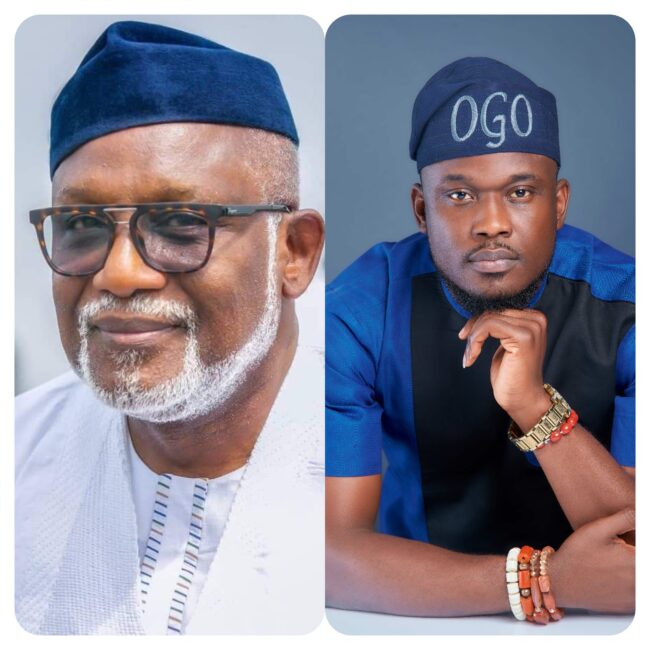 Ogundare expresses profound gratitude for Governor Akeredolu's selfless service, leadership, and contributions to the growth and prosperity of Ondo State. Under his capable guidance, the state has witnessed remarkable advancements in various sectors, bringing about positive change and improving the lives of its citizens.
In light of recent events, He also extends heartfelt prayers for Governor Akeredolu's quick recovery. The health and well-being of our esteemed leader are of utmost importance, and the entire community stands united in sending healing thoughts and wishes for a swift return to good health.
As the Governor celebrates another year of life, Ogundare urges the people of Ondo State to rally around their beloved leader, showering him with love, support, and encouragement. It is through such unity and solidarity that the state can continue to thrive and overcome any challenges that may come its way.
Once again, Oluwaseyi Gabriel Ogundare extends heartfelt birthday felicitations to Governor Oluwarotimi Akeredolu SAN CON, along with prayers for a rapid and full recovery. May this year be filled with continued success, joy, and fulfillment as he continues to lead Ondo State towards a brighter future.