A life that's truly worth living is a life lived for others- Dr Abiola Oshodi Describes Tinubu as the next President Nigeria needs A
A life that's truly worth living is a life lived for others- Dr Abiola Oshodi
Describes Tinubu as the next President Nigeria needs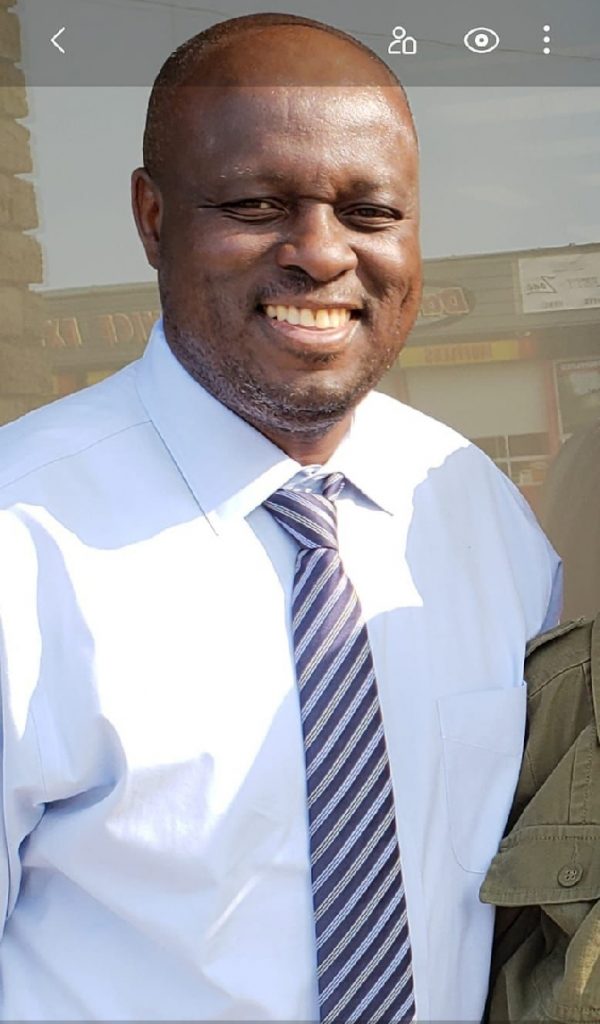 A life that's truly worth living is a life lived for others- Dr Abiola Oshodi
Describes Tinubu as the next President Nigeria needs
Dr. Abiola Oshodi is originally from Ondo State Nigeria. A medical practitioner but practices a specialized medical field, Psychiatry in Canada. He is also a lecturer at University of Saskatoon, Canada. He loves Nigeria with passion evident by his various humanitarian activities. He is married with two children. Dr. Abiola Oshodi is the founder of Dr. Abiola Oshodi Foundation that helps the less privileged to achieve their educational dreams.
In this exclusive interview with The Publisher/Editorin- in- Chief of the Chronicle Magazine, Olaseeni Oyesusi, the CEO of Triple A and T Integrated Farms, a mechanised farm set up in order to be an active participant in the race to ensure food security in Nigeria and the world at large spoke about his person, Dr. Abiola Oshodi Foundation and the President Aspiration of Asiwaju Bola Tinubu.
Sir, you are a known philanthropist; your humanitarian services are uncommon. What exactly is the reason behind this?
Though people tag me as being a philanthropist I don't believe so , I think I am more of a humanist , which simply means that I have a rational and conscious philosophy informed by science, and my experience in life , inspired by art, and motivated by compassion to impact lives and influence my environment. My humanism thus derives its goals of life from the human needs and interests around me rather than from theological or ideological abstractions, and asserts that humanity must take responsibility for its own destiny. We all have the capacity to be humanists and influence and birth the collective change that we desire rather than wait or expect an angel that will decree our desired change into existence.
You are not the only privileged Nigerian to touch lives positively, but you have chosen to be an indiscriminate giver. Sir, what is your driving force?
My philosophy of life has always been that a life that's truly worth living is a life lived for others , it's easy for me to give cause I have always been giving even when I didn't have anything . Giving is a way of life to me and while some are addicted to drugs , alcohol, sex or other immoralities, my own addiction is giving ans making life meaningful amd better and worth living for others .
It is on record that you have been doing a lot to stop the spread of covid-19 in Nigeria ever since its inception. How will you describe the feedback sir?
People appreciate the little that we are trying to do for others and make life much more meaningful and hopeful for them but there are challenges too along the way . But overall the feedback on our Covid19 interventions has been encouraging and impactful
What are the aims and objectives of Dr. Abiola Oshodi Foundation?
At the Dr. Abiola Oshodi Foundation, we focus mainly on education, due to many reasons-
Firstly, we have very limited annual budgets and we want to be maximally impactful, and we can only achieve this goal by picking our battle and focusing on the enemy we choose to fight, and that's how we settled for the educational agenda as the primary focus of our intervention. because we understand at the Dr. Abiola Oshodi Foundation, that education is the only platform that gives us the opportunity to overcome and defeat other barriers. An investment in knowledge pays the best interest. Benjamin Franklin once remarked.
Secondly, I belong to the generation that enjoyed free education in the old Oyo and Ondo states under the UPN admnistration between 1979-1983 and its sickening when I witness what we have turned public education into in Nigeria of today. And when I say free public education, I mean no school fees or other educationally relates fees at all, a pair of free school uniform were distributed to every pupil, free exercise books, and other writing materials and free desks and chairs amongst others we all enjoyed. The bigger truth is that our government at every level simply don't have the funds required to bring our education up to an acceptable global standard thus a different and a radical approach is required to turn things around, by partnering with NGO's like the Dr Abiola Oshodi foundation and many others. And this is why we do what we do, to provide an alternative platform for the government to take education very seriously.
Thirdly, the global wealth and the global economy of the future will be largely knowledge based , thus it is often said that chance favours only the prepared mind. and we at the Dr. Abiola Oshodi foundation are committed to ensuring that an average Nigerian has the benefits of sound education in order to lift themselves and their families and generations out of poverty, and be well positioned to dictate the affairs of the world from wherever they are in Nigeria. For example China has a population of over one billion people, and Nigeria has millions of hectares of uncultivated land. Thus it is no rocket science that education can give you a deep insight into farming and start to produce and process what will be required by countries like China to feed its huge population and is as much as you are not selling raw but also storing and processing you can dictate and control global affairs from any part of Nigeria or Africa and this is just an example out of many possible scenarios. Agriculture and natural resources remain one the few areas where we still have comparative advantage over the rest of the world, and it will take knowledge, wisdom, and selfless service to humanity to enable us hold to this strong point collectively and exploit same for the collective good of all. And these are the reasons, we do what we do at the Dr. Abiola Oshodi Foundation, knowledge when applied with wisdom is truly wealth.
Thus the core objectives of the Dr. Abiola Oshodi Foundation are; to ensure that the next generation of youths from poor homes have access to skills, facts and standards of moral and social conducts offered by education, so that such people can have the opportunity of being successful. Others include; to bring hope of education acquisition to the doorstep of under priviledged children , to provide underpriviledged children with a well rounded education, to raise generation of change agents and nation builders ,to provide valuable and life changing mentorship to underpriviledged children and to improve the educational outcomes of underpriviledged children by enhancing teacher quality through appropriate professional development programmes. The plans for the future is to extend the tentacles of the foundation across the length and breath of Nigeria so that every underpriviledged child can have access to good education.
Picture 1: first position; St. Catherine girls grammar school, Owo. Picture 2: Second position; Methodist High School, Owo. Picture 3: Third position; St. Louis grammar School, Owo. Picture 4: Fourth position; Corpus Christi, Iyere-Owo.
Sir, can we have an idea of how much you expend on humanitarian activities on yearly basis in Nigeria?
It's difficult to quantify , what we spend , we spend as the need arises. But the demands are expanding in the midst of competing challenges.
Sir, there is this general belief that one can affect lives better while in government. Do you have any political ambition at the moment?
I believe so that life can be better influenced being government as there's a limit to resources that one can generate as an individual, that can be expended on social services but at some level of government , one can leverage on distribution of resources to impact lives much more meaningfully and help position our people to develop their God given potentials . Yes , I have political ambition, though I am still consulting with relevant stakeholders on what shape and form and the process that the political ambition will take .
You so much believe in the Presidential Ambition of Asiwaju Bola Tinubu in 2023. What is your stake on this and why not another aspirant?
Asiwaju Bola Ahmed Tinubu is in pole position ahead of any candidate having paid his dues in the political development and evolution of Nigeria especially since 1999 .
Moreso, BAT has given so much , in terms of human capacity developments and political developments of our fatherland and he's who the cap fits as far as 2023 is concerned. Of course there are other candidates, in the political space but none is comparable to asiwaju BAT.
Considering the insecurities in the country and the the economy that is deteriorating on daily basis, Nigerians are desperately in need of somebody that will revamp the two major aforementioned sectors. What do you think Tinubu will do differently if given the opportunity to serve as Nigeria President?
BAT will do many things differently for example insecurity is man made and will respond to man made solutions, the people that are responsible for various stages of insecurities are human beings from the planning , sponsoring and execution stages of crimes are human beings and they are not spirits , and thus solutions to the insecurity challenges will also respond to human driven solutions. Our security architecture as it stands is outdated and thus can no longer respond to the current insecurity challenges that is engulfing the nation . Therefore there's need to reorganize and decentralize our security architecture and make them responsive to our current challenges . On economy , we have the Human Resources to help lift our fatherland out of the current economic quagmire that we found ourselves , what is required is the responsive leadership type that commands the respect and trust of every section of Nigeria to galvanize such national response to our economic needs and there's no living Nigerian today than asiwaju BAT that can deliver this type of people oriented leadership that can effectively and efficiently harness our human and national resources in order to birth a new economic order for our fatherland. BAT will offer a unique leadership style that will be immersed in the mass of our people and with such a people driven leadership , a lot of the challenges that we are witnessing be it security, economic, or whatever will become a thing of the past . In asiwaju BAT , a functional and prosperous Lagos state remains a testimony , thus the next challenge is how to birth a new prosperous and peaceful Nigeria replicating the Lagos state model at the federal level under the BAT leadership.
As a politician that has seen it all in terms of international politics and how the foreigners handle their security. What solution would you proffer for the incessant killings and mayhem in the country?
Radical reorganization of our security architecture by decentralizing our security system , and allow the creation of state police, recruitment of more men and women into our police personnel and organizing regular training on methods of modern policing , funding the policing system , ensure that the police personnel are well paid and sufficiently motivated to do their job , they should be provided robust insurance for injuries sustained in the course of their duty and even death . Our policing system ought to focussed on intelligence gathering type of security system so that many crimes can be nipped in the bud before they occur . The police should be well funded and provided with all the tools they need to do their job .
What more goodies should we expect from Dr. Abiola Oshodi Foundation to the people especially Ondo State before the end of this year in its usual manner ?
We are rounding up our activities for the year with the Dr Abiola Oshodi football competition, and applications for our bursary and scholarship wards opens around December , then creative arts contest will take place next year, and we are still deliberating make introducing creative writing contest . With the right people in leadership in Nigeria , our fatherland will return to greatness .
On a final note sir, can we have the list of the numerous community services and the educational assistance that you have rendered in the past?
(1) Bursary awards to students of Owo- Ose Local Governments
(2) Scholarship awards to Nigeria students in public higher institutions
(3) Renovation of classroom and laboratory blocks at my alma mater ACGS Apata Ibadan along with other old students
(4) furnishing of all the renovated classrooms with modern furniture
(5) Suplly of medical equipments to federal medical centre Owo
(6) Supply of medical equipments to federal medical centre Abakaliki
(7) Supply of modern furniture to Queens school Obadan
(8) payments of law school tuitions on behalf of many out our lawyers practicing today by His grace
And many others