The Igbos' have A1 in Business Administration but F9 in Politics - Olufemi Mayor Omosuwa (Esq) I am 💯% detribalised but I querry the Igbos who are
The Igbos' have A1 in Business Administration but F9 in Politics – Olufemi Mayor Omosuwa (Esq)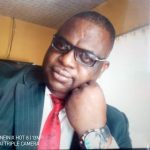 I am 💯% detribalised but I querry the Igbos who are so wonderful as far as Commerce or Business is concerned but always score F9 in Politics.
In fact, "It is a foolish man that will do a thing with same style always and expect different result."
Much has the Igbos desire the highest position in the land, I guess it is not by " _manufacturing their Weapons at the warfront as Soldiers",_ which we all know will result in FAILURE rather than preparing a head and learning and knowing the reduments of the Game.
The Igbos have started making another mistake now by putting sentiments into the 2023 presidential election by insulting and abusing anyone who says any good thing about Tinubu, just the way it was during MKO Abiola, when the Igbos preferred running back home in anticipation for war than supporting the Yorubas to fight for Abiola's mandate.
My salient questions are: 1. Must the Igbos use force and power to get anything they want?
2. During the just concluded APC and PDP Convention, where Tambuwa a Fulani man stepped down for Atiku his brother and some Yorubas and other tribes who believed in Tinubu equally stepped down for him, whom did the 5 contestants from the South Eastern part of Nigeria stepped down for even when they refused to step down for each other?
3. The Delegates from the 5 Eastern States, whom amongst the Igbos did they vote for that made Okorocha to score zero, Ognonaya Onu 1 and Umuayin 15 or so? Rather, they sold their votes to the highest bidders!
4. While Tinubu and others were busy spending their monies on Politics, what were their counterparts in the East spending their monies on, investing on their businesses abi?
5. In the history of the world, has anyone gotten Power easily or got it being served allercaté?
Tambuwa stepped down for Atiku, yorubas and other tribes stepped down for Tinubu, whom did the Igbos stepped down for? No body!
Now because Tinubu has won the primaries, I now see some Obi apologists, particularly from Igbo extration who want Presidency at all cost, singing fake songs of trying to make Nigeria better, where were they all the while?
It is so funny that whenever the Hausa Fulani slaps the Ibos, they can't retaliate but they will be looking for a Yoruba person to slap back. Yorubas are the most accommodating people in Nigeria. An Igbo man will come to Yoruba land, become successful, date Yoruba girls and later abandon her and go home and marry his tribe's girl. It is the same Yoruba people that you are ready to fight anytime he is progressing.
All the investments the Igbos have any where in Nigeria, the ones they have in Yoruba land is the most secured ones.
In fact; can any Yoruba person be allowed to do business successfully in the East the way they are successful in Yoruba land?
Can Obi tell us how many Yoruba, Hausa, Ibira, Tiv e.t.c he appointed while in office like when Tinubu was in Lagos State Governor?
It is an act of foolishness to believe an Hausa Fulani man will give power to and Ibo man, forget it! I believe such ambition is achievable, safer and sure via a Yoruba man because it has happened in the past through Obasanjo to Good luck Jonathan.
I want to advise the Ibos that it is better to campaign for their Obi and let other people campaign for their candidates not by insulting people on social media or instigating people to cause the reminiscent of END SARS protest which will be seriously resisted because we can no longer allow you to prosper in our land and become successful and destroy all we have laboured for over time while you make your place good.
I will not be surprised again and as usual that by the time Tinubu wins and these set of people might have succeeded in wasting their votes, they will still be the first to be crying fouls that they are being marginalized.
Let me state it here unequivocally and without mincing words that, it is an Omo ale ile Yoruba that will not support Tinubu and rather campaign for one hyperbolic Obi who is fond of exergerating every little thing to confuse unsuspecting citizens of the Nation.
*Olufemi Mayor* *Omosuwa (Esq.)*
08063399892.