Ondo First Lady Empowers 100 Ondo South senatorial women with start-up kits The first lady of Ondo state, Chief Mrs Betty Anyanwu Akeredolu
Ondo First Lady Empowers 100 Ondo South senatorial women with start-up kits
The first lady of Ondo state, Chief Mrs Betty Anyanwu Akeredolu has empowered 100 women in Ondo South senatorial district with business start up kits.
Chief Mrs Betty Anyanwu Akeredolu said It is her belief that women have to be economically fortified for the womenfolk to evolve.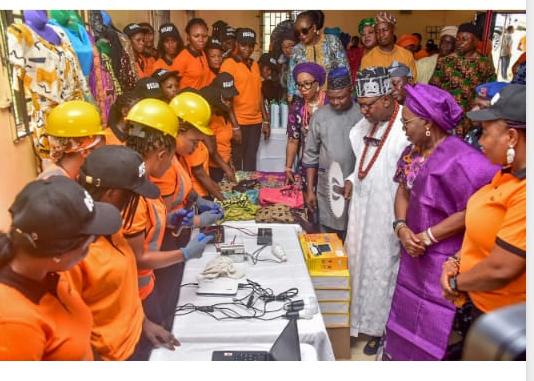 Betty Anyanwu Akeredolu charged the Beneficiaries to be courageous and confident enough to make success of their skills and change the odd narrative and give womanhood a new meeting.
The first lady made this known during Graduation of Trainees /closing ceremony of the second edition of Ondo State one month skills acquisition and empowerment Programme (OSSA-EP) for ondo senatorial women with start – up kits at ile -oluji local government secretariat on friday 17th November,2023 .
Mrs Akeredolu noted very emphatically that beyond being trained, she is interested in beneficiaries that will smartly translate the training to wealth for themselves and the large community.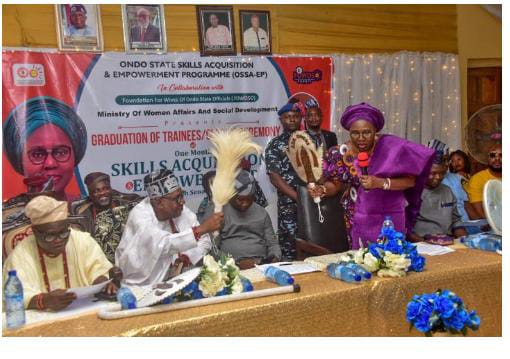 "I feel proud of you that you did survive the rigour of your training in ICT,solar technology ,event planning ,makeup and gele-tying, wig making,fashion designing, bag making, baking & confectionaries,among other types of apprenticeship." she said.
Mrs Akeredolu encouraged the beneficiaries to register their business with the corporate Affairs commission, CAC and be financially stable by having a bank account for a better person they dream of.
Earlier in an opening address delivered by Ebenezer Adekusibe SSA to Mr Governor on Finance and investment. Who Represented the chairman of the occasion, Mr Wale Akinteriwa, Commissioner for finance lauded the initiative saying more well – meaning Nigerians must join Mrs Akeredolu towards bringing more women out of poverty.
In a Good will message, Oba Julius Adetimehin kabiyesi Jegun Ile- oluji stated this is a physical demonstration of the advantage of dividend of democracy and the happiest moment for the ondo senatorial women.
Kabiyesi noted that the acquisition is a golden opportunity for the beneficiaries  to sustain their life and standard have been set for them to improve on and create services for others.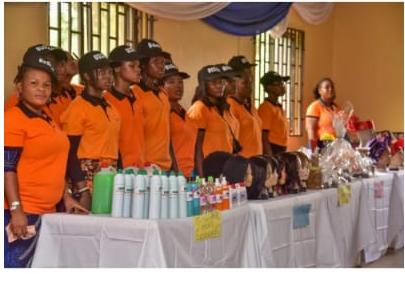 Closing remarks by the coordinator of the program Senior special Assistant to the governor on gender research and documentation, Mrs Tope Daniyan urged the beneficiaries of the program to impart knowledge given to them to others and these kind gesture will extend to their on born generation if not taken for granted.
Anabel Rejoice emerged the best trainee in wig making, Olubunmi Edeth best trainee in solar panel, best trainee in Make up Philip Victoria while Yemisi Ayara is the best trainee in Bag making.
Others best trainees are, Awosi oluwabukola Baking and confectionaries , Adebisi Adenike in fashion designing, Temitope Adebiyi ICT and Bolanle ICT solar went home with gifts and cash.
After the one month training the beneficiaries went home with different start up kits.