The name Otunba Bamidele Akingboye popularly known as OBA is no longer a strange name in the Politics of Ondo State and beyond. He has been very consi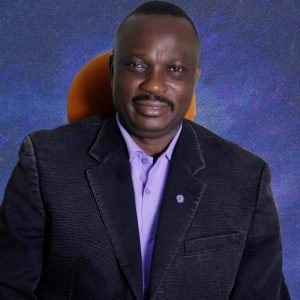 The name Otunba Bamidele Akingboye popularly known as OBA is no longer a strange name in the Politics of Ondo State and beyond. He has been very consistent with the running and happenings in the Peoples Democratic Party (PDP) for more than a decade now. The Philanthropist Politician is a very successful entrepreneur that has been assisting the people of the state in terms of scholarship, employment and empowerment. OBA has promised to turn around the economy of the state if given the opportunity in the next year Governorship election. He recently hosted some journalists in his palatial country home at Okitipupa where he made known his plans to make the state a cynosure of all eyes.
Can we know the purpose of this Press chat?
 I called you here tonight purposely to let all the indigenes of Ondo State home and abroad know that I, Otunba Benson Bamidele Akingboye popularly known as Oba across Ondo State is ready, willing and able to vie for the seat of the number one person in this state. This journey has taken me 7 years. I started this race to come into Ondo State to run for the governorship because of the passion I have for this state on 4th April, 2004 exactly 15 years ago.
It has not been an easy task; it has not been easy, but since I know what I have to offer, that is why I still stick my head under my Party, the PDP to deliver what God has put inside of me which is to deliver the dividend of democracy and also to create what we call a very good atmosphere for everyone who is interested in coming to Ondo State to enjoy the enormous mineral resources, business atmosphere and good people of Ondo State. We are good people because we accommodate people and so it is with this passion that I decided to run for the seat of the Governor of this state. I have contested once but the time was not right then, I also ran for the Senate in 2015 under PDP but I believe God that where he is taking me to is what I am now asking for, which is the number one citizen come October 2021.
You are contesting under the PDP which many people believe is no longer strong enough to win the governorship election in the state. They are also of the opinion that it would take a long time for the party to capture this state. What is your view on this?
Thank you very much. PDP as a party is the party to beat in Nigeria. I don't have to say much about it. We had our general elections a few months ago in which among the whole states in the southwest, it was only Ondo State that delivered what we called the surprise package for Atiku. So with this, I have no fear that PDP, come 2020 will deliver this state to me as the governor. No matter what they are saying about PDP, if you think very well, you will know that PDP has ruled this country for many years and all those people working with APC today, 99.9% of them apart from President Buhari had been members of PDP in the past. So, it is still the PDP that is still in full control of the APC. When the time comes, they will all come back to our great party.
What is your take on the recent trip embarked upon by the Governor of Ondo State to Thailand on the possibility of commercializing Cannabis in the state at a time like this?
On this issue of cannabis, I think our Governor is presently looking for how to improve the economy of the state. He doesn't want the state to continue to depend on allocation from the Federal Government. More so, as an entrepreneur that has traveled far and wide, I see the venture as economically buoyant. It is capable of engaging some unemployed youths if properly regulated by the necessary stakeholders. However, the Governor must be very careful not to allow it to lead to fiasco. I could have said something about this some few days ago, I don't have sentiment to business. To be a good governor and for you to govern properly, you need to think out of the box and for you to serve your people right, you don't have to operate the analogue type of governance; you need to be digital which is why you have to learn from other leaders and other countries leading the world. If America decides to go into cannabis for medical purpose, they will not be doing the wrong thing because they must have been doing the research for so many years before they can get to that stage. I don't see anything wrong in it. It is business and commerce, and I will give it to our Governor for the first time; I will not challenge his government. I believe it is what we have that we will use to get what we need. Nigeria is a great country in the world, we are supposed to lead and for others to follow. If we don't take this step today, don't be surprised that a country like Liberia will start it. If that is the source for us to start making money, since it is not going to be illegal, I am in full support. When I take up the mantle from Akeredolu in 2021, I am going to fight that cause because we need hard currency in this country and we cannot destroy what people are using to make money somewhere else. So, I will welcome that development on the ground that it would be well regulated such that all our youths will not become hemp smokers so that the purpose will not be defeated.
What motivated you to wanting to contest now – there must be things you think are not being done right economically, socially and in other ramifications. What are those things that you think you will be bringing on board?
If by the grace of God I attain the position and I am elected as the governor, I will be the youngest to be elected governor to serve in this state. I am not here to condemn any of our leaders or past governors or even the present governor in the state because they have all done their best. You can only do what you know. From 1976 till date, all our able governors that have served this state have put in their best. When I become Governor in 2021, I am going to continue from where they stopped. I am not boasting about it, I have been an entrepreneur for an average of 35 years of my life, doing personal business in public and private companies.
 I have never taken any government contract. I have been doing my own personal business which is Marine Dredging, Oil and Gas and Properties. I am going to come with the enormous resources and will put Ondo State to what nobody will believe. I have travelled all around the world and I have seen what it takes for a country to be developed.  I have all the experiences; I have gone through the bad, good and ugly side of business. I don't have to think of any new ideas, it's just for me to correct the error and put the right peg in the right hole. I can assure you that by the time I am celebrating my first term in office, there will be a song that the whole Ondo State people will be singing; which is that I should continue the great job.
 All over Nigeria, we all acknowledge the fact that Ondo State is a civil service state. It is not my ideology; it is not what my state should be. It should be a business oriented state. We have enough mineral resources, human resources and experience and we have brilliant people in this state. I am going to turn things around immediately. The Olokola project has been there. I could remember the meeting I had with some British men where they said they were ready to invest about $18billion into this country from British Gas, that information is in the public domain but due to the lack of vision of past administrations, it was frustrated.
 If you most know, Ondo State is the only state in Africa even in the entire universe with virgin1.47kilometers shore line. When I said virgin, it means nobody has ever touched it. I have travelled all over the world for holidays with my family and I know what people make from such shore line. I will declare emergency in that area and bring the best hands; the best town planners to design the 1.47shore line to a paradise. All over the world today is not safe, the only safe haven is in Africa and where can you find it? It is in Nigeria. The problem we are having with Boko Haram is an internal issue which I believe God will solve.
I can tell you today, a lot of multibillionaire will bring their businesses to Ondo State and a new Ondo State is possible. I have been to the Philippines. About 20 to 30 million people travel to Philippine monthly to go and see a terrain that is not up to what we have at Igbokoda and Igbo-nla or Aiyetoro. If you must know, these areas are beautiful. We have natural lakes, natural island. I will develop world class tourist attraction there and I believe that when my people know that this place is fully developed, the whole world will come to Ilaje and Ese Odo to come and enjoy themselves.
The other thing I will do is in the area of Bitumen. If you must know today, Ondo State has 8 blocks from the Bitumen that is in my backyard and I wonder why this has not be developed. We have more than enough resources to do it. My government will look into this immediately and I am already discussing with people that are interested in developing this block. I can tell you as the chairman of a Maritime company, I have another company in China that has signed a pact with me to develop this but I have told them to hold on because it will cost about $15billon and I cannot stake that kind of money without being in charge of the state. If we develop it in the southern district, the revenue we will generate is going to be more than what Lagos State is generating as revenue. It will be done immediately and I have been talking with my experts and my people to start working on it.
Now that you want to step again into the murky waters of politics- what are your achievement that you can point to as leverage for people to vote for you?
My people will not deny that ever since, I have been partaking in the issues of my wards, my local government and my district. I have done what I feel is in my heart necessary to do for my people. I am not the kind of person that will begin to list what I have done because the good you do for mankind is for God and not for any human being. I can remember that even up till now that my foundation has helped many in the area of Education to Primary, Secondary and University. As I speak, I have 4 Ondo State indigenes I am paying their schools fees in the University of Ife and so many like that around the world.
 I will talk about my immediate community. I came in here in 1992 to receive a title which they gave to me and the community was agitating for a community hall which was a carcass and needed to be renovated. I had to look for resources in order to make sure the place was renovated and that is the only community hall we have here. For the past 8 to 9 years, this community do not have light, we have been using generator. In a civilized country like Nigeria, I will not blame anybody. We have had governors in the past and even the present governor is there but none of them was able to do anything. I could remember that I have gone to the Federal House of Assembly to discuss with the chairman of Power and they had to call Discos that there was a need to do something. My king, Kabiyesi Abodi was put on the line for more than one hour and they promised him that I was a friend and that they will do everything possible to make it happen and to the glory of God, they are working on it.
Meanwhile, few weeks, ago, APC began to take glory for that and I make bold to say this that Asuquo who is the Chairman, Committee of Power in the House of Representatives in Abuja is still alive and his deputy, they are alive and anybody can find out. This is what I did for my community. There was a time again that they wanted to create a coastal state in Ondo South. I only walked into the meeting where all the kings were seated and the only reason they could not move on was on how to raise funds. A Senator was at that meeting and other prominent Ondo State indigenes but none of them could deep their hands into their pocket to give. I remember I asked my PA to get N1million and give to them.
 The truth is that I have passion for this state and for my people. My people cannot be living in abject poverty when we are sitting on wealth. This is the richest state in Africa. I am begging them to vote for an entrepreneur as the governor of this state and they will be happy to know that it is true that business is government and government is business. It is not about speaking English or collecting free money from Abuja. We need to think out of the box and make our money and IGR.
Recently, Ondo State students protested the outrageous fees payable in our institutions of learning . What is your take on this?
I did not talk to the press but I told my Press Secretary to issue a statement regarding that. I think I benefited from the free education of Baba Awolowo. If a country like Liberia that has nothing, there are rich men and women in Nigeria that can buy Liberia as a country. If Liberia as a country can declare free education from Primary to University level, I see no reason why we can't do same. The only thing we do well here is to read and we like to learn. I will not only promise that by the time I become Ondo State Governor, this is one of the things I will look at critically because the basis of success in life is education. When you invest on the education of your children, you are happy to say this is my child. If we look at it critically, we will declare total free education from Primary to University. I will look into it because that is the only way we can move on. A lot of money has been squandered and stolen from this country. I don't want to say it but I might end up declaring free education during my years in office as Governor.
You are contesting on the platform of the PDP; what are your chances of clinching the party ticket considering the numerous contenders on ground?
This journey started 15 years ago and it was not by accident. All these bigwigs in AD, APC, and PDP have tasted from my sweat in this state across board. I, on the other hand have not enjoyed anything from what we call the government of Nigeria. I have been working very hard as a young man and I'm still working very hard. This is my time, the appointed time by God. I only ask for a free and fair primary no matter what it will cost me, money-wise, leg-wise or contact-wise, I must grab it. I am 100 percent sure that I will get it and in the next three months, I will call you back here. You will see the wave that will start. I am the first person among the lots to write a letter to my party that I want to run as their candidate and after I have taken my prayers from the state executives and they allow me to start, maybe I will be the only one left in the race.
Ondo State is known for Agriculture and Cocoa is one our major products but that is no longer the case. What is your take on this and what plans do you have to restore the past glory of this state in the area of Cocoa production?
That is why I have a professor of Agriculture from Ife on my team. We are looking at policies that will correct all what has gone wrong in the Agric. aspect of this state. We will start planting our Cocoa back. My philosophy is this, if a country called Belgium doesn't plant one seed of Cocoa and they are best known for selling the best chocolate in the world, Ghana has stopped exportation of Cocoa, they are producing it now, they do at least semi finished product before taking it out, we have to create employment for our people. We want to go into massive farming. A time is coming in this country that food will be scarce and Ondo State is supposed to position itself to make sure we feed the Nation.
 In 1999, Baba Obasanjo was the President. If you minus 1999 from now, you will have 20 years. If you minus 20 years from my age that means I was 34. I was the only single human being that brought 40 Chinese from all the best Universities to Nigeria just for me to contribute my quota.  I paid for their tickets, their visas, hotel, feeding and transport. It is on record, Obasanjo is alive. I delivered them to President Obasanjo in order to show my contribution. Among those people I brought was China Great Wall – they were the people that worked with Senator Borrofice when they built the first satellite, it is my baby project; I brought them. I got the bank of China- but they frustrated me.
 Obasanjo then took all the 7 professors to his farm to help him revitalize his farm.  They told me if Nigerian government can give them conducive environment, they will make my state their pilot project and that by the time they set up a Rice University, an institute, Ondo State people will know how to plant rice and within 4 years, we are going to feed the whole Nigeria. Agagu then was the Minister of Power, Anenih was the Minister of Works, but they frustrated my efforts. Those people are ready to come and work with me at our terrain in Ilaje and if we invest into it either through PPP, I will make sure that my dream comes true.
What are your final words from you to the people of Ondo State?
The only thing I want to say is that my mission is to campaign and work for the good of my people. In the market place, if you take your Quran or Bible to preach to people, they will only listen and not do what the Bible or Quran is saying because there is anger in the land. Jesus cannot come back and start preaching the word, there are still some people that are righteous — I am going to be the Joseph of this state. I will come and save this state from calamity. I am going to be the flag bearer of this state-and I will save this state from dearth and economic collapse. I beg my people that when we do our congress, I will work with everybody and that they should try as much as possible to support me. All delegates, I am asking you to vote for me. I am begging you. For the first time, try Oba, a businessman that has seen the good, the bad and the ugly side of business. I beg all fathers and mothers, when it is time to vote; for the first time, I will sincerely beg you to vote for me.
 

PDP as a party is the party to beat in Nigeria. I don't have to say much about it. We had our general elections a few months ago in which among the whole states in the southwest, it was only Ondo State that delivered what we called the surprise package for Atiku. So with this, I have no fear that PDP, come 2020 will deliver this state to me as the governor
 

On this issue of cannabis, I think our Governor presently is looking for how to improve the economy of the state. He doesn't want the state to continue to depend on allocation from the Federal Government. More so, as an entrepreneur that has traveled far and wide, I see the venture as economically buoyant. It is capable of engaging some unemployed youths if properly regulated by the necessary stakeholders. However, the Governor must be very careful not to allow it to lead to fiasco.

 

If you must know, Ondo State is the only state in Africa even in the entire universe with virgin1.47kilometer shore line. When I said virgin, it means nobody has ever touched it. I have travelled all over the world for holidays with my family and I know what people make from such shore line. I will declare emergency in that area and bring the best hands; the best town planners to design the 1.47shore line to a paradise.

 

If Liberia as a country can declare free education from Primary to University level, I see no reason why we can't do same. The only thing we do well here is to read and we like to learn. I will not only promise that by the time I become Ondo State Governor, this is one of the things I will look at critically because the basis of success in life is education. When you invest on the education of your children, you are happy to say this is my child. If will look at it critically, we will declare total free education from Primary to University. I will look into it because that is the only way we can move on. A lot of money has been squandered and stolen from this country. I don't want to say it but I might end up declaring free education during my years in office as Governor.

 

My philosophy is this, if a country called Belgium doesn't plant one seed of Cocoa and they are best known for selling the best chocolate in the world, Ghana has stopped exportation of Cocoa, they are producing it now, they do at least semi finished product before taking it out, we have to create employment for our people. We want to go into massive farming. A time is coming in this country that food will be scarce and Ondo State is supposed to position itself to make sure we feed the nation