FESSYWEST: THE GROWING POPULARITY OF A SELFLESS POLITICIAN BY DUPSON COLLINS Nigeria as a country lacks selfless and charitable leaders dedicat
FESSYWEST: THE GROWING POPULARITY OF A SELFLESS POLITICIAN
BY DUPSON COLLINS
Nigeria as a country lacks selfless and charitable leaders dedicated to meeting the needs of the masses. A host lot of politicians in this part of the world joined politics for selfish interest, pursuing self-serving goals at the expense of the citizens they pretend to represent.
Only a few of them fear God, even the rich among them are insatiable, wanting more of the national cake.
Politics in Nigeria has become a profit making business rather than services to the nation. How many Nigerians are ready to serve the country with all their strength? Their strength is championed towards corruption and stealing our collective resources. If out of these gold digging politicians, we see a leader that distinguished himself, such person needs to be celebrated.
Meanwhile, it is a known fact that millions of people who adored the Late MKO Abiola never met him in person but his good deed endeared many to him.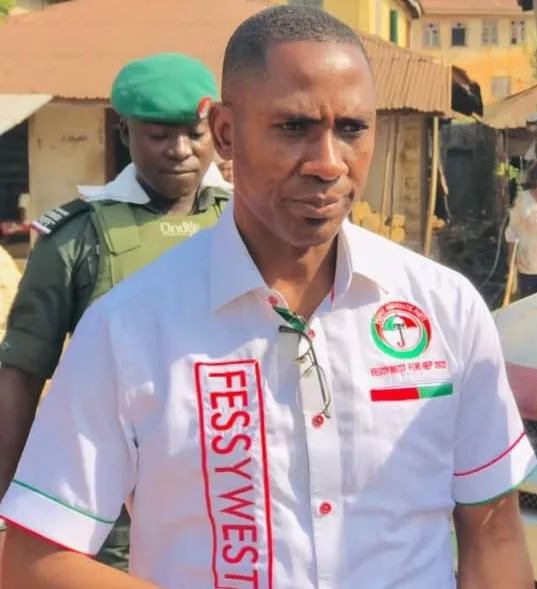 Similarly, Hon Festus Akingbaso is one man I learnt to know through what the people are saying about him. The Philanthropic gesture of "OBETE" as popularly called by his admirers in Idanre cut across board without attaching political string to it.
When I finally met him, FessyWest is more than a Philanthropist but a man with a large heart, a good listener, accommodating and humility personified. His calmness and humility are rare among our politicians, many of who want to be hero worshipped.
However, the pertinent question running through my mind is, what is this man looking for in the murky water of Nigeria politics? By all standards, Fessy is a successful man. A business man with interest in Automobile, Oil and Gas, Mining, timber, Agro business among others. In spite of his comfortability, he wasn't comfortable with the poor living standard of his people.
He was dragged into active politics by the concerned stakeholders in the rocking city of Idanre who saw the leadership qualities that could be used to develop both human and capital aspect of the people's lives. Their conviction was based on his Philanthropic gesture to thousands of the downtrodden, aged, youths, students, traders and women, believing if he could be magnanimous using his personal resources, he will do better as the representative of the people.
Fessy personality has been shaped by numbers of humanitarian and community development he has used his resources to champion before joining politics. As of today, the most love and popular politician in Idanre/Ifedore Federal Constituency is Hon Festus Akingbaso. Obete is a household name that is selling fast in the grassroots politics of Ondo State. You can't force people to love you; it comes naturally based on your contributions to their lives, directly or indirectly.
His political fold is harvesting who-is-who in Idanre and Ifedore Politics on daily basis; he is not a one party man, his influence cut across all the political parties which has sent tremble into the camp of his political opponents in the February 25 election.
Who is FessyWest? A grassroots politician hugely loved by his people. An entrepreneur, industrialist, philanthropist and politician that sees politics as service to humanity. One of the biggest employers of labour in Ondo State through his quarry company.
Nevertheless, a good politician is one who contributes to policies and programmes directed at the development of his people at any point. He is also the one who at all times attends to the problems and solves it without considering party affiliation. These are the qualities that distinguished FessyWest from his contemporaries. While serving as the Executive Chairman of Idanre Local Government, his giant strides showcased him as a focused leader that prioritizes the people's welfare.
Aside serving as member of OSOPADEC, the people of Idanre State Constituency sent him to Ondo State House of Assembly where his monumental achievements in terms of bills and oversight functions stands him out in the midst of the majority of APC lawmakers.
Without mincing words, it is obvious that the people of Idanre can't forget in a hurry the multi-millions naira empowerment championed to women, traders, students, youths and the senior citizens. More than 500 students benefited from his annual JAMB forms and over 1000 WAEC fees were paid through FessyWest Educational Scheme.
Knowing the value of education, FessyWest employed teachers in public schools in the federal constituency, taking up the responsibilities of the State Government and also renovated dilapidated structures of some of the schools among which were CAC Grammar School, Onisere, Comprehensive School, Ofosu, Aseigbo Camp Primary School, Owena among others.
What of the grading of roads and construction of bridges? Oja Jigbokin and Owena bridges were constructed. Footing of hospital bills of the sick; testimonies of people whose lives have been transformed through the empowerment fund and many more.
Having achieved so much as a lawmaker in the State Assembly, the people of Idanre and Ifedore are yearning for his representation at the Lower Chamber of the National Assembly. The people are determined to stand by him in spite of mudslinging and tantrum some people are throwing at him.
FessyWest is a threat to political minnow but nobody can stand in the way of God. Fessy is God's project that will bring quality representation to the people of the federal constituency; he has been tested and can be trusted with the people's votes.
The 10th Assembly can't wait to have Hon Festus Akingbaso among the distinguished members of the Hallow Chamber. A highly cerebral, intelligent, kindhearted and people's choice will bring goodies to the people of the Idanre/Ifedore Federal Constituency far away from the poor representation of the current Federal Lawmaker.
However, with the daily soaring popularity of FessyWest, February 25 is a done deal. I can only appeal to the supporters and admirers to translate their love to vote as no amount of intimidation would stop the people of Idanre and Ifedore from voting for the Best Man for the Job. For unprecedented dividend of democracy, Obete holds the magic wand of transformation.