Eid-el-Maulud: Ogundare extends warm greetings, calls for unity On the joyous occasion of this year's Eid-el-Maulud, and as community of Owo/Ose i
Eid-el-Maulud: Ogundare extends warm greetings, calls for unity
On the joyous occasion of this year's Eid-el-Maulud, and as community of Owo/Ose in Ondo State and fellow citizens across Nigeria come together to celebrate the birth of the Prophet Muhammad (peace be upon him) with a resounding message of unity and love. In a heartfelt congratulatory message, Oluwaseyi Gabriel Ogundare, a prominent figure in the community, emphasized the importance of peace and harmony in a world often marred by division.
In his message, OGO highlighted the profound teachings of the Prophet Muhammad, emphasizing the principles of love, compassion, and peace that the Prophet brought to the world. He called for a collective renewal of commitment to these values, underscoring the significance of unity and reflection during this sacred time.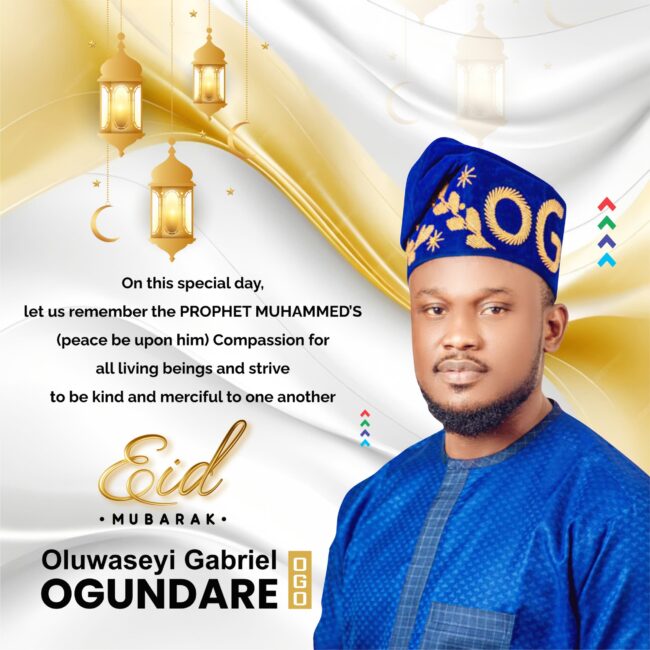 Ogundare's words resonates with the people of Owo/Ose and across Nigeria, where Eid-el-Maulud is celebrated as a time of spiritual reflection and communal unity. The call to embrace love and understanding as a means to foster a more harmonious society found widespread support among the faithful.
As part of the celebrations, he urged community members to reach out to their neighbours, irrespective of their backgrounds or beliefs, with messages of goodwill and acts of kindness. "This heartwarming gesture symbolized the spirit of togetherness and cooperation that Eid-el-Maulud embodies." He said.
Furthermore, Ogundare said, "as the Eid-el-Maulud festivities continue, the people of Owo/Ose, Ondo State, and Nigeria as a whole should unite in prayer and celebration, with hopes that the teachings of the Prophet Muhammad (peace be upon him) will continue to inspire love, unity, and peace in their lives and throughout the nation."