DEMOCRACY DAY: WE MUST UPHOLD THE VALUES OF LIBERTY AND GOOD GOVERNANCE-OGUNDARE As we Nigerians, celebrate democracy today, a Day that offers an
DEMOCRACY DAY: WE MUST UPHOLD THE VALUES OF LIBERTY AND GOOD GOVERNANCE-OGUNDARE
As we Nigerians, celebrate democracy today, a Day that offers an opportunity to acknowledge the challenges that lie ahead and renew our commitment to building a stronger democratic society.
It is a day to recognize the importance of good governance, transparency, and the rule of law. As we celebrate the achievements of the past, we must also confront the realities that hinder our progress, such as corruption, socioeconomic inequalities, and insecurity.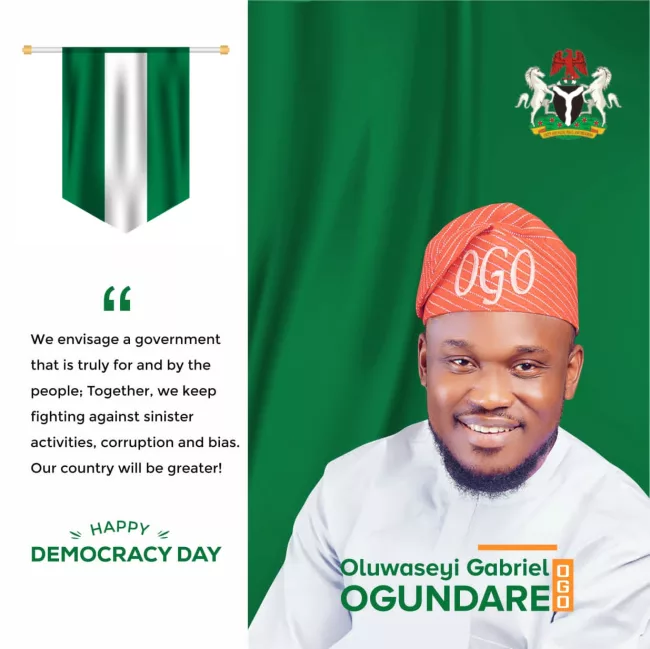 Through collective action and sustained efforts, Nigeria can overcome these obstacles and forge a future where every Nigerian enjoys the benefits of democracy.
As an individual passionate about the development of my community, I tag this a moment for all of us to come together, and fight against sinister activities that have eaten deeply into the fabric of our existence as a nation. As I have always pledged my unwavering commitment to the emancipation of my community, let's all as Nigerians, in our little corner, have an impact as we can all birth the Nigeria of our dreams.
We envisage a government that is truly for and by the people; Together, we keep fighting against sinister activities, corruption and bias. Our country will be greater! Happy democracy day.
E-Signed:
Oluwaseyi Gabriel Ogundare