CELEBRATING NIGERIA AT 63: OGUNDARE SHARES MESSAGE OF HOPE AND ASSURANCE As Nigeria commemorates its 63rd Independence Day, Hon. Oluwaseyi Gabriel
CELEBRATING NIGERIA AT 63: OGUNDARE SHARES MESSAGE OF HOPE AND ASSURANCE
As Nigeria commemorates its 63rd Independence Day, Hon. Oluwaseyi Gabriel Ogundare, a distinguished figure in the Owo/Ose political landscape, extends warm congratulations to fellow Nigerians. In a poignant message resonating with hope, the Imoru-born technocrat urged citizens to remain optimistic about the prospect of a better nation.
"Today is not just a commemoration of a historical event; it's a reaffirmation of our collective journey towards a better Nigeria. In the tapestry of our national story, we have faced challenges, overcome hurdles, and forged ahead with resilience. On this auspicious occasion, let us reflect on our strengths, unity, and the unyielding spirit that binds us together as one people," he remarked.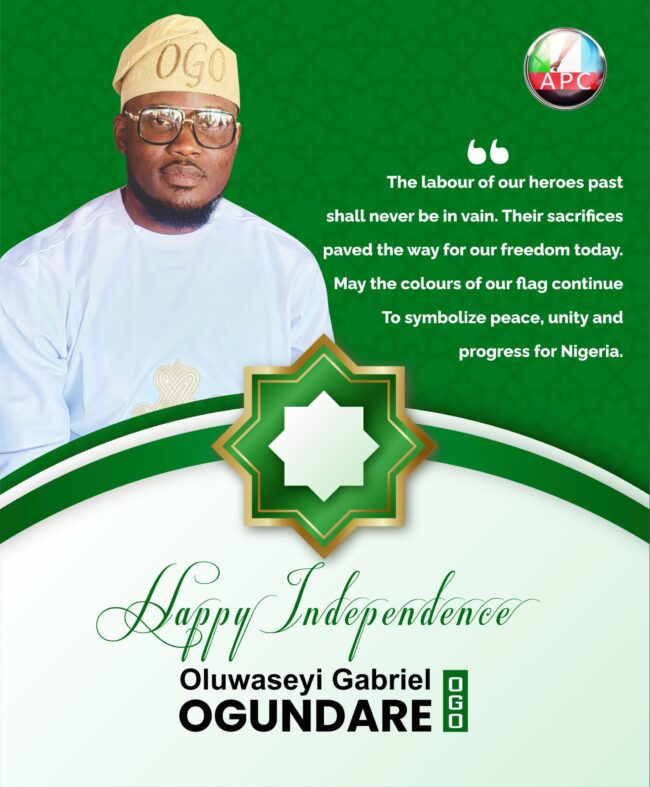 Highlighting Nigeria's vast potential, diverse cultures, and resilient citizens, Hon. Oluwaseyi Gabriel Ogundare called for collective optimism as the nation looks towards the future. "Together, we can build a nation that thrives on justice, equality, and prosperity for all."
Acknowledging the difficulties faced, he encouraged finding inspiration in the stories of ordinary Nigerians contributing to the nation's progress. Emphasizing the importance of solidarity, national pride, and shared responsibility, he expressed confidence that with determination and a commitment to positive change, the nation can overcome any obstacle.
"I firmly believe that our greatest days are yet to come. As we mark this significant milestone, let us envision a Nigeria where opportunities abound, where the dreams of our youth flourish, and where every citizen contributes to the nation's growth." He said.
In conclusion, he extended warm wishes to the leadership of the ruling All Progressive Congress (APC), led by President Bola Tinubu, expressing hope that the Party will guide Nigeria towards a brighter and more prosperous future.