Akure: A city in dirtBy: Olanrewaju Ayo and Ajayi Kehinde Akure the capital city of Ondo state, which is tagged a place of pride has in so m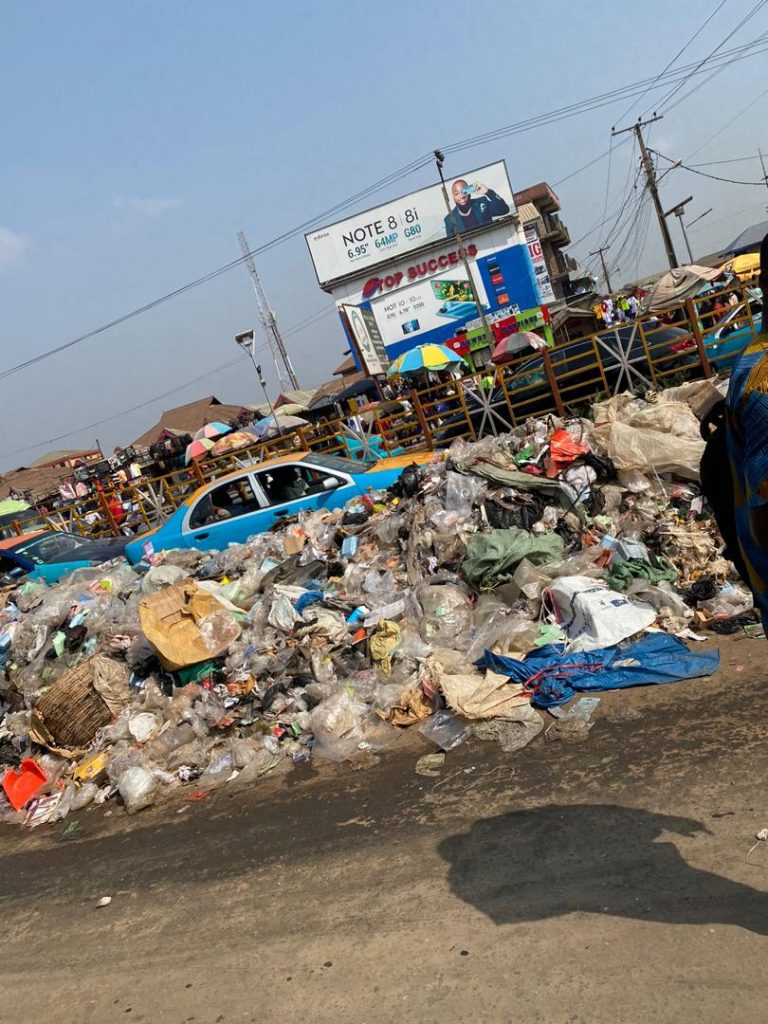 Akure: A city in dirt
By: Olanrewaju Ayo and Ajayi Kehinde

Akure the capital city of Ondo state, which is tagged a place of pride has in so many weeks faced with so many issues; one of it is various degrees of environmental pollution as lumps of waste were seen over strategic areas across the city.
This has drawn the attention of well meaning residents of the state, as different complains were thrown to different quarters while different reactions also followed suit.
The three main markets in the state; Oja Oba, Arakale/ NEPA market and Isikan market has been the center of this environmental pollution as loads of waste were thrown at this commercial centers.
To clear various assumptions raised from various public opinions, our correspondents took time to assess the issue as various stakeholders in the environmental sector were contacted.
The permanent secretary of the Ondo State waste management board, Engineer A.O Ogidan condemned the state of the City and categorically said that the environmental pollution witnessed In the past weeks is actually caused by non availability of enough funds to carry out the waste evacuation which is on the part of the state government to disburse funds to the Board.
He also berated the act of some citizens which has contributed to what is been seen across the state, majorly, the capital city. Ogidan said "the government pays for the waste disposal of public places, which includes all markets and we have told these market women several times not to bring refuse to the road. They should put their waste inside a container and put it in front of their shop."
He also emphasized that some residents have refused to pay their charges, which has militated against the smooth work of the waste management; the permanent secretary submitted that "There are two parts to it. Some pay for their refuse to be parked, and government pay for some people's refuse to be packed. We call these ones public waste; these are wastes in the market and public places. So, the government pays the waste managers to pick the refuse. That is why I said that the allocated resources are very small. Even the ones that are supposed to pay for the services prefer to come at midnight to dump the refuse on the road in other for them to escape payment. The funniest part is that you won't see them during the day because we have security personnel that will arrest them and they will be persecuted; they only come at midnight. And we can't make our security personnel stay on the road at midnight for security purpose."
In the mean time, the markets women have condemned the waste management authority for neglecting their duties. Mrs. Kemisola George, a trader at the popular Arakale market beckoned on the waste management to come to their aide, she said "aside from the fact that the lumps of waste is blocking free flow of traffic, it is also very dangerous to our health, people who sells eatable foods are affected too, the whole area fumes out an unpleasant smell." She therefore beckons on the state government to help the situation as soon as possible in order to avert health crisis amidst the residents of the city.
Also, a shop owner in the main market, popularly called the Oja Oba, who spoke under the condition of anonymity, berated the government of the day for a negligence of duty; he said the non refusal of the waste managers to carry out their duties started immediately after the election. He opined that he hopes that it isn't a second term syndrome.
In another development, the private waste pushers were contacted and one of the company's representative, who gave a statement under anonymity, debunked the rumor that the companies neglected their duty. He said "the people should not expect us to work without payment, some private residents in Akure tries as much as possible to avoid the payment of their waste charges and instead dumps the wastes on the road sides in the middle of the night. He also retaliated that the government should play her role effectively by giving necessary support for the private waste managers and also disburse enough funds to the state waste management board.
In a latest development, Mr. Ogidan, the Permanent secretary has also assured the people that all issues pertaining with waste disposal would be solve soon. He gave this assurance by saying "We are meeting with the PSP to know how to stop them from putting their refuse on the road. We have said it several times and even campaigned about it but it's like they are adamant; people are so difficult to convince. So, they are the cause on one hand and on the other hand, the resources and government funding is not coming in as it should. That's the situation at hand. It all started about three weeks ago and I believe by next two to three weeks, everything will be back to normal.