Akeredolu's Wife Declared 2022 Summer Tennis Clinic Open in Ondo Central By: Adelarin Precious The first lady of Ondo State, Mrs Betty Anyanwu Akered
Akeredolu's Wife Declared 2022 Summer Tennis Clinic Open in Ondo Central
By: Adelarin Precious
The first lady of Ondo State, Mrs Betty Anyanwu Akeredolu has said tennis clinic has become a tripartite programme with branches in the southern and northern senatorial districts while it retains the Akure center.
The Governor's wife made this known at the Opening ceremony of Ondo State Summer Tennis clinic for the central senatorial district held at Akure recreation center club, Along Oke Eda,Akure Ondo State.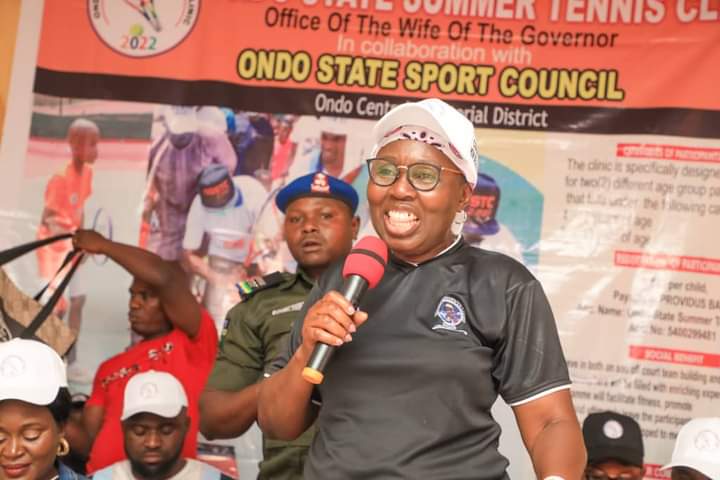 Ayanwu Akeredolu urged parents to invest in the children who have already been identified through the summer tennis clinic by buying sporting tools for them and finding time to take them out of practice with the goal to sustain their interest in tennis.
"The maiden editions in the southern and northern districts turned out to be muchly encouraging"
"Rest assured that there are no regrets for investing in children, particularly in sports" she noted.
"More also, this development is a dream that I have for sometime,held jealously to the heart and seeing it come to fertile fruition is a big win for me", she opined.
Earlier, in the welcome address delivered by the Chairman of Ondo State summer tennis clinic 2022, Mrs Olamide Falana who also doubles as Special adviser on Gender to the Governor, stated that tennis is one of those unique sports that combine nearly all components of fitness including power, agility, speed , flexibility, reaction time and muscular endurance.
Mrs Olamide Falana said the central senatorial district having toured the northern and southern senatorial district of Ondo State where 616 children have been impacted so far, the tennis has changed the lives of some of the young participants who have gained a sense of belonging, confidence and dream of traveling to the world playing championships of which they have served as score cards of past editions.
The Chairman of the occasion and the Honourable Commissioner for Youth and Sports, Otunba Dele Ologun appreciates the digital mama, Arabinrin for her love for the children and heart of love for the young ones in Ondo State which has birthed many programmes.
Dele Ologun also said "I'm confident,more stars are still emerging too to do the sunshine state proud in the game of tennis".